Get to Know 'The First Purge' Star Lex Scott Davis
When she's not running from murderers (just in the movie, don't freak out), you can find her DJ-ing, painting, and cooking.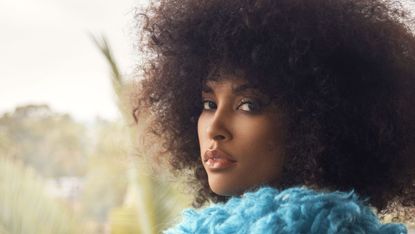 (Image credit: LINDSEY BYRNES)
Lex Scott Davis has the worst night ever in the scary The Purge prequel, The First Purge. Off set, life is way more fun: Cookouts, party playlists, and abstract art.
Age: 27.
Lives in: Los Angeles.
You know her from: Superfly (2018).
What do you do in your downtime? Cooking is very therapeutic for me. I love making seafood salad, a recipe from my great-aunt. We make sure that's at every family function. Macaroni and mayo are the base, then you're putting in shrimp, lobster, a ton of crabmeat, celery, and a lot of Old Bay seasoning. That's really unique to Baltimore, where I'm from. Invite me to the cookout!
Hidden talent? DJ-ing! When I was young, my dad bought me the video game DJ Hero. Today, I set my laptop up and play with my digital mixer whenever I can, and before you know it, hours will go by. I've actually found that I need to set an alarm because I lose track of time! I have playlists for all different vibes: I have a house playlist, I have a day party, I have a night party, and I have a turn-up party.
Creative outlet? I love painting abstract art. I'll paint a base coat on a canvas and let it dry, then I'll come back to it in a couple hours or a couple days and say, "OK, what's the next layer?" It takes time to feel like a painting is truly finished. I also like scraping some of the layers off with a scalpel, seeing what's revealed underneath.
Follow her @scottyeye (opens in new tab)
This article originally appeared in the August 2018 issue of Marie Claire, on newsstands now.
Molly Fitzpatrick is a writer from New Jersey who lives in Queens.