Blake Lively Accidentally Wore a See-Through Shirt on the Red Carpet
In a new interview with Jimmy Fallon, Blake Lively explains how she accidentally wore a see-through shirt on the red carpet and then got cat-called by someone who really, really likes her tweets.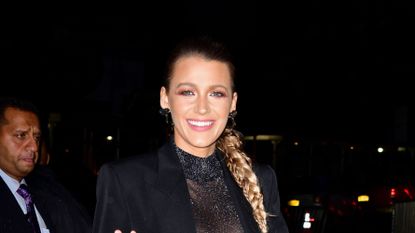 (Image credit: James Devaney)
Blake Lively has been engaging in a rather iconic fashion parade to celebrate her new movie, A Simple Favor. The actress has appeared in everything from plaid-on-plaid and plaid-on-plaid-on-plaid to all-highlighter green and three-piece suits. But for the latest stop on her press tour, Blake Lively chose an all-black menswear suit that was drastically more statement-making than she expected—a discovery she made at the very last minute.

Last night, Jimmy Fallon complimented Lively on her premiere lewk and she broke down the whole scenario for him. "It's actually a men's suit, believe it or not," she told Fallon. "It is, but what nobody really realizes is: See the look of horror on my face? Like I kind of have a J.Lo face, but I also have a look of [terror face]? It's because I didn't realize the shirt was see-through, because it's a menswear shirt, I didn't realize they made see-through [men's shirts]."
Lively proceeded to explain that after making the discovery she called the hotel's mechanical department in search of duct tape, reassuring them that no, a pipe had not broken, she just needed some tape to cover her "tatas." "I was just worried because I was wearing this thing and when I opened my arms around people it just was like..." she said gesturing to the complete open-nakedness of what would have been her sheer shirt.
She obviously made it to the red carpet in one, not-completely-exposed piece, but felt nervous the whole time (hence her J.Lo-terror face), especially when she was getting photographed and got catcalled about something unexpected as she explains to Fallon just after the one-minute mark:
You are amazing, Blake.
RELATED STORIES
Celebrity news, beauty, fashion advice, and fascinating features, delivered straight to your inbox!