Everything You Need to Know About Tonya Harding's Epic Feud with Nancy Kerrigan
How the ice skating darlings' razor sharp rivalry culminated in a devastating injury.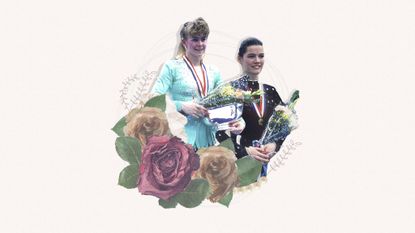 (Image credit: Design by Betsy Farrell)
At the dawn of 1994, long before viral YouTube videos, Americans sat in front of their television sets obsessively watching now-iconic footage of a raven-haired figure skater, clad in a lace dress, sprawled on a floor in Detroit's Cobo Arena sobbing, "Why? Why? Why?"
The skater, of course, was 24-year-old Olympic hopeful Nancy Kerrigan, who'd just been hit in the kneecap with a police baton by a man who fled the scene. During the investigation following Kerrigan's attack, authorities quickly discovered that the assault had been planned by Jeff Gillooly, the ex-husband of Kerrigan's chief rival, 23-year-old Tonya Harding.
The incident is two decades old, but the shock of the attack—and the trial and media frenzy that followed— still ranks among the biggest sports scandals in modern history, and has unusually strong pop culture staying-power. We're talking a rock opera, a made-for-TV movie, a private museum, references on shows like The Simpsons and Seinfeld, and—most recently—I, Tonya, Margot Robbie's biopic slated for a 2018 release.
Harding's name is infamous—even becoming shorthand for a vicious attack (Obama name-checked her during a speech in 2007)—but she's maintained her innocence since 1994. The truth may never be known, but the facts, tangled though they may be, are worth a review.
In the early 1990s, Kerrigan and Harding were both rising stars in the figure skating world, often competing against one another in national championships. In 1991, Harding won the US Figure Skating Championships with a perfect score, and was the first American woman to land a rare and difficult triple axel (set to the Batman theme, no less). Kerrigan took home bronze at that competition.
But despite Harding having a slight competitive edge on the ice, Kerrigan had her beat when it came to public image. Her classic looks and poised persona led to lucrative deals with sponsors like Campbell's, Revlon, and Reebok—and while Harding's fans were dedicated and hardcore, she lacked sponsors and endorsement deals. Kerrigan often appeared in competitions dressed in Vera Wang, while Harding wore costumes she'd made herself.
Flash-forward to January 6, 1994—the day Kerrigan's notorious video was captured. The skater was practicing at Detroit's Cobo Arena, hoping to do well in the U.S. Championships the following day in order to qualify for the Olympics in Norway—just six weeks away. Unexpectedly, she was hit in the right kneecap by a masked assailant, resulting in a bruise and a limp—but not a fracture or break. While Kerrigan was granted a spot on the Olympic team, she was unable to compete in the U.S. Championships, and Harding won as a result. She wasn't exactly subtle about her enthusiasm for the win, and during an on-camera interview said "I'm gonna whip her butt" when asked about competing against Kerrigan at the Olympics.
The plot against Kerrigan began to unravel almost immediately, in part because—at least according to Nanette Burstein's 2014 documentary The Price of Gold—co-conspirator and Gillooly BFF Shawn Eckardt (who was Harding's occasional bodyguard) started bragging to friends about his involvement in planning the attack. In addition, assailant Shane Stant left a clear trail for investigators to follow, booking hotel rooms in Massachusetts and Detroit under his own name, and using his girlfriend's credit card to rent a car.
On February 1, less than two weeks before the opening of the Lillehammer Games, Gillooly accepted a plea deal in exchange for testifying against Harding. He and his co-conspirators ended up doing jail time for the attack, and while the U.S. Olympic Committee tried to prevent Harding from skating in the games, they reluctantly allowed itafter she threatened to sue.
At this point, both Harding and Kerrigan were set to appear at the Olympics—which was yes, highly awkward. The pair were forced to share ice time while preparing to compete, and to make matters more intense, Kerrigan wore the dress in which she'd been attacked the first time they practiced together. They proceeded to ignore each other—and the constant flashbulbs—during their hour on the ice.
The Lillehammer women's figure skating program remains one of the most-watched events in sports history, thanks in large part to viewers tuning in to see Harding and Kerrigan. The latter did the best skate of her career, and took home the silver medal. Harding, on the other hand, choked. Not only did she fail to land her first jump, she started crying and told judges she'd broken a lace during warmup, causing her to skate poorly. She was granted a re-do, but finished eighth.
After the '94 Olympics, neither Harding nor Kerrigan skated competitively ever again. Upon returning to the US, Harding pleaded guilty to conspiring to hinder prosecution—i.e., learning about the attack after the fact and not telling the FBI what she knew. She avoided jail time, but received three years probation and was fined $100,000. Meanwhile, the U.S. Figure Skating Association barred Harding from competition and stripped of her championship titles. Her career as a figure skater was over.
More than two decades on, Gillooly (who's since changed his name to Jeff Stone) maintainsthat Harding knewabout the attack all along, which she's always staunchly denied. The two had a troubled marriage—Harding says Gillooly abused her, and twice filed restraining orders against him. At the time of Kerrigan's attack, the pair had divorced, but they were still living together.
So, was Harding involved in the planning of Kerrigan's attack? File this one with D.B. Cooper and the Zodiac Killer, because it's likely we'll never know for sure. Skating fans and scandal voyeurs alike will have to wait until next year to see how much Robbie's iteration of Harding knew, and when, exactly, she knew it.
Celebrity news, beauty, fashion advice, and fascinating features, delivered straight to your inbox!