Debbie Harry Thinks Oprah Should Be President
Oh, and she just binge-watched Big Little Lies.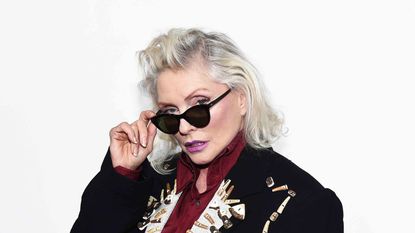 (Image credit: Ilya S. Savenok)
Marie Claire Newsletter
Celebrity news, beauty, fashion advice, and fascinating features, delivered straight to your inbox!
Thank you for signing up to Marie Claire. You will receive a verification email shortly.
There was a problem. Please refresh the page and try again.
For the legendary lead singer of Blondie, whose memoir Face It comes out next month, margaritas are a current favorite, but lipstick is forever. Here, Debbie Harry answers rapid-fire questions for Marie Claire.
Best Career Advice I've Gotten:
Get proper legal representation as soon as possible!
The Three Qualities That Got Me Where I Am Today:
Determination, tenacity, and unbridled optimism.
Moment I Felt I Made It:
Not necessarily when I "made it" per se, but the first night I achieved a well-organized and sharply focused performance (upstairs at Max's Kansas City in 1976). Everything came together (from a live perspective) for the first time. This night was documented by photographer Bob Gruen.
Work I'd Do for Free:
Activism and supporting and fundraising for environmental causes.
How I Made My First Dollar:
A summer job as an au pair at 13 years old. I was assisting a woman in my neighborhood who had four children (and was pregnant with her fifth).
Who Do You Admire and Why?
I admire Oprah Winfrey for her continually optimistic and intelligent state of mind. I think Oprah should be president. (But I wouldn't wish the job on anyone!)
Last Thing I Binge-Watched:
Family Guy and Big Little Lies.
Book That Left a Lasting Impression on Me:
You Can't Go Home Again, by Thomas Wolfe.
Song I'd Want Played at My Funeral:
Nirvana's "Smells Like Teen Spirit."
First Album I Bought:
Afro Blue, by the Cal Tjader Sextet.
Cocktail of Choice:
Always evolving, but I'm enjoying margaritas at the moment.
If I Could Live in a Foreign Country, It Would Be:
I feel like I am living in a foreign country right now (here in the U.S.).
My Perfect Day Would Begin:
Waking up next to a great-looking guy.
My Perfect Day Would End:
Drifting off to sleep next to a great-looking guy.
How I Clear My Mind After a Crappy Day:
I started practicing Transcendental Meditation six months ago.
Something Nice I Did for Myself Recently Because, Hey, Why Not:
Cryotherapy.
The Last Time I Felt Beautiful Was:
While we were filming the video for Blondie's "Doom or Destiny" [2017] with Joan Jett.
The Beauty Essential You'd Have to Pry Out of My Cold, Dead Hands:
Lipstick!
The Qualities I Thought I Wanted in a Partner:
Sense of humor, libido, and kindness/generosity.
The Qualities I Know Now Matter:
Balance, integrity, good communication, feelings shared honestly and openly, unselfishness, genuine love and friendship—and a strong libido.
This article originally appears in the September 2019 issue of Marie Claire.
RELATED STORIES
Celebrity news, beauty, fashion advice, and fascinating features, delivered straight to your inbox!