Angelina Jolie Unbound
Angelina Jolie has morphed before our eyes from wild child to humanitarian and mother of four. An intimate chat with a woman of much importance.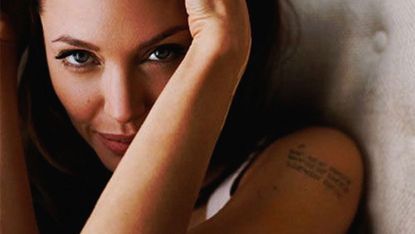 (Image credit: Cliff Watts)
On this clear afternoon in early spring, Hollywood Boulevard is crammed with tourists jostling for a glimpse of a celebrity -- any celebrity -- as black cars pull up to the Blades of Glory premiere. If only they knew that at this very moment, the starriest of them all was at a hotel close by. The lobby is dark and quiet, the restaurant empty. A booth in the back has been prepared with two place settings. I've done this with Angelina Jolie before, so I know enough to take the seat that faces the room. She'll be down in a moment, I'm told.
Soon she is striding across the floor wearing...well, do you really think you'd notice, with That Face proffering a cordial hello in your direction? Up close, Jolie's fabled eyes and lips aren't the carnival attractions you might expect -- without some wicked thought to animate them, they don't seem overtly suggestive -- but there's no mistaking her world-class allure. The dark jacket she's wearing over a sleeveless blouse and pants mutes her curves; my initial impression is that she seems both thinner and livelier than the last time we met, two years ago.
Jolie slides into the booth -- a perfectly normal-size woman, despite the statuesqueness she projects on film. The photographs that serve her up as a haughty vamp don't capture her conviviality one-on-one; warmth and good humor aren't qualities typically ascribed to Hollywood's archangel of passionate crusades. Furthermore, she's got that how-are-you gene generally not associated with the world-famous.
Which is to say, Jolie is something quite other than the cartoonish vixen she's been portrayed as in the tabloids. Judging from her choice of roles (riveting train wrecks in both Girl, Interrupted and Gia; the tomb-raiding ass-kicker in the Lara Croft films) to her well-chronicled offscreen adventures (challenging world leaders on humanitarian issues; piloting her own plane; giving birth by Cesarean section in Namibia), she's a heedless daredevil. In reality, however, she's a meticulous planner. "Brad always makes fun of me because I do that," she says. "I prepare for everything to go completely wrong. As I say to him, 'It's because I don't want anything to take me by surprise.'"
The steady, detail-oriented side of Jolie's nature was very much in evidence when she embarked on a powerful, personal project, A Mighty Heart, opening this month, in which she stars as Mariane Pearl, the wife of Wall Street Journal reporter Daniel Pearl, who was kidnapped in Pakistan and eventually slain on tape by al Qaeda operatives. The movie is based on Mariane's memoir of their marriage and her dogged, poignant search for her husband and his captors alongside Daniel's colleagues, law-enforcement personnel, and government officials.
To prepare for the role, Jolie spent long stretches with Mariane. "It says a lot about her that when something happens to her personally, her focus is the world," says Jolie. "She doesn't speak as a normal person would about 'my life, my problems, my issues.' She speaks about 'us, we, hate, love' -- very open, collective feelings." Jolie studied the Buddhist chanting that Mariane relied on to steady her during her darkest times. "I'm not a religious person, but I think there is something very interesting about the way Buddhism takes you out of yourself and connects to the universe," she says. She took pains, as Mariane herself did, not to watch the hideous video of Daniel's beheading, "because Mariane doesn't want anybody to watch it. And I agree with her that it fuels the people who want you to watch it." Jolie also had to be careful not to share too much with her son Maddox, who became friends with Adam Pearl, the child Daniel and Mariane conceived before his abduction. "We were trying to explain to him that something happened to Adam and Adam's mommy that we're telling the story of," she recalls. "And he'd say, 'Well, what happened?' Thank God I can't tell him exactly what happened, because he could say something to Adam when they're on a playdate."
Michael Winterbottom directed A Mighty Heart in India, with an eye to documentary-style realism: The actors were compelled to know all the personal details of their real-life characters. To Jolie's mind, the intensity of that preparation paid off, particularly in the scene where Daniel's murder is revealed. "Maybe it was just the reality that that had happened to a decent man," she says, "but I looked around, and all of them had tears in their eyes. You know, genuinely. It wasn't like a movie set. It felt like we were all remembering a part of something that happened in our lives that we would all be sick about forever."
Jolie refers to the task of playing someone who's become a friend as "terrifying." "Talking about it, sitting around discussing how to do it" -- with Mariane, and with Brad Pitt, whose company, Plan B, coproduced the movie -- "was fine," she says. "Then going to work and actually wanting to do it -- for Danny and for her and for Danny's parents -- was just pressure I did not want. The night before the first day of shooting I had, like, a breakdown. And her accent is so hard! She's a bit of a chameleon because she speaks different languages. I'm sure she'll find it very funny, but hopefully I did my best. My work has always been a great way for me to deal with the things in my life. Focusing on that story on a daily basis, you certainly don't worry about your life. I mean, there isn't a better film to make you hyperaware that you should complain about nothing." Amid A Mighty Heart's contemporary-thriller aspects, Jolie hopes for the movie to breathe with the romance that transformed Daniel and Mariane. "They had a deep, deep love," she says, "an amazing partnership as people and journalists...I think that the way she handled the situation was exactly as Danny would have wished. If he had seen it, it would have made him very proud."
If a wild-child role in Girl, Interrupted seemed just the right outlet for Jolie in her 20s, a project like A Mighty Heart, about geopolitics and real love, seems perfect for her now. Along with her far-reaching humanitarian work, Jolie, 32, has a real love -- perhaps you've heard -- with Pitt, whom she met while making 2005's Mr. and Mrs. Smith. "I wasn't looking at the time," Jolie says. "I was quite happy having lovers and being a single mom" -- to Maddox, whom she'd adopted in March 2002 from a Cambodian orphanage with second husband Billy Bob Thornton. "The last thing I was looking for was somebody to have a relationship with."
Now it's Jolie and Pitt, together, visiting sites of deprivation around the globe -- touring earthquake-devastated Pakistan in 2005, spending Christmas with Colombian refugees in Costa Rica last December -- trying to marshal resources for desperate families as part of Jolie's work as the Goodwill Ambassador of the United Nations High Commission on Refugees; there is also the Jolie-Pitt Foundation, through which they donated $1 million in May to relief efforts in Darfur. Reflecting the degree to which the personal and the political are, for them, inextricable, they purchased a home at yet another site of unimaginable devastation, New Orleans, where Pitt has been laboring to put his love of green architecture and construction to good use. "It's a very big, very frustrating, complex problem," Jolie says. "I see Brad working so hard -- working out some building, mapping out a street -- and then we're sitting there, and another mother is talking about how the levees aren't fixed." She can't hide her annoyance. "Big decisions aren't [being] made on a higher level -- it is so much wasted effort. I have gotten really frustrated with the sense of a lack of justice in the world."
If Jolie and Pitt are united in their causes, they seem virtually fused in parenthood. In addition to Maddox, who's about to turn 6, there is 2-year-old Zahara, adopted from Ethiopia in 2005; 3-year-old Pax, whom Jolie brought home from Vietnam in 2007; and 14-month-old Shiloh, their biological daughter.
To read more from the "Angelina Unbound" cover story, check out the July issue of Marie Claire, on sale now!
Marie Claire email subscribers get intel on fashion and beauty trends, hot-off-the-press celebrity news, and more. Sign up here.