Amy Adams on Playing Against Type
With a new baby and a new movie, the good girl actress wants a new image as well.Plus: check out the photos from her cover shoot.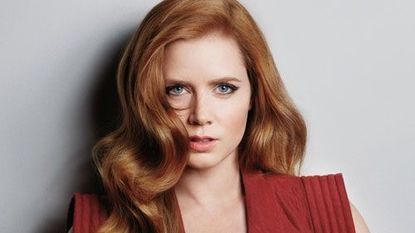 (Image credit: Mark Abrahams)
Amy Adams' first instinct is to go with the 7-inch, clear Lucite platforms.
"But that's too predictable for me, right? Too safe," she says, considering the row of plastic stripper shoes before her at the S Factor studio in Los Angeles with a knit brow. A pair of black-and-white Mary Janes with an even more precarious heel are also too "expected." Then she spots the boots. Those gleaming, black PVC, open-toe, lace-up-to-mid-calf fashion disasters are precisely the amount of bad taste Adams is searching for.

"These are exactly what I need," she says, beaming that giant, familiar smile. "These boots and a loud, trashy, '80s metal song and I'm ready for the pole."
Adams, 36, has emerged from new motherhood for the afternoon—Aviana, her 7-month-old daughter with her fiancé, actor and artist Darren Le Gallo, has been left with her nanny—so that Adams and I can learn the art of pole dancing. See, Adams is not a nun—like the wide-eyed Sister James she played in Doubt. And she's not a Disney princess—like the wide-eyed Giselle she played in Enchanted. She's not a naive Southern girl, either—like the hilariously wide-eyed Ashley in Junebug, the breakout role that earned Adams her first of two Oscar nominations and launched her impressive career only five years ago. The way Adams sees it, the best way to get the message across that she's not a prude, even if she plays one on-screen, is to conduct an interview for Marie Claire while learning how to lap dance.
"I did one interview when I was pregnant, and the writer said he thought people would be surprised to know that I had sex," says Adams. "I didn't know what to say. I was like, 'Excuse me if it takes a minute to process the fact that you think I'm asexual.' Anyway, there's something great about the world thinking I'm so innocent. Only it's not true."
"In my 20s, boy," she later confesses, shaking her head over a lunch of chicken and mashed potatoes, "I was a hot mess."
Story continued below.
Combine Adams' convincing performances as a naïf with her well-publicized Mormon background (even though her parents left the church after they divorced when Adams was 11), and somewhere along the line her audience may have forgotten she was acting.
So Adams chose a class with Sheila Kelley, the actor and trainer who's become famous for introducing regular women to the delights of exotic dancing. Her S Factor method "unlocks your inner erotic creature," according to Kelley. And Adams—who looks far from buttoned-up when she arrives at the studio in a flowy ivory sweater, slim gray jeans, and taupe, woven open-toe platforms—is up for a little of that. For one, she's heard it's a killer workout.
"Some mom friends said it's a good way to lose the baby weight," she says. "And I'll do anything to get off of that treadmill."
Changing into a sleeveless rock T-shirt and tiny spandex shorts (after Kelley chose them for her off of the rack), Adams is fearless throughout the entire two-hour session, flinging her long red hair on cue and showing off her dance training in a way that wouldn't fly in a convent.
On-screen, too, Adams is shaking things up. This month, she appears opposite Mark Wahlberg, Christian Bale, and Melissa Leo in The Fighter as Charlene, a bartender who dates a struggling boxer (Wahlberg) in working-class Lowell, Massachusetts. Apparently, the film's director, David O. Russell, didn't buy the guileless act.
"I had met with David about another movie that didn't happen. Then he called about The Fighter. I was in Ireland doing the movie Leap Year, and he sent me 20 pages of the script. I was nearly on page 20 when I was like, 'Wait, which part is for me?'" Adams says, laughing.
"She was ready to play against type," says Russell about choosing Adams. "A tough, sexy bitch. She has it and knows it, and she killed it. It opened up a whole side to her that's exciting."
"What's funny is that some people who've seen it have said, 'Amy, you're finally playing yourself!'" says Adams. "It's not that she's like me. It's just that she's less naive. My other characters haven't been tested. She has been through it."
Read the rest of Marie Claire's exclusive interview with the star in our January 2011 issue, on newsstands December 21.
Celebrity news, beauty, fashion advice, and fascinating features, delivered straight to your inbox!