Exclusive Interview: Bonnie Wright on the End of Harry Potter
The star who plays little Ginny Weasley stopped by Marie Claire to chat about her films, her fashion sense, and her future.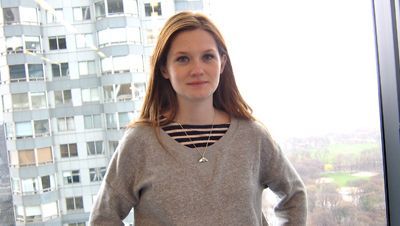 (Image credit: Archives)
Marie Claire Newsletter
Celebrity news, beauty, fashion advice, and fascinating features, delivered straight to your inbox!
Thank you for signing up to Marie Claire. You will receive a verification email shortly.
There was a problem. Please refresh the page and try again.
Bonnie Wright might not be a household name just yet, but as the love interest of one Harry Potter, she's definitely getting there: Her character, red-haired Ginny Weasley, takes on a larger role in this summer's final installment of the Harry Potter franchise. While in town for the opening of Harry Potter: The Exhibit at Discovery Times Square — the exhibit's last stop in North America — she stopped by the Marie Claire office to chat — in that adorable accent of hers — about the finality of the films, her fashion taste, and her future as an actress.
So, first things first: Can you give us any hints about the last film?
So many questions are answered and so many sad and happy things happen. There are a lot of deaths that will be unfortunate. But it's, I guess for us and for the audience, it's not only a climax to the film, it's the climax of all 10 years of these movies. I think we're all hoping that everyone will be on he edge of their seats. The moral of the whole thing is will good finally be able to trump over evil? So I think it is quite satisfying.
You also played a 35-year-old version of Ginny in the last movie. Was that odd?
It's really strange because when you get on, you're looking at yourself in the mirror and it's you but it's not you. It was really weird when my parents came on set when I was doing that. They were like, "This is really weird." I had these thin prosthetics under my eyes to make them baggier and I had a short hair wig.
You were 10 years old when you first played Ginny. What was it like growing up in the spotlight?
For me, the part started quite small and it grew as I got older, so it worked really well because I was still at school. Luckily for Dan [Radcliffe] and me, we lived in London so we'd go home to our house and see our friends on the weekend. You've got to realize that so much of your life is also just being the same as anyone else. You've got to be driven to have that balance rather than getting lost in the work world.
How has your style evolved in that time?
I think when I was quite younger, I was always quite a tomboy. And when I was a tomboy, my mom always used to be like, "Come on, let's just put you in a dress, just this once!" And I'd be like, "No, it's my body and I'll wear what I want!" So I guess that phrase of mine has kept with me. I've never had a stylist and I've always chosen my own clothes.
So how would you describe your fashion sensibilities right now?
I feel dressy and I decide to dress up, and other times I'm just wearing medium casual. I like things that make me feel ready for the day. Cuts of clothes and shapes of clothes are really important. When I put something on, and I stand up much straighter that's when I love to wear clothes.
Who are some of your favorite designers?
I think at the moment I like a lot of French designers. I think they do really well in terms of marrying this sort of casual yet sort of smart casual. People like ABC or Vanessa Bruno or there's a French company called Loft that is my new love.
Who were you closest to on the Harry Potter set?
That's hard. For me with the Weasley family, we have Rupert [Grint] and James and Oliver [Phelps] and Julie Walters, we had so much fun in those scenes. We joked around, and it was able to add a more natural feel to the family that we did all get on.
What will you miss most?
Gosh, lots. I think just for the people who started on the first film or second film, the Leavesden Studio sets were like a second living room to us. And just being in those moments in between takes when we're just sitting and chatting and laughing. We'll never be able to recreate that certain group and that certain environment.
Sometimes it's really hard to let go. I guess we know so confidently that J.K. Rowling isn't going to write another book about Harry Potter, so we do very much know it's put to rest. But I think for all of us, the memories are going to be so vivid for a very long time that it almost feels like it wasn't too long ago that we were there.
But are you happy to be moving on from playing the same role?
Yeah, I think all of us are, really. I mean it's been a really long and amazing journey with the characters, yet there comes a point where there's only so much you can put into something.
Do you plan to continue on with acting?
I'm in my second year of college at the University of London, University of the Arts at the moment doing film. And I start a new film in June this year that's an American film set in Jakarta in Indonesia, and I think there are two other Australian actors meant to be in it, Rhys Wakefield and Sophie Lowe.
Right now, my hunger and drive is to really play as many diverse roles as possible. And I think when you're with a character for 10 years, it's an awfully long time. For me now, opportunities have very much opened up, so it's just seizing the right ones and choosing everything right.
Celebrity news, beauty, fashion advice, and fascinating features, delivered straight to your inbox!