Project Runway Casting Call
Hit the road with MC editors Jeremy Spears, Zanna Roberts Rassi, and Katie Connor as they vet contestants for Project Runway 's ninth season.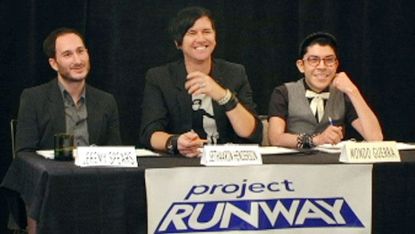 (Image credit: Courtesy of Lifetime)
Jeremy Spears, Chicago & Miami
It's my first time judging Project Runway auditions, and I fall in love immediately. In Chicago, I meet Danielle Everine, a gamine 25-year-old with flawless boy-meets-girl creations. I'm sure she'll be the winner of Project Runway's ninth season. Game over. Almost.
In Miami, I brace myself for string bikinis, Ed Hardy prints, and lots of crazy-tight dresses. My fellow panelists (PR's season seven winner, Seth Aaron Henderson, and season eight runner-up, Mondo Guerra) and I are pleasantly surprised when Essence Flowers walks in with a rack of beautifully draped party frocks. I'll admit, based on her name alone, I thought Essence Flowers had lost her way to RuPaul's Drag Race. It turns out the ex-naval officer has hippie parents to blame for her moniker. My bad!
The muses here are... interesting. Rafael Cox, a sassy, self-assured Atlanta native, pictured Rihanna for his stage-worthy separates. They just might work once the singer kicks her "S&M" phase. Kenzie Leon Perry, on the other hand, has a PR obsession that's borderline creepy. Each of his designs is based on a past series' challenge. He even Photoshopped himself onto a T-shirt standing next to Tim Gunn and Heidi Klum. Number one fan? Yes. The next great designer? Not so much. Next!
Zanna Roberts Rassi, NYC & Los Angeles
This is my third season casting Project Runway. At this point, I feel like I've seen it all — from bras with bunny ears to skirts made of little more than Scotch tape. But hey, at least those designs have some originality. Nothing irks me more than when a contestant brings clothes that he or she didn't actually design — and it happens a lot.
In New York Gregory Taylor presents an adorable triple-collar button-down shirt to the judges panel (Seth Aaron Henderson, PR season three alum Laura Bennett, and me), but on closer inspection, it has a "dry clean only" tag on it that's obviously from a manufacturer. When we point it out, he begins stammering and blushing. Busted.
All is forgotten when Cecilia Motwani walks in the door. The feisty 34-year-old from Woodside, New York, has a solid collection of everyday clothes for working women. What really blows me away, though, is her attitude. She's quite confrontational. When I ask her what kind of competitor she is, she firmly states, "I will do anything to anyone to win this competition," before storming out of the room, muttering curse words under her breath. Whether or not she made the final cut, I'm not sure. But fair warning to season nine's designers: Watch your backs!
Katie Connor, Dallas & NYC
While Dallas isn't exactly considered a fashion capital, there are some real gems at the Lone Star state's auditions. For starters: Roberto Valentín. My fellow judges Seth Aaron Henderson and Brian Bolke, owner of Dallas' premier designer boutique Forty Five Ten, and I are immediately struck by Valentín's down-home Southern charm. It's a complete contrast to his highbrow Spanish Crusades — inspired collection. The guy looks like he's straight out of Mayberry, but his designs are ready for Rodeo Drive. My only complaint: Valentín's choice of footwear. Really, Roberto, flip-flops?! That's not exactly putting your best foot forward. Tim Gunn would be beside himself!
Up next Julie Tierney. A little rough around the edges — in that scrappy kid-sister way — but I'm sold on her incredible eye for styling and range of Navajo prints. Hard as it is to imagine, a coat she made from a bed comforter is as chic as any quilted puffer I've ever seen.
My biggest grins go to Ryan Auld. The color-blind cancer survivor has a special knack for cool-girl separates with a vintage feel. (He's a self-proclaimed "bin digger" at thrift stores.) And his way with words is as colorful as his creations. Citing the "stupid hot" weather of his hometown, Baton Rouge, he put his sheer fabrics and short hemlines into perspective. By day's end, I find myself using a new choice adjective: stupid — as in, I'm stupid excited to watch what happens next.
Celebrity news, beauty, fashion advice, and fascinating features, delivered straight to your inbox!