Need to Meet: Annie Mac
This super cool UK-based DJ has proven her prowess on the dance music scene long before electronic and house took over the airwaves.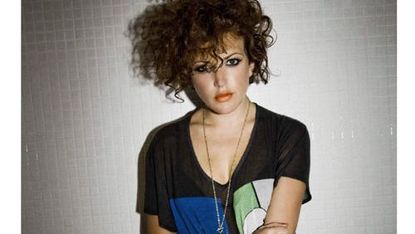 (Image credit: Courtesy of Annie Mac)
Marie Claire Newsletter
Celebrity news, beauty, fashion advice, and fascinating features, delivered straight to your inbox!
Thank you for signing up to Marie Claire. You will receive a verification email shortly.
There was a problem. Please refresh the page and try again.
If you've listened to the radio, tuned in to MTV, or perused the Billboard charts anytime within the last year, we're certain that you've noticed an overwhelming — and somewhat surprising — trend in popular music: total DJ domination. Not too long ago, electronic music was reserved for clubs and a very specific type of customer, but now the genre's biggest names are collaborating on hits with mainstream pop artists like Rihanna, cleaning up at the Grammys, and selling out arenas in a matter of minutes.
Ultra Music Festival, the famed electronic festival that takes place in Miami, sold out 200,000 tickets in record time this year, and another trend you might notice within its lineup of more than 300 acts is that the vast majority of the artists are men. Enter Annie Mac, a wildly popular DJ who not only has her own show on BBC Radio 1 in the prestigious prime-time slot on Friday nights, she's also been packing clubs all over Europe for years before house music became a worldwide phenomenon. She's bringing her show and antics on the road to Ultra next week, headlining her very own stage.
We chatted with Annie about the recent explosion of electronic music, her personal style and sound, and, of course, her epic eponymous touring party, "Annie Mac Presents."
How did your career as a DJ get started?

The roots of my career are in radio, and it was through radio that I became more of a club DJ. I always did radio shows and DJ-ed parties, then when I was given my own radio show in 2004 it was high profile — I played all kinds of music and just kind of got thrown into the deep end. And I've been doing my "Annie Mac Presents" parties since 2005, and that's just kind of an excuse for me to bring all my favorite DJ's on the road and to make sure there's always a bit of a party wherever I go so I'm not DJing alone.
How has your namesake party evolved in the last few years?

It started out very small. It started off in the back room of Fabric, which is a kind of infamous club in London. Then we moved from there up to bigger clubs, festivals, and arenas, but this is the first time we've done something at Ultra so it's really exciting.
Ultra sold out in record time this year. How do you feel about the recent worldwide domination of electronic and house music?

It's just so exciting and interesting to see how it's all happened. Before I came a DJ, there was the reign of the "Superstar DJ," like Fatboy Slim and Paul Oakenfold. Then it went underground for a while, and now it's just huge again — it's like dance music has become pop music. David Guetta has just taken over the charts and now every rapper in America wants to work with him! It's just so interesting to see how it unfolds. I don't think anyone could have predicted it, so it's hard to predict what will happen in the future, but I think that it's going to be very healthy and very popular for a long time.
How to you think electronic music's new "trendiness" will affect your career?

In terms of me and my career, I think I'm blessed to be on BBC Radio 1, and to always be able to play dance music whether its mainstream or not. As long as I get to play it, I'm happy I suppose.
Other than Ultra, what would you say is your favorite festival to play, and which do you think is the most stylish?

In America, Coachella festival — it's definitely super stylish. It's a really distinct style — because of the intense heat, people wear hats and teeny tiny shorts and that kind of thing. For us [in the UK] it's a novelty to go to a festival and see people wearing shorts because we're used to Glastonbury, where you have to be in your raincoat and Wellington boots. There's also a festival in Barcelona called Sonar, which is a really cool electronic festival. People come from all over Europe and it's a more urban festival that's very, very stylish as well. You notice that the majority of people are looking super cool.
How would you describe your personal style?

I've always been a tomboy, so I really like mixing boyish style with pretty girly things — maybe wearing a mini dress with a big baseball jacket and high-tops, or wearing a big baggy t-shirt with really skinny jeans and super high heels. There's always elements of both.
Is there anyone that you consider to be a style icon?

Chloe Sevigny — I think she dresses really well. She dresses confidently and dresses for her. She doesn't dress for anyone else.
Are there any particular designers, artists, or musicians that have influenced your style and your sound over the course your career?

I love Keith Haring. I love that his designs are simple, but really, really effective — I suppose I reflect that in some things that I wear. I like really bright colors. I guess my music is like that as well — it's funky party music.
And what female artists do you admire?

I love Santigold. I think she's great. I love her style and I love her music. There's a new girl coming from New York, who I think is going to be big — Wild Belle. Also, a band from Toronto called New Look — which is a girl and a boy — and I love their music and their look so much. It's really classic. She played for me recently, and just wore a really crisp white shirt with super red lips and tight black skinny jeans — she looked so elegant. I'm obsessed with Rihanna. Sometimes she gets it wrong, but when she gets it right — like her video for Rude Boy with the bright, cartoonish, reggae vibes in the clothes — it's insane. Finally, I love Karen O. from the Yeah Yeah Yeah's — she's completely bonkers. I think we need people like that in the world. Everything she wears is made by her friends or just for her, you can never find anything she wears in a shop. It's truly art.
What can we expect from one of your parties, specifically your party at Ultra next week?

Ultra is, like, the opposite of Coachella in terms of style. At Coachella you have girls in cowboy boots, and lots of nice designer clothing like Alexander Wang. In Miami, everyone wears furry, fluoro bra tops, and people walk around with writing all over their belly. It's mental, but it's so intriguing. For our stage, we have lots of new and exciting artists — everyone's sound is a little different but has party vibes in what they play. No one's too angry sounding or too "deep" sounding. So it's going to be all sorts of music, music you've never heard before, and it will be hopefully the most fun stage at the festival. I'm going to be there from the start, giving it my all, giving it the big one.
From an outsider's perspective, it seems like the world of professional DJ-ing is kind of like a "boys' club." What's it like to be a successful female in the genre?

It's cool. I love it. We need more, bring on the ladies!
Were there any struggles that you had to face along the way?

Genuinely, no. I have never felt the brunt of sexism in my career. People seem to be happy for you and happy that you're there. From promoters to other DJs, I've never been treated differently, at all. So I guess I'm lucky, and I guess that's a good sign for the girls, if they want to come in — there's so few women that I think any women that do come in are so welcomed.
You can follow Annie Mac on Twitter @ANNIEMACDJ, and if you're in Miami for Ultra Music Festival, don't miss Annie Mac Presents on Saturday, March 24.
Celebrity news, beauty, fashion advice, and fascinating features, delivered straight to your inbox!