Blake Lively: Savage Blonde
Fueled by her scorching turn in Oliver Stone's Savages, Blake Lively unleashes on fashion, fellas, and her future. Don't forget to check out all the photos from our exclusive cover shoot with Blake!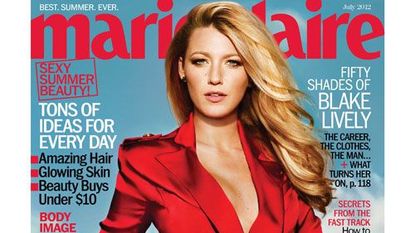 (Image credit: Archives)
Marie Claire Newsletter
Celebrity news, beauty, fashion advice, and fascinating features, delivered straight to your inbox!
Thank you for signing up to Marie Claire. You will receive a verification email shortly.
There was a problem. Please refresh the page and try again.
The first time I laid eyes on Blake Lively, she was in a skirt so tiny it could have doubled as a turban. The occasion: Chanel's resort 2012 show in the south of France. Lively's impossibly long legs did a great job running distraction, but the skirt flirted with disaster. Another starlet would have been eaten alive by the "What Was She Thinking?" tabloid sharpshooters, but not Lively, whose ohmygod good looks—those legs! that hair! that body!—give her free reign to strut what the rest of us only dare to imagine. At 24, she is a red-hot bombshell who knows her power. Who else but she could play the shared girlfriend of two drug dealers (Aaron Johnson and Taylor Kitsch) in Oliver Stone's violent new film, Savages? Lively's gritty performance in The Town was merely a prelude to this dark thriller, sure to crown her one of Hollywood's top leading ladies.
Always a head-turner, Lively insists she styles herself—no small thing in Hollywood, where celebrity stylists can exert as much influence as top-tier agents. Skeptical, I pressed her on that issue, prompting Lively to open up to me about her deep love of fashion. She was decidedly less forthcoming about her Green Lantern costar turned boyfriend, Ryan Reynolds—although Reynolds' dog, Baxter, made a cameo during our chat, suggesting perhaps that his dashing owner was upstairs waiting. Here, a little bit of girl talk—and a real glimpse of the actress.
I'll be honest, it's hard to believe that you don't have a stylist. Is there an adviser, friend, anybody who helps you?

My assistant will call fashion houses for me, but I always pick the outfit, shoes, jewelry, and a lot of times I do my own hair and makeup for events. Sometimes I think, God, why do I do this to myself? It's so much extra work!
Exactly! That's why I'm a little suspicious that you don't have professional help. Why not?

Because I love fashion. It's such an expression of self. I often see people and they look great, but I can identify who styled them. Every stylist has a signature. Maybe it sounds jerky, but I'm lucky to be on such a fashion-centric show [Gossip Girl]. There's no designer I don't have access to.
Is there anyone's style you're currently obsessing over?

I love Florence Welch. She's pure magic. I always admire people who make really strong choices. When you do something bold, it's usually because you feel really good in it.
You've got the body to pull off some revealing outfits—do you think that shades the public's perception of you?

People like to draw parallels between my life and the scandalous stories on Gossip Girl. I dress the same as my character, so they think, She lives this life on and off set. I recently shared how many boyfriends I've had [four], and people were like, "That's impossible!" But it's true. I've been with very few people. If I'm not with somebody who really excites or inspires me, then I'd rather be by myself.
Read Blake's full interview when the July issue of Marie Claire hits newsstands on June 19.
Celebrity news, beauty, fashion advice, and fascinating features, delivered straight to your inbox!