Kristen Wiig: Riot Girl
Fresh off her final season on Saturday Night Live, America's LOL queen, Kristen Wiig, braces for a new career as a big-screen superstar and Hollywood player. Don't forget to check out all the photos from our exclusive cover shoot with Kristen!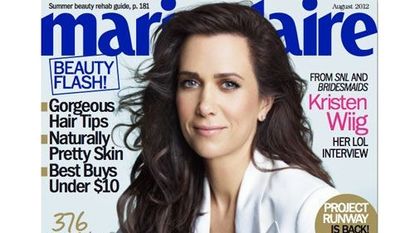 (Image credit: Marie Claire)
It's a dank afternoon at a cozy café in New York City's West Village and Kristen Wiig scurries in from the drizzle wearing a sweater she bought at a thrift shop ("This probably cost me $8; I love vintage"), jeans, leopard-print socks, and Isabel Marant boots. Her eyes are big, blue, and thoroughly serene, quite unlike most of the memorably deranged characters she's created over the years. Wiig considers sitting in the back, where she'll be shielded from prying eyes, but instead chooses the table she's first offered, at the window that looks out onto West 4th Street, not because she wants to be seen, but because the woman whose powers of comic observation have constantly informed her work wants to see. "I love the rain. It's my favorite weather," she says. "I feel like it cleans the city a little bit."
Wiig came to New York from Southern California in autumn 2005 to join the cast of Saturday Night Live, bringing with her a handful of impressions (Drew Barrymore, Björk, Jessica Simpson), a few characters she'd developed while with the influential Los Angeles improvisation group The Groundlings, and a secret fear that she'd soon be run out of town on a rail. "I remember being so scared," she says, "that after I was done with those characters—if they made it on the show—that I wouldn't have any other ideas."
Yeah, that is not what happened.
Last year, Wiig obliterated prevailing wisdom in Hollywood—that women can't front a blockbuster comedy—with Bridesmaids, the low-budget, bawdy female-buddy movie she cowrote (with Annie Mumalo) and starred in and which went on to bank $288 million worldwide. Since then, she's become A-list fare, landing the female lead in upcoming features opposite both Ben Stiller (The Secret Life of Walter Mitty) and Robert DeNiro (The Comedian); her latest, the indie Imogene, should hit the festival circuit this fall. Her personal life is also enjoying a boon: In recent months, Wiig has embarked on what appears to be a deeply fulfilling romance with Strokes drummer Fabrizio Moretti.
Not overly inclined toward personal revelation—"I am shyer than most people think"—the 38-year-old Wiig states it plain nonetheless: "I will say that I'm happier than I've ever been," she says, "and I feel very lucky right now." Why? "Where I am now. Who he is. Those are the two big ones."
As we chat, it's been little more than 100 hours since Wiig's final show as a cast member on SNL, capping a seven-season run that made her a deeply beloved comedic star. "I know a lot of people probably assume, 'Oh, she's leaving because she is going to be doing movies now and things like that,' which I will be," she notes. "But I just always knew it was going to be seven and that was it. I think maybe if I were 22, I could see myself staying a little bit, but it just felt like the right time."
Still, "it was very emotional," she says, nursing a double-shot cappuccino. "I just wanted to get through it without breaking down in every sketch. Because nothing says comedy like breaking down."
The show's closing sketch featured host Mick Jagger presiding over a graduation spotlighting Wiig, who, to the strains of the Rolling Stones' "She's a Rainbow," doffed her cap and gown for a dance with Jagger and then with the rest of her fellow cast members, whose affection for her could hardly have been more evident. Viewers at home might have spotted her brushing away a tear. "It was a very surreal moment," she says. "You have all this stuff going on in your head, like, 'I can't believe seven years has gone by, and I'm going to miss all these people.' And I'm like, 'Oh, by the way, Mick Jagger is to my right, and I just danced a waltz with him.' So there's that."
Following the show, the cast convened for the requisite after-party (Foo Fighters front man/mensch Dave Grohl played covers under the band name Chevy Metal), which proved so raucous that when Wiig woke up the next morning, she felt something "hard and small" in her mouth, only to realize she'd accidentally chipped her front tooth, Hangover-style.
Like many of Hollywood's a-star-is-born stories, Wiig's began in a suburban backwater as unlikely as any to produce a big-screen somebody: Rochester, New York, where Wiig was almost pathologically averse to being noticed. "I hated speaking in public," she recalls. "I would miss school just so I wouldn't have to do it." When Wiig was cast in a school play, the musical Anything Goes ("probably wearing some weird sailor outfit"), she came out onstage and waved to her mother in the audience.
But parked in front of the TV, Wiig would harbor secret dreams. "I wanted to be Justine Bateman," she says, recalling the slyly appealing sibling on the Michael J. Fox sitcom Family Ties. "She was so cool. Or Lisa Bonet"—The Cosby Show's resident Bohemian. "I just didn't think it was an option, coming from a town where people don't pack their bags and move out to Hollywood."
A studio art major (she still enjoys making collages in her spare time), Wiig headed off to college in Virginia, then at 19, reconsidered. "I felt too settled down. It's like I got married or something," she says. So off she went again, for three months of what she calls "low-impact living" in Mexico: "Sailing, kayaking, going with 20 strangers into the mountains of the Yucatán. Probably one of the more important things that I've done. It felt like that first big accomplishment. I was scared to do it, I knew it was going to be really hard, and I did it."
Read Kristen's full interview when the July issue of Marie Claire hits newsstands on July 17.