Elizabeth Banks: A Player Is Born
The unfiltered, hard-charging, and ridiculously overscheduled life of actress-producer Elizabeth Banks — what she crams into a single day will blow your mind.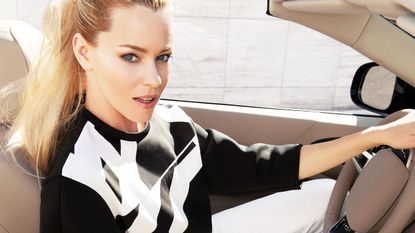 (Image credit: Jenny Gage and Tom Betterton)
ELIZABETH BANKS is all business over lunch at Culina, an upscale modern Italian spot at the Four Seasons in Los Angeles. We're discussing her company, Brownstone Productions, which produced last year's breakout hit Pitch Perfect, a musical comedy that cost just $17 million and has, to date, raked in $109 million worldwide. The film, written by sitcom writer Kay Cannon (30 Rock, New Girl), proved a critical darling and was frequently cited as further proof, post-Bridesmaids, that funny women are finally flexing their clout both on-screen and behind the scenes. Banks, never one to shy away from offering her opinion, nonetheless remains skeptical. "Predicting what content is going to fly is like looking into a crystal ball," she tells me, picking at her Gorgonzola salad. "I try not to say, 'Yeah, Bridesmaids opened the door to make more movies about women.' I mean, did it? I don't know, where are they?"
Banks, 39, is startlingly forthright about her profession in a way that actresses, in particular, tend to be cautioned against. Though her IMDb profile lists some 60 credits—a mix of hits and misses—in person she sounds most like her character on 30 Rock, the no-nonsense, right-leaning cable news pundit Avery Jessup, a role that earned her an Emmy nomination. Like Jessup, Banks is firm, confident, and direct, exuding the brisk efficiency of someone who lives in hour-long blocks of time that are invariably accounted for. Banks always has somewhere to be.
Last year, she costarred in five big-studio movies, including the blockbuster The Hunger Games, and reprised her role as Jessup on 30 Rock. In February, she reappeared on Modern Family as Cam and Mitchell's party-girl bestie, Sal. She's scheduled to shoot six films this year, and is signed on to costar in the third installment of The Hunger Games. She's currently at work on the comedy Walk of Shame, about a news anchor whose bender the night before jeopardizes a long sought-after promotion.
But while acting is Banks' mainstay, it represents only a slice (albeit a sizable one) of her career these days. She also directed one of the funnier shorts in the otherwise lackluster ensemble Movie 43, an exercise that piqued her interest in directing more in the future. ("I think it will happen for me soon.") And as it turns out, Banks, the pragmatic straight shooter, is perfectly suited for the mundane day-to-day grind of producing a movie. To be clear, she is not one of those actors who slaps her name on a project, only to disappear until its glammed-out red-carpet premiere. Though Banks had a small role as an a cappella commentator in Pitch Perfect, most of her work happened behind the scenes, on the set in Baton Rouge, Louisiana.
It was Banks' responsibility to hire the film's staff: gaffers, location scouts, casting directors, script supervisors, as well as the writer and director. Once production began, she spent three months running the operation from the set. "She's not afraid of getting her hands dirty," says director Jason Moore. "She's an intellectual, witty and down-to-earth, and she has great comedy taste. And as a producer, she understands a lot of what other producers don't—she's been on 60 different film sets as an actress, so she's seen so many different ways things can go right and wrong."
If an actress was taking too long in makeup, he says, she had no qualms checking in to make sure things moved along; if she didn't think an actor or an actress was the right person for the part, she flat out said so. "She's a badass," says Joseph McGinty Nichol (known in Hollywood as McG), the producer-director working with Banks' Brownstone Productions to develop Tink, a live-action comedy based on Tinker Bell. (Guess who's playing the iconic pixie?) "Unpretentious, no bullshit, great taste, and straight to the point."
For a scene in Pitch Perfect where the boys in an a cappella group are all sitting in a hot tub, it was her idea to play a porno in the background (a fake movie that she directed herself). According to Moore, Banks appeared in the film (after both Kristen Wiig and Amy Poehler passed on the role) in part because she was already on set and wouldn't have to spring for anyone's airfare. But the decision had an unexpected upside. While improvising with a castmate, Banks realized where the film could benefit from some jolts of humor and punched up the storyline accordingly.
Banks runs Brownstone with her husband, Max Handelman, with whom she has two children under the age of 2. "It's all about managing people," says Banks of producing. "You know, women in Hollywood, we don't get action franchises and superheroes. The rom-coms that made Julia Roberts, Sandra Bullock, and Reese Witherspoon stars are out of favor right now— nobody is making them. In this business, if you are an ambitious person, you don't wait for people to hand you opportunities. You have to make a way for yourself."
Banks has little patience for waiting around. When she's on location, she brings her family and sets up an office locally. ("Producing never stops. It's 24/7," she says.) "I think she has a deep appreciation for everything she's been able to do as a performer, but I don't think it's come so easily that she takes it for granted," adds McG. "She doesn't have this expectation, 'Roles are coming to me! I'll be the most beautiful woman in the room forever!' She's just not spoiled. And that work ethic makes her a formidable producer."
Incredibly, she also squeezes in time for social media: Banks has cultivated more than a million Twitter followers (more than Lena Dunham), and even oversees her own blog, which she updates regularly. Ask her how she manages it all and Banks is to the point: "First of all, I have a home office. I have two kids, and it means I get to put them down for their naps and be the person they wake up to," she declares. "When I'm actressing, which is my day job, and which I'm doing right now, I leave the house at 4:30 in the morning five days a week and I get home at 6, and hope to get two hours with them before they go to bed. So I'm slightly miserable about that."
Such is the unforgiving pace of an Ivy-educated, type A actress—she graduated magna cum laude with a communications degree from the University of Pennsylvania—who runs her life with the ruthless economy of a white-shoe CEO. In this way, and because of her disarming candor, I can't help but think she'd have aced her husband's old job as an investment banker for Salomon Smith Barney. (They met as undergraduates at Penn.) He ultimately quit to follow Banks to Los Angeles, where he enrolled at UCLA's business school. "We realized very quickly that if we were going to have a life together, he could not go back to 9 to 5 with two weeks of vacation," she explains.
In 2007, the couple set up Brownstone and two years later released their first movie, Surrogates, a sci-fi thriller based on a graphic novel and starring Bruce Willis. The movie bombed, but Banks learned an important lesson about producing. "It was not ultimately the movie that Max and I envisioned. The number one thing we learned on that movie in regards to Pitch Perfect was to retain as much creative control over your partners as possible."
Maintaining control has been a pervasive theme throughout Banks' career. Early on, she passed on opportunities that might have paid short-term dividends but weren't appealing in the long run. "I was offered a two-year contract on a soap opera right after I graduated," she tells me. "It would have paid off all of my student loans, and it was in New York where I wanted to live. I didn't even have an agent at the time, but I signed with a guy who said to me, 'You got a soap opera on your first day, let's see what else you can get.'"
She landed a number of small roles in impressive films like Spider-Man, Catch Me if You Can, and Seabiscuit. But Banks is, undoubtedly, best known for her comedy. She was hilarious as the kinky bookstore clerk in Judd Apatow's The 40-Year-Old Virgin and matched wits with Seth Rogen in Kevin Smith's raunchy Zack and Miri Make a Porno. "I try not to repeat myself too often," she says with characteristic frankness of her film choices. "But it's a gamble. Fred Claus had three Oscar winners in it. No business—it was a bad movie. So people ask, 'How do you plan it?' Nobody is planning anything. People make decisions on where they are right then. Sometimes you make a decision because the character just speaks to you in a way. Sometimes you make a decision because you're like, 'I'd like to buy a ski house,' you know?"
Over the course of lunch, Banks discreetly checks her watch at least three times. She's expected at a TV development meeting later, and it's obvious she's itching to get going. The next day, she's scheduled to shoot a scene for Walk of Shame and agrees to let me tag along. It's unusually chilly when she arrives at 5:30 a.m. for hair and makeup. Afterward, she'll spend 90 minutes running the same 240-foot stretch of Forman Avenue in a barely-there yellow dress and heels, trying to perfect a shot that will run maybe 10 seconds in the movie. But Banks doesn't complain. She's nothing if not a pro. Intent on getting her character's frantic and disheveled gait right, she spends a good part of that morning hunkered down in front of the monitor, watching replays of previous cuts and powwowing with the director. Once it's done and the director yells, 'It's a wrap!' Banks hurries off set, a woman with no time to spare and somewhere to be.