Queen of the Night: Jill Leiderman
The late-night wars are raging again! This time, the smart money's on Jill Leiderman, the woman who helped turn Jimmy Kimmel Live! into one of the funniest, freshest, most viral hours on TV.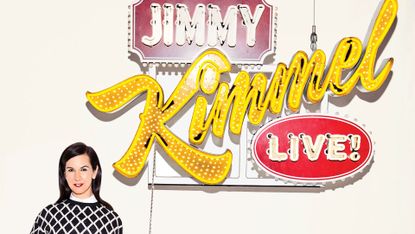 (Image credit: Meredith Jenks)
JIMMY KIMMEL IS JUST SEVEN minutes into his opening monologue for his hour-long, late-night variety show, Jimmy Kimmel Live!, when it's clear that he's headed into overtime. Television is a precisely timed medium, with every joke, segue, and commercial break accounted for, even down to the second. Although Live! is prerecorded about two and a half hours before it is actually broadcast on ABC, it needs to be wrapped up in more or less "airable" form, which means that while Kimmel delivers his stand-up spiel, he's also minding the clock. On the fly, he scuttles two jokes (one about American Idol, the other about LinkedIn) in hopes of saving a minute or so. But it's not enough.
Cut to the control room, where Jill Leiderman, Kimmel's 41-year-old executive producer, is already figuring out where she can shave off more time. With the show already in motion, she directs a crew of some 200 to tighten up Kimmel's sit-down with Star Trek Into Darkness director J.J. Abrams and scrap a second song from that night's musical act, Huey Lewis and the News (a Kimmel favorite). Leiderman is all fizzy energy, grinning as she feeds directions into her headset. Once the show wraps, she hurries to the editing room for more nips and tucks. Most nights see her home by 8:30; on Friday nights, she and her husband, Emmy award–winning writer and producer Rob Cohen (The Big Bang Theory), catch up on their DVR queue (The Daily Show With Jon Stewart, Late Night With Jimmy Fallon, Late Show With David Letterman). But tonight is a close call. She and her team finish at 8:42 p.m. Pacific time, seven minutes after the show's already begun airing on the East Coast.
"It becomes a way of living after a while," Leiderman says of the intense pressure to produce a well-timed, live network show. "Your muscles are trained like an athlete's muscles. You just know what's expected of you on a daily basis, and every day you get another shot to try to do a really good job."
Leiderman, characteristically, sells herself short here. "Jill changed everything," says Kimmel, whose show has helped re-ignite interest in the moribund late-night TV wars, which for much of the past 20 years have been dominated by Jay Leno and David Letterman, the standards of stand-up who both command $20 million-plus salaries for increasingly disinterested eyeballs. Courting young viewers these days is a very different game than it was a decade ago—in 2003, Leno commanded 6 million viewers to Letterman's 4 million; today, both barely eke out 3 million apiece—yet Jimmy Kimmel Live!, with its audience of 2.3 million, has proven a hot, buzzy viral-video machine. And early next year, once Jimmy Fallon assumes Leno's perch at NBC's The Tonight Show, the Kimmel-Fallon face-off is set to become one of the most closely watched comedy rivalries since, well, the early Leno vs. Letterman years. To this point, Leiderman, a former Letterman producer, demurs. "I feel like we're already in competition. David Letterman in my eyes and Jimmy's eyes will always, always be the king," she says. "But as far as Fallon goes, it's like, now we have two young cubs in the ring, which is exciting."
Another understatement. In fact, Leiderman is raring for battle.
BORN IN NEW YORK AND raised in Chicago—her dad was a sportscaster and executive producer, her mom a lawyer—Leiderman knew early on that she'd follow her father's footsteps into television. At Northwestern University, she studied journalism, broadcasting, and theater arts, and scored seminal summer internships at the soap opera Days of Our Lives (she ran lines with actors) and the Today show (for a month she subbed for a booker on maternity leave). "I loved being on the set, and I loved sitting in the control room," Leiderman recalls. "I absorbed how everybody did their jobs and started to quietly figure out what I was drawn to, then cobbled together the ideal job."
After graduation, she landed a production gig on The Jon Stewart Show, a short-lived MTV talk show where she demonstrated a knack for finding off-the-wall human-interest stories (a halitosis doctor who tested Stewart's breath, a geriatric pompom squad). In 1995, she was hired as a writers' researcher for Letterman, a position that saw her scouting locations, booking guests, and casting real people for bits. "If they wanted 400 sailors on 53rd Street to spell out Dave's name, I would figure out a way to make that happen," she says. Leiderman spent nine years at Letterman before leaving for a high-profile development post at VH1.
In 2006, an old colleague recommended Leiderman to Kimmel, whose show was struggling to find its footing. Kimmel was funny and likable, sure, but his show was a nonevent. He had so much trouble booking decent guests that his then girlfriend, comic Sarah Silverman, was a frequent seat-filler when no one else was available. Kimmel tried to coax Leiderman, just 35 at the time, into moving from New York to Los Angeles to oversee his show. It wasn't an easy sell. "I had the pedigree they were looking for, and I had a fire in my belly, but I didn't feel like I was ready," she confesses. "I had done it for cable, much smaller organizations. But I had never done it on a network level."
Kimmel persisted. "I interviewed a lot of people for the job, a lot of good people, and I knew for sure that Jill was the one I wanted," says Kimmel, who went out of his way to ensure that Leiderman would feel at home in Los Angeles, even throwing a barbecue for her at his house to introduce her to all of his friends.
While Kimmel oversees the funny business, Leiderman handles the mechanics of Live! Her first priority: Book better guests. "A lot of these relationships are built on trust," says Leiderman, who mined many of the contacts she cultivated at Letterman. That's how she cajoled Don Rickles to appear on the show, which led to segments with Martin Short and Billy Crystal. Over time, Kimmel's couch became a regular for A-listers. She modernized the set and did away with Kimmel's post-frat wardrobe in favor of tailored suits. She also replaced his cue cards with a teleprompter, which forced him to talk directly into the camera and connect with viewers. The improvements had dramatic results: Since her arrival, viewership has risen almost 30 percent.
"In the past I felt like everything on the show was my problem, but Jill makes everything her problem. That makes my life easier," says Kimmel. "She brought a lot of experience and organization and, probably most of all, energy to the show. There were areas in which we were lacking, and she made an impact immediately."
In January 2008, Live! turned a corner with a hilarious video Silverman produced in honor of Kimmel's birthday called "I'm Fucking Matt Damon." It instantly went viral, spawned a slew of copycats, and even went on to nab an Emmy (for Outstanding Original Music and Lyrics). Kimmel had finally become must-see TV. The show was doing so well that last year ABC bumped its start time to 11:35 p.m., annointing Kimmel a formidable contender in the late-night TV wars. Ratings alone don't tell the Kimmel story, though. The show is a social-media juggernaut. Two years ago, Kimmel asked parents to tell their children they'd eaten all their Halloween candy and record their kids' reactions. That segment has 41 million views on YouTube to date. This summer, Kimmel interviewed Coachella concertgoers about bands he'd made up—11 million hits and counting.
Though horn-tooting is anathema to her, Leiderman allows that her early insecurities are now long gone. "I don't get nervous anymore," she declares buoyantly. "I get an adrenaline rush just before the show, during the show, and then even after when I'm editing. I'm riding that high the entire time."
Marie Claire email subscribers get intel on fashion and beauty trends, hot-off-the-press celebrity news, and more. Sign up here.