Brett Dalton: The New TV Star We're Lusting After
Gorgeous. Charming. Talented.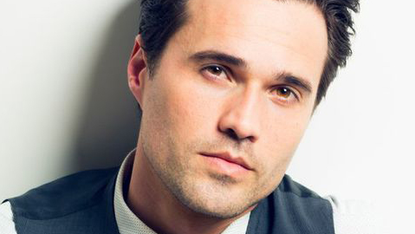 (Image credit: Judson Morgan)
For some audiences, comic books have never really been synonymous with any of the following: sexy, riveting, attractive, addictive. Until producing phenom Marvel Comics decided to cast some of Hollywood's most coveted leading men. including Chris Hemsworth, Robert Downey Jr., Mark Ruffalo, Chris Evans, to name a few. And with the new ABC TV series, "Marvel's Agents of S.H.I.E.L.D.," audiences will have an opportunity to watch some hunky men week after week. And there's no surprise that Brett Dalton, who plays Agent Grant Ward in the new series, has caught our attention in more ways than one.
Marie Claire caught up with the Yale grad to discuss his on-screen flirtations, his off-screen hobbies, and the dangerous pastime he'd like to bring to LA.
Marie Claire: Let's talk about the success of "S.H.I.E.L.D." It was the highest rated drama premiere in over four years and drew in 11.7 million viewers! Has the stardom sunk in yet?
Brett Dalton: I haven't really noticed a big difference. I go from work to home and back again. They have me on a very busy TV schedule—that I guess keeps me out of trouble [laughing].
MC: Well what about trouble on screen? Your character, Agent Ward, is this seductive, highly trained operative in combat and espionage. Basically—an all around badass. And then you're thrown in with this young, hot hacker, Skye, played by the lovely Chloe Bennet. And immediately there's this sexy, polarizing chemistry between you two. Can you tell us about that?
BD: In the beginning there's a curiosity—even an adversarial or suspicious quality. As it progresses, I'm asked to be her Supervising Officer. And there's a whole bunch of complicated relationships with that because it can be sisterly at times and then it can also be, well, there are these flirtatious moments…
MC: Exactly! It feels like there might be a romance brewing?
BD: Well, you're not wrong [laughing]. We're ahead of you with the shooting. So there's a lot of stuff down the line…And I think it's something that is enjoyable to see happen, slowly. Like Scully and Mulder of the "X Files." There was something really interesting about their relationship. And you can just watch that play out. And there's the possibility of it and you're not sure but it's exciting to watch each week and see how that develops. Like, maybe this is going to be the week.
MC: So safe to say more definitely unfolds between you two?
BD: And we can take our time with it. With TV we're in people's living rooms for an hour each week. And hopefully we have you for 22 episodes. It's really fun to see that develop.
MC: Definitely. Build on the tension. Speaking of the medium of TV, you come to it with quite a prestigious background in theater acting – a Masters from Yale School of Drama (ahem ahem!) – would you ever return to the stage?
BD: Absolutely. I think that's my first love. Obviously I love movies as well. After graduating the jobs that I got were TV so you sort of move to where the jobs are. But I would absolutely go back to theater if the role was right. And actually I have a play that I wrote before I went to NY, it had a nice little workshop. And who knows maybe even that will be produced now.
MC :A play you wrote, really? Do tell.
BD: It's called Footprints in the Snow. And god it's so weird. It all takes place in this small time fishing community where the men are like rough and tough fisherman and they all wear sweaters that their wives knit them. It starts off really funny but then at times its scary like a who done it kind of a thing. It's kind of a version of the Burbs. But they're all speaking in a language that I completely made-up. It's a little bit like "Clockwork Orange." A little bit gypsy, like Brad Pitt and his accent in "Snatch." But always fun.
MC: Wow, well we're intrigued. Quite an original! So you clearly wear a few different hats: actor, writer. What about directing, any plans or hopes to direct?
BD: Well, who wouldn't love to direct? I studied art and theater when I was in undergrad and I've always been involved in the digital arts so I tend to see things that way. I would love to do that. Not any time soon.
MC: Well when you're not in front of the camera where would we find you?
BD: I'm really obsessed with Ramsey's Kitchen Nightmares. I really don't know why. Though these people really go through a journey. Ramsey comes in and is like "This is crap!" And sometimes the people get so defensive. They go from "I'm really excited to meet this guy" to "This guy. I can't believe this guy coming in here." And then by the end you understand Ramsey is just coming from a place of love. They go through this journey and they're like "My God I can't imagine life without Ramsey!" So ya, I sort of binge watch that.
MC: Any other awesome hobbies?
BD: I've owned mopeds in the past. I would love to get one as well over here [LA] although it is a little bit be more dangerous but I've owned them in the past and I love working on them.
MC: Working on them, like a mechanic?
BD: They're really simple engines and they're really easy to work on. Do a little diagnostic about like what's the problem here? And then fix it. I find that really exciting. And if your hands are dirty at the end of the day you feel like you've done something.
MC: You can actually see what you've accomplished?
BD: Ya exactly. Does it work at the end of the day? Have you improved it? Does it work better? Great! – you have something to show for it.
Tune in to "Agents of S.H.I.E.L.D." tonight and every Tuesday on ABC at 8/7c pm.