Woody Allen's Adoptive Daughter Pens Open Letter Detailing Allegations of Sexual Abuse
The 1992 case resurfaced last month when the famed filmmaker was honored with the Cecil B. DeMille Award at the 2014 Golden Globes.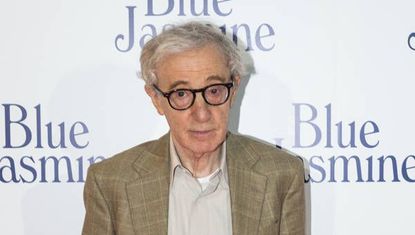 (Image credit: Getty)
Marie Claire Newsletter
Celebrity news, beauty, fashion advice, and fascinating features, delivered straight to your inbox!
Thank you for signing up to Marie Claire. You will receive a verification email shortly.
There was a problem. Please refresh the page and try again.
The New York Times' Nicholas Kristoff dedicated his Sunday column to an open letter by Dylan Farrow, the adopted daughter of Mia Farrow and Woody Allen, who for the first time has publicly addressed accusations that the famed filmmaker molested her when she was 7 years old.
In the letter that was posted to Kristoff's blog, Dylan recounted the alleged attack when she was a young girl, events that Allen has consistently denied since the allegations surfaced in 1992. It's important to note that while the events led to a custody battle, Allen was never prosecuted in this case.
"What's your favorite Woody Allen movie?" Dylan wrote. "Before you answer, you should know: when I was seven years old, Woody Allen took me by the hand and led me into a dim, closet-like attic on the second floor of our house. He told me to lay on my stomach and play with my brother's electric train set. Then he sexually assaulted me. He talked to me while he did it, whispering that I was a good girl, that this was our secret, promising that we'd go to Paris and I'd be a star in his movies."
Details surrounding the alleged incident resurfaced last month when Mia Farrow and her son Ronan tweeted their criticism of Allen being honored with the Cecil B. DeMille Award during the 2014 Golden Globe Awards. "Missed the Woody Allen tribute – did they put the part where a woman publicly confirmed he molested her at age 7 before or after Annie Hall?" Ronan tweeted.
Dylan wrote that Allen's growing acceptance in Hollywood felt like a "personal rebuke" to her, "like the awards and accolades were a way to tell [her] to shut up and go away." Dylan also personally addressed some of Allen's most famous stars, including Diane Keaton, Cate Blanchett, and Alec Baldwin.
She wrote, "What if it had been your child, Cate Blanchett? Louis CK? Alec Baldwin? What if it had been you, Emma Stone? Or you, Scarlett Johansson? You knew me when I was a little girl, Diane Keaton. Have you forgotten me?"
Blanchett and Baldwin, who starred in Allen's Oscar-nominated film Blue Jasmine, responded to the letter.
"It's obviously been a long and painful situation for the family, and I hope they find some resolution and peace," Blanchett told journalist Jeffrey Wells over the weekend.
Baldwin took to his Twitter account to respond to his followers who were asking him if he owes Dylan an apology. The actor reportedly responded in quite the brusque manner and has since deleted the tweets.
Allen's lawyer Elkan Abramowitz released a statement to NBC News, defending his client against the allegations. "It is tragic that after 20 years a story engineered by a vengeful lover resurfaces even though it was fully vetted and rejected by independent authorities," he said. "The one to blame for Dylan's distress is neither Dylan nor Woody Allen."
According to Allen's publicist Leslee Dart, the filmmaker read Dylan's letter and "will be responding very soon." Dart was quoted as saying that Allen found the article "untrue and disgraceful."
Celebrity news, beauty, fashion advice, and fascinating features, delivered straight to your inbox!