Remembering Eternal Sunshine of the Spotless Mind, 10 Years Later
As we celebrate the film's 10th anniversary, we look back at one of the its most interesting aspects: Clementine's role as the Anti Manic Pixie Dream Girl.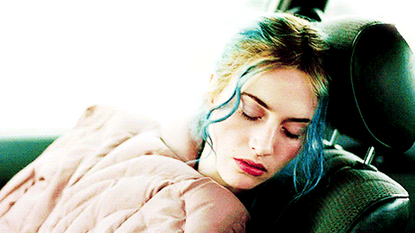 (Image credit: Archive)
Kate Winslet's Clementine Kruczynski was free-spirited, disorganized, and zany. And she was not the Manic Pixie Dream Girl. What a concept.
Sigh, the Manic Pixie Dream Girl. The archetype that was coined by AV Club writer Nathan Rabin in 2007 (opens in new tab) refers to the impossibly and effortlessly beautiful female character who is just as quirky and charming and she is nonchalant, unattached, and unaffected. She primarily exists to help a leading man realize his own potential, hunger for life, ability to grow up, you name it.
Rabin used the term as a reaction to Kirsten Dunst's character in Elizabethtown, a film that was releasedthree years after Eternal Sunshine of the Spotless Mind. He described the stereotypical character as such: "No existential quandary is so great that it can't be solved by the perfect combination of pop song and dream girl, a world of giddy pop epiphanies and gentle humanism unencumbered by protective irony or sneering cynicism." The MPDG has since been relentlessly debated, intellectualized and recently, according to The Cut (opens in new tab), pronounced dead.
The Cut's Kat Stoeffel wrote that the MPDG "was less a person than a symptom of the superficiality or laziness of her male creators," and failed to portray a woman with any sort of personality or depth of character. That "beyond [her] taste in music and vintage clothing," she had no motivations other than spontaneity, lack of availability, and surface-level pleasantries.
On impulse, Clementine appears just like the flighty characters that we've come to critique—ever wrapped in hair dye and chronic energy. Though she was way, way more. So much more that the film's success was due, in part, to exploring the complexity of loving a character like Clementine with tremendous care, tenacity, and depth. She drank too much, yet not in the notion of glamour. Her behavior lead to actual injuries in a way that the plot lines of her successors lacked. Her rough-around-the-edges exterior was not meant to foretell an endearing story about how she ultimately fell in love (much like Zooey Deschanel in 500 Days of Summer) but rather to illustrate her irresponsibility. She even went so far as to nail the aforementioned stereotype before it even existed: "Too many guys think I'm a concept, or I complete them, or I'm gonna make them alive. But I'm just a f*cked-up girl who's looking for my own peace of mind. Don't assign me yours." It's ironic that future films did to Clementine exactly what she protested.
There's no doubt that whimsical, mysterious, and adventurous female characters are crucial. As audience members, we connect because we can relate to them as complicated, emotional beings, and take little away from films that present such characters as feelingless sacks of skin.
Below, we rounded up some of our favorite anti-MPDGs who captured our hearts and imaginations.
1. Katharine Hepburn in Bringing Up Baby, 1938
2. Barbra Streisand in What's Up, Doc?, 1972
3. Diane Keaton in Annie Hall, 1977
4. Kate Hudson in Almost Famous, 2000
5. Ruby Sparks in Ruby Sparks, 2012
Photo Credit: Giphy/YouTube
Hallie has worked in beauty editorial for ten years and has been editorial director at Byrdie since 2021. Previously, she was a senior editor at Byrdie since 2016. During her time at Byrdie, she's written hundreds of high-performing stories on skincare, wellness (including fitness, diet, mental health, body image, et al) makeup, and hair. She's a regular on set, helping to source inspiration for makeup and hair looks, as well as interviewing celebrities, models, and other notable women and men in the beauty space.
Before that, Hallie ran Marie Claire's social media and wrote beauty and culture stories for the site, and helped launch Time Inc.'s digital-only beauty brand, MIMI. After college, she contributed to Time Out New York's Shopping & Style section before landing her first beauty editor gig at Hearst's Real Beauty. Hallie's writing has also appeared in ELLE, Cosmopolitan, and InStyle. Hallie graduated with a BA in Communication Arts from the University of Wisconsin-Madison.