40 Rare Photos of Marilyn Monroe You've Probably Never Seen
Including candid photos from the icon's young life, romances, and early career.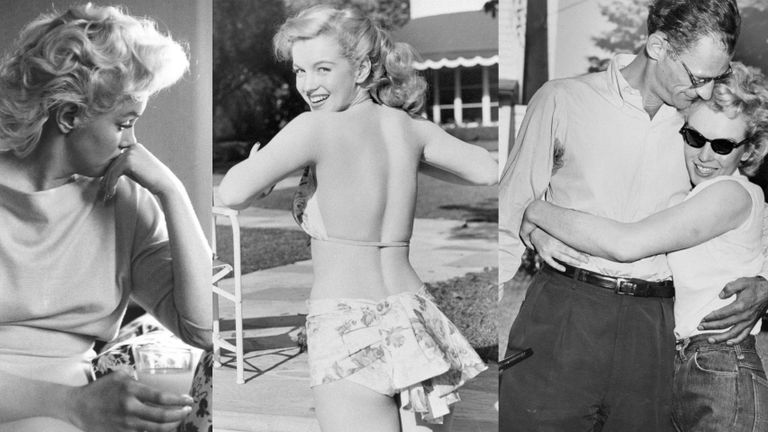 (Image credit: Getty Images)
Say the name, "Marilyn," and only one woman comes to mind: The stunning, sultry, and iconic Ms. Monroe. Born Norma Jeane Mortenson (baptized Norma Jean Baker) on June 1, 1926, she was taken to a foster home when she was only two-weeks-old by her mother, Gladys Baker. Gladys had a history of mental instability and was often hospitalized. Norma spent her childhood in a series of foster homes, dropping out of high school at 15. She worked in a munitions factory during WWII, where she was discovered, and began a career as a pin-up model. In 1946, she signed her first movie contract, shortly thereafter adopting her new stage name and dying her brunette hair blonde.
In a matter of a few years, Marilyn would become one of the world's most famous actresses, known for her blonde bombshell looks as well as her tumultuous relationships with famous men. Despite her unsettled personal life, Marilyn endeared herself to fans around the world with her soft voice, gentle demeanor, and beautiful smile. She was also a savvy businesswoman who revolutionized the film industry. Here's a look at her life through the decades.
1/40
1926: Being held by her mom
Here, Gladys Baker holds her daughter, Norma. She took the baby to her first foster home when she was only two weeks old. She visited Norma and even lived with her daughter briefly before Gladys was hospitalized for a time due to paranoid schizophrenia. She would be in and out of hospitals for most of her life.
2/40
1927: Posing for her first portrait
Six-month-old Norma is seen in what's likely her first formal portrait.
3/40
1928: Posing at two years old
Norma posed here at two years old. It was during this time she was living with her first set of foster parents.
4/40
1929: Spending time on the beach
Norma's mom, Gladys, visited her daughter frequently during the early years.
5/40
1931: Showing off her trademark smile
Norma's beautiful smile is revealed in this portrait when she's five years old.
6/40
1933: Playing with neighborhood dogs
Norma loved dogs and often had dogs throughout her life, including during her last days.
7/40
1940: Becoming a teenager
Norma is stylishly dressed for this formal portrait.
8/40
1941: Boating with her friends
Norma (center) is seen on an outing with two friends.
9/40
1942: Spending time with family
Norma did see extended family members at times. Here, they're at a restaurant with Norma on the far right, center.
10/40
1942: Marrying for the first time
Norma married merchant marine, Jimmy Dougherty, when she was 16 years old. The marriage lasted until 1946.
11/40
1945: Beginning her modeling model
Here, Norma models for a hair products advertisement.
12/40
1947: Starting her film career
Newly signed with 20th Century Fox, Norma began a whirlwind of publicity shoots. Around this time, she adopted her new stage name. Marilyn was a popular first name of the time; she paired it with her mother's maiden name, Monroe.
13/40
1947: Honing her look
Marilyn began the transformation from all-American charmer to screen siren in this swimsuit shot staged by the studio.
14/40
1947: Rehearsing with her acting coach
Marilyn put in long hours learning her trade.
15/40
1948: Creating a look
Marilyn learned to apply makeup to create a very specific screen persona for herself.
16/40
1949: Posing for a studio portrait
This portrait shows Marilyn in all her loveliness before her first movie appearance.
17/40
1950: Going to an audition
Marilyn always wanted to be taken seriously as an actress. Here, she's at an audition for a play. This same year, she received attention for her small role in John Huston's crime drama, The Asphalt Jungle and also impressed audiences and critics when she appeared in All About Eve, with Bette Davis.
18/40
19/40
1953: Appearing at a premiere
Marilyn laughed with Humphrey Bogart and Lauren Bacall at the premiere of How to Marry a Millionaire.
20/40
1953: Leaving her hand and footprints in cement
Marilyn left her hand and footprints in the cement at Grauman's Chinese Theater in Los Angeles. She's accompanied by Jane Russell, her co-star in Gentlemen Prefer Blondes.
21/40
1953: Signing autographs
Marilyn had fans of all ages. Here, she signs for a young boy at the Grauman's event.
22/40
1953: Attending a party at Bob Hope's house
Marilyn attended a holiday party at Bob Hope's house. She's surrounded by Hope, General William Dean (who had addressed the U.S. troops in Korea the night before on Hope's show), and baseball great Joe DiMaggio, who will soon become Marilyn's second husband.
23/40
1954: Marrying for the second time
Marilyn married Joe DiMaggio in January. They're coming out of the courthouse where the ceremony was held.
24/40
1954: Smiling as newlyweds
Later that year, the couple would divorce.
25/40
1954: Visiting the troops
Marilyn visited the troops in Korea during the Korean War. As you would imagine, her presence was celebrated by service members and the press alike.
26/40
1955: Heading to New York
Tired of being typecast as a dumb blond, Marilyn moved to New York City to study at the Actor's Studio. Here, Marilyn is holding her little white dog, Maf.
27/40
Marilyn appeared introspective in this candid shot in her New York hotel room.
28/40
1956: Being congratulated by the studio head
Marilyn accepted flowers from Jack Warner, president of Warner Brothers, after Warner announced that Marilyn would star in a new film.
29/40
1956: Celebrating her 30th birthday
Marilyn blew out the candle on her cake to celebrate her milestone birthday.
30/40
1956: Marrying for the third time
Marilyn married Arthur Miller, a famous playwright best known for his Pultizer-award-winning play, Death of a Salesman.
31/40
1956: Meeting the parents
After the wedding, Marilyn met Miller's parents in Connecticut.
32/40
1956: Traveling to London
The newlyweds traveled together to London, where Marilyn was slated to start her latest film.
33/40
1956: Smiling at a press conference
Marilyn was signed to star in The Prince and the Showgirl (1957) with Laurence Olivier, who also directed and produced the film. Unfortunately, her erratic behavior on set caused tension with the cast and crew. The film received mixed reviews.
34/40
1959: Returning to comedic films
Marilyn returned to her most successful genre, romantic comedy, in the huge hit, Some Like it Hot. Here, she's with director Billy Wilder at a press conference for the film. She won a "Best Actress in a Comedy" Golden Globe for her role.
35/40
1960: Attending a ribbon-cutting ceremony
Marilyn was the guest of honor at a ribbon-cutting ceremony for the Time-Life Building in New York City. She's lighting the giant firecracker with a giant match.
36/40
1960: Waiting for filming to begin on set
Film photographers set up a shot for Marilyn and her co-stars Clark Gable and Montgomery Clift during the shooting of The Misfits. The screenplay was written by her husband, Arthur Miller. It was Marilyn's last completed film.
37/40
1960: Taking a break on the set
Marilyn cuddled with a small dog on the set during the filming of The Misfits. Her marriage to Miller dissolved later this year and was finalized in early 1961.
38/40
1961: Leaving the hospital
Marilyn struggled with depression and prescription drug addiction, and in February 1961, she was admitted to a psychiatric hospital in New York for "exhaustion." Her ex-husband DiMaggio helped get her released.
39/40
1962: Singing to the president
Marilyn serenaded John F. Kennedy for his 45th birthday with her now-iconic rendition of "Happy Birthday." She was sewn into her stunning, shimmering gown adorned with more than 2,500 rhinestones.
40/40
1962: Remembering a legend
On August 5, 1962, Marilyn died in her Los Angeles home just months after her 36th birthday. Empty bottles of prescription medications were found in the room, with her death ruled a "probable suicide." Despite her complex history, Marilyn has remained a beloved icon of beauty, style, and enduring sex appeal around the world. To this day, she has no equal.
Arricca SanSone has written about health and lifestyle topics for Prevention, Country Living, Woman's Day, and more. She's passionate about gardening, baking, reading, and spending time with the people and dogs she loves.