Director Werner Herzog Analyzes Kanye West's 'Famous' Music Video
Watch filmmaker and director Werner Herzog critique and analyze Kanye West's controversial "Famous" music video.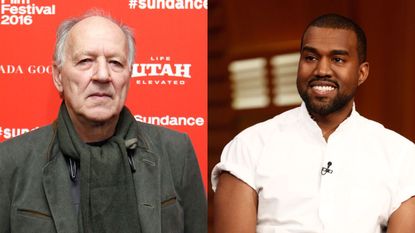 (Image credit: Getty Images)
Since its release in June, the collective Internet has been putting in its two cents on Kanye West's "Famous" music video. The onslaught of opinions from every armchair critic out there has created quite the noise, but the latest input is one you'll actually want to hear.
In an interview with The Daily Beast, Werner Herzog—esteemed German auteur, existential thinker, and man with a legendary voice—gave his artful analysis on what could easily be considered the most controversial music video of the year. And unlike many others out there, he loved it.
"[Kanye] is doing something that I've always tried to get across to people who want to make movies," Herzog declares, the camera panning across the naked bodies of the celebrity wax figures.
He is clearly a fan, regardless of how unfamiliar he might be with some of the faces featured in the video. "I do not know about quite a few of them at all," Herzog admits as the camera lingers on Taylor Swift, then Caitlyn Jenner. "But of course, Donald Trump and Rihanna I have seen. And who else is in it? The entertainer who was accused of sexual misconduct with women. What's his name? Bill Cosby."
"It's deceivingly well-cast," he adds.
RELATED STORY
"You keep thinking, are these people for real or are they doppelgängers? And what could be the story of them? What are they doing? How have they partied, or what brought them together? All of a sudden, the rapper gives me the chance to completely go wild on my own story…. It is very, very interesting."
"The fact that there's just breathing and imagining is wonderful about it," Herzog gushes. "This is very good stuff."
Granted, this is also the same man who believes "the common denominator of the universe is not harmony, but chaos, hostility, and murder." So do with that what you will.
As the clip comes to a close, Herzog offers further praise for the rapper. "So Kane West—" the interviewer corrects him on the pronunciation of West's name— "Oh, Kanye West—sorry. If he applies to my Rogue Film School with this film, I would invite him, because I have never seen anything like this, and it really has caliber."
"It shows us that the Internet can be well beyond 60-second cat videos," he adds in final thought. "Although I like them as well." (Honestly though, who doesn't like cat videos?)
As you could've guessed, Kanye West was delighted by Herzog's glowing review of his work and shared the link on his Twitter page.
Watch Herzog's complete critique of "Famous" in the video below:
Marie Claire email subscribers get intel on fashion and beauty trends, hot-off-the-press celebrity news, and more. Sign up here.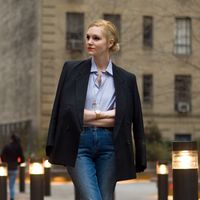 I am an experienced editor, writer, and creative strategist, specializing in fashion, beauty, and lifestyle content for digital media outlets, as well as video and social platforms. While I currently operate as a freelance contributor/consultant, with such clients as The Zoe Report, my 10+-year background in the industry was cultivated at the dot-coms of elite publications, including Harper's BAZAAR, ELLE, and Marie Claire.