19 Iconic Times Celebs Covered Other Celebs' Songs
That time Jay-Z covered "Wonderwall" though.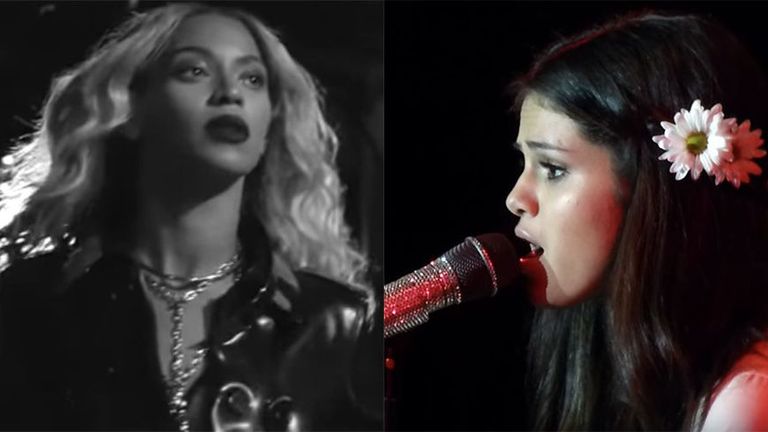 (Image credit: YouTube)
We love to hear songs performed by the musicians who made them famous, but sometimes a fresh take from another artist can completely change how we feel about an iconic track. Here are some celebrities covering each other's songs in amazing ways.
Madonna covering "Toxic" by Britney Spears
Beyoncé covering "Back to Black" by Amy Winehouse
Selena Gomez covering "...Baby One More Time" by Britney Spears
Miley Cyrus covering "Jolene" by Dolly Parton
Ed Sheeran covering "Love Yourself" by Justin Bieber
Boyce Avenue and Sarah Hyland covering "Closer" by the Chainsmokers
Lady Gaga covering "Imagine" by John Lennon
Meghan Trainor covering "Shake It Off" by Taylor Swift
Sam Smith covering "When I Was Your Man" by Bruno Mars
Florence and the Machine covering "Take Care" by Drake
Bruno Mars covering "All I Ask" by Adele
Kelly Clarkson covering "Better Have My Money" by Rihanna
Taylor Swift covering "This Is What You Came For" by Calvin Harris and Rihanna
Justin Bieber covering "I'll Make Love to You" by Boyz II Men
The Dixie Chicks covering "Daddy Lessons" by Beyoncé
Jay-Z covering "Wonderwall" by Oasis
Demi Lovato covering "Give Me Love" by Ed Sheeran
The Weeknd covering "Dirty Diana" by Michael Jackson
Taylor Swift covering "Riptide" by Vance Joy