Demi Lovato Defends Miley Cyrus
"So power to her."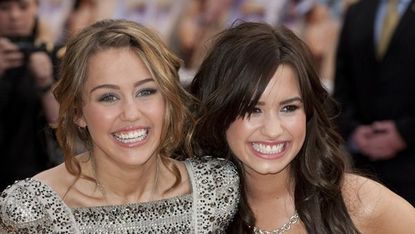 (Image credit: Archives)
Demi Lovato and Miley Cyrus may look way different than they did when they were 16, but it's clear their friendship is still as strong as ever. Both stars got their start with Disney and have transformed themselves (and their careers) in recent years—sometimes to harsh criticism. Lovato, however, .
"I guess my transition was a little easier because I went straight to rehab. I didn't twerk—I just went to rehab," Lovato said.
Lovato mentioned that people have a difficult time separating Cyrus from her original Hannah Montana persona. "You know what, I think the world needs to get over the fact that [Miley] was Hannah Montana when she was 16," she said. "Nobody knows her, nobody really knows who I am, and the same with Selena [Gomez] and Jonas [Brothers] and everyone that has grown up in front of the public eye. We're adults now."
Lovato doesn't have a problem with Miley's on-stage moves either, adding, "I think she knows what she's doing. A lot of artists take that route of shock value and that's fine, but I think she has such an incredible voice that's overshadowed by some of the things that she's doing.
Clearly, loyalty means a lot to these ladies. "I'll always love her—she's been one of my friends since I was 14. Everyone is on their different journeys and she's having fun, she's being who she is—so power to her," Lovato said.
Lovato isn't the only celeb defending Cyrus' transformation lately. Shailene Woodley recently asked, "Why are all these parents or all these people freaking out about Miley being herself?" and godmother Dolly Parton often praises Cyrus and called her "fantastic."
Cyrus sure is lucky to have such supportive friends and family in the industry!