Uma Thurman Has the Best Response to Those Plastic Surgery Rumors
Class all the way.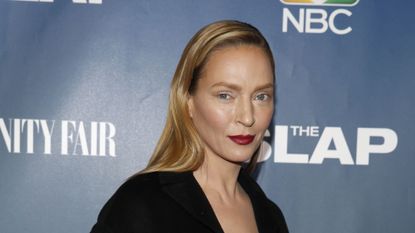 (Image credit: Getty Images)
When 44-year-old Uma Thurman appeared at the NYC premiere of her new NBC show, The Slap, on Monday, she immediately sparked plastic surgery rumors with her distinctive new look. Walking the carpet sans eyeliner and mascara (opens in new tab), she did put off a different vibe.
But the star spoke out on the Today (opens in new tab) show this morning—looking exactly like her usual gorgeous self —and had an awesomely normal-person defense.
"I know I look weird!" Thurman told Savannah Guthrie (opens in new tab) when asked about the backlash to her appearance. "I don't know, I guess nobody liked my makeup. I've been doing this for years and years and years—people say things nice and they say things mean and it's like whatever," she remarked. "You take the good with the bad."
#whatever. #whatapro.
Watch the Today show interview here. (opens in new tab)
You should also check out:
Is Mascara Over? (opens in new tab)
Drew Barrymore Has Tricks That Will Change Your #CommuterBeauty Game (opens in new tab)
"I Have Those Days": Cindy Crawford Is Just Like Us When It Comes to Body Confidence (opens in new tab)
My writing has regularly appeared in The New York Times, The Paris Review, Salon, VICE, Guernica, The New York Observer, BuzzFeed, Cosmopolitan, Seventeen, Esquire, Elle, Harper's Bazaar, and many more publications.

I was previously the Senior News Editor at Best Life Online and the Viral Content Editor in the Newsroom of Hearst Digital Media. My portfolio consists of a vast and diverse body of work that includes personal essays, lifestyle articles, breaking news posts, and viral content. My areas of expertise, however, are Russia, sex and relationships, and mental wellness.