"I Have Those Days": Cindy Crawford Is Just Like Us When It Comes to Body Confidence
But she's pretty much an angel sent from Heaven when it comes to everything else.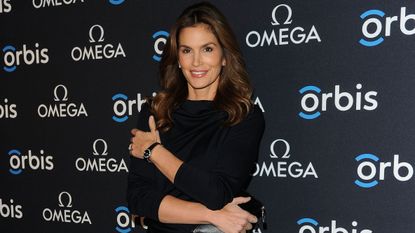 (Image credit: Getty Images)
Marie Claire Newsletter
Celebrity news, beauty, fashion advice, and fascinating features, delivered straight to your inbox!
Thank you for signing up to Marie Claire. You will receive a verification email shortly.
There was a problem. Please refresh the page and try again.
Giving back is in Cindy Crawford's blood—as a kid, she lost her brother to leukemia and has been volunteering in one way or another ever since. Her most recent effort has been captured in a moving documentary, Hospital in the Sky, which premiered in New York City last week. In it, the Omega ambassador visits Peru with leading global NGO Orbis to raise awareness of and help eliminate avoidable blindness.
But there's another way Crawford gives back: She reminds us that supermodels are human too. In a candid chat after the film's premiere, she let us in on all kinds of secrets, like:
She has "those days"...
Cindy admits it—she, too, wakes up and feels a little leery about her reflection from time to time. "I have those days," she says, smiling. "I don't want to act like I don't—especially now. As a young model, you have 4 a.m. call times; now when they give me early call times I'm like, 'I'll get up whenever you want...but my face doesn't really like to get up before 7 or 8. I'll be there, I'm just not sure you're going to want to shoot me.'"
She's not into self-deprivation...
"I was never one of the skinny skinny girls who could eat whatever they wanted, so I certainly exercise and try to eat right. But at the same time, I try to be a good role model for my daughter in terms of just accepting myself, not saying 'Does this make me look fat?' or 'I can't eat that' or 'I'm on a diet.' I just trying to lead by example. If we go out for ice cream I'm not going to not have any, I'm just going to have the baby-size cone. I don't want her to think that taking care of yourself means depriving yourself and not having fun."
She can't overdo it and expect to feel good ...
"I really think—at any age—it's about learning to be comfortable in your own skin, which is a lot easier said than done. For me, that's doing the kind of work I like, being in a good relationship, being the kind of mother I want to be—and taking care of myself. Knowing, for instance, I can't really drink wine anymore. Sometimes, not every time, it makes me puffy. Last night, we were out for dinner and I did not have a glass of wine. I had a glass of tequila—because that doesn't make me puffy. Though I didn't have three tequilas," she says, laughing. "Making those choices gives me more confidence. "
Want to know about Crawford's charity work? Check out the trailer for Hospital in the Sky here:
Celebrity news, beauty, fashion advice, and fascinating features, delivered straight to your inbox!
Elizabeth Kiefer is a features editor at Cosmopolitan, where she focuses on enterprise stories, narrative reporting, and cultural coverage for the magazine's print and digital platforms.