Drew Barrymore Has Tricks That Will Change Your #CommuterBeauty Game
Step 1: Reflect.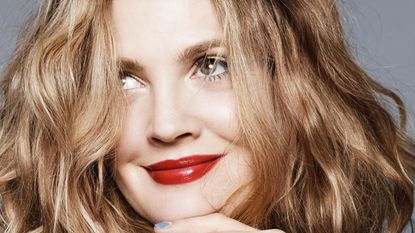 (Image credit: Jan Welters)
Marie Claire Newsletter
Celebrity news, beauty, fashion advice, and fascinating features, delivered straight to your inbox!
Thank you for signing up to Marie Claire. You will receive a verification email shortly.
There was a problem. Please refresh the page and try again.
There are many things we'd love to bend Drew Barrymore's ear about. There's style, which she's got in spades. There's music—she has immaculate taste and has even penned lyrics for fellow cool girl Jenny Lewis. There's boys, because she taught us a sacred lesson: He's just not that into you. And then there are the tall tales that come with being a Hollywood star for over three decades...
But still, if we could only choose one topic for a Barrymore heart-to-heart, it'd be beauty. With her line Flower Beauty, she's not only brought luxe and affordable botanical-infused products to the masses, but has done so with a fun, real-girl MO that's just so refreshing. Whether she's painting her nails on the subway (#commuterbeauty), easing our mind about our product-hoarding tendencies, or waxing poetic about the perfect shade of red, she just gets us.
In advance of launching her Spring 2015 collection, we chatted with Barrymore about her tried-and-true beauty tricks, handbag essentials, and hacks for doing your makeup en route.
Marie Claire: What are your most sacred beauty secrets?
Drew Barrymore: 1) Eye brightening! Undereye concealer just isn't enough, so we created a brightening primer (Flower Lighten Up! Brightening Concealer Click Pen, $7.98). Instead of try to patch-up a dark spot, brighten it. Reflect out. Stop covering it up!
2) Brows are everything. I've started working from a kit rather than a pencil because it's not just one color all year long for me. If I'm wearing a dark lip, I want light brows. If I'm wearing a light lip, I want dark brows. I also change the color of my hair, and that changes what color I want for my eyebrows. Plus, it has a taming wax I love because it makes brows dewy without being greasy.
3) My biggest criteria is lips that don't feather. Whether it's a lip balm, lacquer, or a stick, an anti-feathering formula is what I want and what I put in the line. It's the most expensive from a lab perspective because it works better. It's so important to have that experience for your lipstick.
MC: What skincare ritual do you swear by?
DB: Washing your face morning, noon, and night—most especially after those long nights. Fall asleep with your makeup on and you'll wake up doomed is my philosophy.
MC: When it comes to carrying around products in your purse, are you a minimalist or a hoarder? We're totally the latter.
DB: I hate a heavy bag because I carried one around for 40 years, and now I'm trying to lighten it up. And now I have a diaper bag, so that changes everything... But I always have a dark and nude lip, a concealer and a powder, and something for the eye, whether it's an eyeliner or a mascara. What it really comes down to is something for eye, lips, and face. You can really get away with three things, but I like to double up and have the opposite sides of the spectrum for each product.
MC: We love and can seriously relate to your #commuterbeauty hashtag—what're your best tips for beauty on the go?
DB: Just today I did my mascara in the rearview mirror of an Uber going to my next appointment. So a rearview mirror is really great—but only if you're a passenger. You cannot do it as a driver. [Laughs] Safety first!
I think the most important thing for commuter beauty is finding innovative ways to find a reflection that you can do your makeup in. So, think the window of a subway or a spoon at a dinner table. I always judge a restaurant by whether or not they have a clean knife because it's the best mirror.
http://instagram.com/p/u_MamyNRl7/?modal=true
MC: And what about painting on a cat eye in a moving vehicle—that's kind of our thing...
DB: Wait for the stop!
MC: Your February 2014 MC cover got nominated for a National Magazine Award! What set it apart from other cover shoots you've done?
DB: You know, having a beauty company, I love tight shots on a cover. And I think people love it too. It's so eye-grabbing and yet magazines are doing it less and less. So I applaud Marie Claire because we really pushed for it as we wanted it to be about the beauty.
MC: And remind us what smashing Flower shade you were wearing on the cover?
DB: Rose Bud!
Get it: FlowerKiss Stick High Shine Lip Color in Rose Bud, $7; walmart.com.
You should also check out:
The Rebel Next Door: Drew Barrymore
Celebrity news, beauty, fashion advice, and fascinating features, delivered straight to your inbox!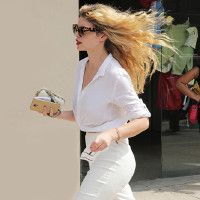 Lauren is the former beauty editor at Marie Claire. She love to while away the hours at coffee shops, hunt for vintage clothes, and bask in the rough-and-tumble beauty of NYC. She firmly believes that solitude can be a luxury if you've got the right soundtrack—that being the Rolling Stones, of course.