Hey Patriarchy: Olivia Wilde Sees Your Sexism and Raises You This Badass Feminist Flick
"Apathy is for dickheads."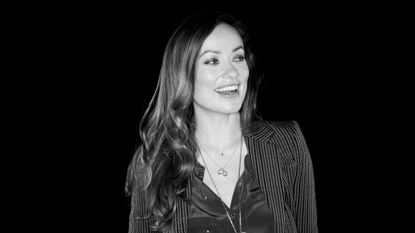 (Image credit: Gino DePinto/AOL)
On April 12, minutes after Hillary Clinton officially announced her presidential bid, Olivia Wilde tweeted, "Let the feisty debates begin! Everyone has a right to their opinion but apathy is for dickheads." That's Wilde in a nutshell: outspoken, quick-witted, and totally gutsy.
Which is why the following things are in no way surprising:
"It would have been a lot easier to finance this movie if we'd both been men," Wilde told MarieClaire.com at last week's AOL Build discussion, seated alongside her Meadowland partner in crime: first-time female director and cinematographer Reed Morano.
The movie centers on a distressed mom (Wilde) whose life unravels after the disappearance of her son—and the fact that it's about a woman proved to be a problem. "People hear the words 'female-driven drama' and they don't hear dollar signs," Wilde said. "Look at Still Alice: That's a film no one wanted to finance. Julianne Moore even said, 'Don't bother looking for financing until you find a male lead.' And that's Julianne Motherf*cking Moore!"
When you consider that only 7% of movie directors are women—and the figure for female producers is just *slightly* larger than that—the fact that Meadowland got made and is already a critically-acclaimed drama is a pretty big win. "Enjoy surpassing peoples' expectations," she says. "Women get discouraged when they sense people are underestimating them because they are women. But use that. That's your fuel."
It's safe to say that Wilde is sufficiently fueled up. "I'm trying to put together a film called FML," she says of her next project. "It's a girl comedy directed by Amy Rice, who's a documentary filmmaker but a first-time narrative female filmmaker. We have Jenny Slate co-starring."
All that said, she's still—yes, still—trying to line up financing. FML sounds about right. "It's interesting to be in a relationship with a male actor because I see how things work differently for them," Wilde says. "I'm constantly amazed at how men are rewarded versus women, in terms of compensation."
In the meantime, Wilde will be reuniting with Morano for a new Martin Scorsese series on HBO. The project is penned by Terence Winter, executive produced by Mick Jagger, and co-starring the likes of Juno Temple, Bobby Cannavale, and Ray Romano. "This cast is going to blow peoples' minds," Wilde promises. And when Olivia Wilde promises you something, with all that unbridled boldness, you believe her.
Watch Wilde and Morano talk Meadowland at AOL Build here: