New Study Reveals Why It's So Damn Hard Out There for Female Filmmakers
In sum: Gender bias sucks.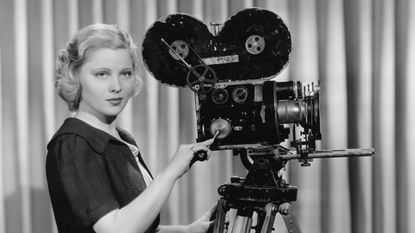 (Image credit: Getty Images)
The day after Kathryn Bigelow became the first woman to take home the Oscar for Best Director in the 87-year history of Hollywood's biggest honor, articles and insiders speculated on how monumental and how game-changing the win would be. At that moment, the entertainment industry seemed primed for the dawning of a new glass ceiling-less era behind the camera.
Unfortunately, given that there hasn't been a single female director nominated in the five years since Barbara Streisand handed Bigelow her trophy, it seems the predicted and prayed-for new "normal" never materialized.
That's why the Sundance Institute and Women In Film Los Angeles launched the Female Filmmakers Initiative—to examine why the field quickly returned to standard operating procedure, to foster gender parity for women behind the camera, and to help create programs and action plans that "create a film industry and ecosystem where female filmmakers are able to tell stories in equal numbers and with equal reach to audiences as male filmmakers," according to Cathy Schulman, president of WIFLA.
The first step was to commission a multi-year study to examine and explain the current landscape, and the results of phase three were presented in Beverly Hills last night by author Stacy L. Smith, a professor at USC's Annenberg School for Communications and Journalism.
"While the findings do have a few bright spots, the presentation may dampen the mood a bit," Smith warned at the beginning of her talk. "Female directors are perceived to fill a limited portion of the marketplace, believed to be few in number, considered to lack ambition, doubted in their competencies, surrounded by a gender imbalanced industry and are offered little support and few opportunities. Female directors are perceived to fill a limited slice of the marketplace while the terrain for male directors is limitless."
Schulman added that the results of the study demonstrate that women directors' career trajectories and financials are affected. "The research tells an undeniable story of a pipeline that cracks for female filmmakers as budgets get larger and a stakes get higher. Approximately 25 percent of American films at the Sundance Film Festival from 2002 to 2014 were directed by women. But by the time we get to the 1,300 top-grossing films [from the same period], only 4.1 percent were directed by women." In other words—well, actually, in other numbers—the gender ratio at Sundance is 2.9 male directors to every one female helmer. The ratio gap grimly widens to 23.3 males to every female when analyzing the top blockbusters of the last 12 years.
This phase asked three central quantitative questions when examining the 208 films that competed in Sundance's U.S. dramatic category over the last 13 years: How many films coming out of the Sundance film Festival received domestic distribution and from what types of companies? What were the exhibition patterns for those films? Among the Sundance films that got distribution and exhibition, were there gender differences by the directors that helmed those films? It also included extensive qualitative interviews with 59 executives, financiers, agents, managers and sales agents with an average of 17.5 years of experience in showbiz, according to Smith, to uncover their thoughts on "where women fall out of the hiring process?"
She concluded, "After three years of research, mapping the gender of more than 20,000 content creators in independent and commercial filmmaking and interviewing over 150 industry leaders and filmmakers, the question must progress from 'Why are female directors missing in action behind the camera in top films?' to 'What can be done to create lasting and meaningful change?'"
It's easy to see why the Initiative provided cocktails after the session. But Keri Putnam, executive director of the Sundance Institute, cautioned against total discouragement. "There's no way any positive change can happen unless awareness is raised so I believe we are building collectively with this initiative. The stories in the media and the attention being paid to this issue of gender inequality the foundation on which change is going to be made," Putnam told us. "Knowledge is power and it galvanizes people to action. I am heartened by the awareness that has been raised by the study already and by the business side people starting to recognize the issues and the obstacles."
She also reiterated those aforementioned bright spots. "We are at a watershed moment of awareness on this issue. There are things like the Horizon Award, the female financing company Gamechanger and the just announced screenwriters lab for women over 40 funded by Meryl Streep. The study found that women hire women and that female-helmed projects succeed at equal rates to male-helmed projects when given support and recognition. I also see firsthand every day what results are possible when women are given opportunities, surrounded by a supportive community, when their ideas are heard and earn the deserved recognition for their talents. That is enough reason to stay positive."
You should also check out:
Meryl Streep Is Sponsoring a Screenwriting Workshop for Women
Sigh: There Are Fewer Female Movie Directors Now Than There Were in the '90s
'Fifty Shades of Grey' Made a Record-Breaking $94 Million This Weekend