Judging by This New 'Carol' Trailer, Cate Blanchett and Rooney Mara Are *Both* Going to Win Oscars
Is this already the year's buzziest film?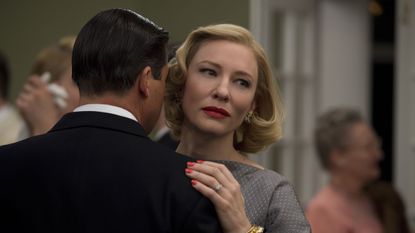 (Image credit: The Weinstein Company)
Update, 9/9: We now what you're thinking, and yes, it *is* possible for costars to be nominated for Best Actress. (See: Thelma & Louise.) It will be a travesty if that doesn't happen with Rooney Mara and Cate Blanchett, because they are incandescent in this new trailer for Todd Haynes's Carol.
Unlike in previous teasers, we catch a glimpse of the aftermath of Therese and Carol's relationship: the self-enforced distance between them, a custody battle, Coach Taylor ruining everything, and a voiceover that already makes us want to cry. Nine out of 10 YouTube movie critics agree: We've got an award-winner on our hands.
Update, 8/17: Tying in with the announcement that Carol will get a big-deal UK gala premiere in October, the first teaser for the film has been released. We get a flirty introduction (Rooney Mara as Therese Belivet and, duh, Cate Blanchett as Carol), loads of tears, and "My Foolish Heart," the sort of wistful 1940s ballad that lets you know that you should probably bring Kleenex when you go see it Nov. 20. *preemptive sniffle*
Original post, 5/14: Cannes has only just kicked off, and already one of the most buzzed-about films is Todd Haynes' Carol (maybe partially because in the process of promoting it, Blanchett made a comment that certainly *sounded* like she had had lesbian relationships IRL...).
Based on Patricia Highsmith's controversial 1952 novel The Price of Salt, the romantic drama is about Therese (Rooney Mara), a young woman working in a New York department store who falls in love with Carol (Cate Blanchett), an older married woman.
Below, you can watch the first clip, which features a girlish Mara eating lunch with a sultry Blanchett, who flits her eyes over her new prey like a spider who's caught a fly in her web. Watch it here:
Celebrity news, beauty, fashion advice, and fascinating features, delivered straight to your inbox!