Your '90s Nostalgia Fix: Catching Up with Fred Savage
And asking him: Will there be a Wonder Years reunion?!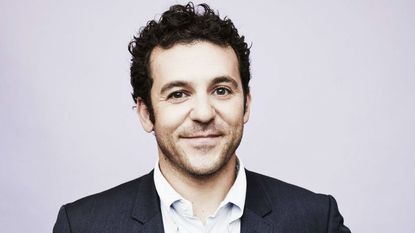 (Image credit: Archive)
Praise the pop-culture gods: Fred Savage is back on TV with new comedy The Grinder, starring your other throwback crush Rob Lowe. Not to be confused with Grindr (see below).
We caught up with the child actor-turned-director-turned-adult actor to get answers to some questions, most important being: 1) Is there going to be a Wonder Years reunion? 2) Why do we love the '90s so damn much? 3) Is Rob Lowe that pretty in person? (JK, didn't ask the last one because we already know the answer.)
Marie Claire: You're back on TV! Tell us about it.
Fred Savage: The show is called The Grinder. It is about two brothers—one is a really famous, successful actor who is just coming off an eight-year run on a very popular TV drama where he plays a lawyer. I am the other brother who stayed in Boise, went to law school, got married, had a family and has a law firm with my dad. In the pilot, Rob Lowe's character, Dean, finishes his run on The Grinder and moves back to Boise to join in the family law firm, having no experience, training or education as an attorney.
[image id='6c5a6986-9d99-442d-a8a0-3e281365b97f' mediaId='b0153af5-8800-4b5e-97ca-bdf8776abf34' caption='' loc='C' share='true' expand='true'][/image]
MC: In other words, it has nothing to do with the gay hookup app, Grindr.
FS: No, and if that's what you're looking for...come check it out! You still might enjoy it.
MC: You've got to update your Twitter bio: "I used to be an actor but then showbusiness decided I should be a director."
FS: It's so funny—I was just looking at that! You just reminded me. [Editor href='https://twitter.com/thefredsavage?ref_src=twsrc%5Egoogle%7Ctwcamp%5Eserp%7Ctwgr%5Eauthor' target='_blank">update his Twitter bio.'] I had no intentions of coming back and being an actor. Directing is literally what I've always wanted to do, ever since I was a kid. So I love the career I've built behind the camera. I've really enjoyed it and I had no plans to go in front, but this script came along and when I read it I thought, It's fantastic. I can't wait to direct it, and they said, "No, no, no. It's for you to be in." It was impossible to say no.
MC: Does it feel weird now not being behind the camera?
FS: It feels totally odd, but at the same time incredibly familiar. This is equal parts me and the material: I've never felt so comfortable in front of the camera. I've never felt so comfortable as an actor. I'm older. I have a much stronger sense of myself, who I am, and what I want to do and what I can do. I really have never felt more comfortable in front of the camera. And that, in itself, is completely shocking—to feel comfortable in one of the least comfortable situations.
MC: How sick are you of being asked: is there ever going to be a Wonder Years reunion?
FS: I'm more surprised that people think there might be. I'm so surprised that people think that that's a good idea. I'm more surprised at that. There have been huge shows that have done it, out of the thousands that have been on the air. So now they say, "Well of course, every show should do that now," and it ends up being a wildly miscalculated move.
MC: Why is '90s nostalgia still having such a cultural moment?
FS: One of the big things is that a lot of the people who grew up in the 90s are having children of their own now, and you want to look back on the things that were meaningful to you growing up and share those things with your kids.
MC: Anything you're feeling nostalgic for?
FS: We play the kids a lot of music videos that we loved when we were younger. There's, like, no music videos now! Or, not ones that you can show your kids. We showed them the Peter Gabriel's "Sledgehammer" video. They loved it. They watched it over and over again. And A-ha's "Take On Me." These are videos that we just lived for as kids.
MC: OK, back to The Grinder: Poor Stewart is dealing with a lot—he has trouble public speaking, standing up for himself—any advice for him?
FS: He's doing everything right. He's played by the rules, he's kept his head down and he's worked hard. He's not famous. He wasn't on television. But so what? That's not a very big deal. Who cares about people on television? He's not good at being a performer, and for Dean's character everything is a performance. Even having a dinner table conversation is a performance. Because Dean doesn't know who he is without an audience. Stewart's got to learn to breathe deep and accept change. But I think he's doing everything right. He's nailing it.
MC: Would you hire him as a lawyer?
FS: For sure! I wouldn't hire him to be a lawyer on television, but absolutely, he's a good lawyer. He's committed! I would not hire Dean, I'll tell you that much.
Follow Marie Claire on Instagram for the latest celeb news, pretty pics, funny stuff, and an insider POV.
Celebrity news, beauty, fashion advice, and fascinating features, delivered straight to your inbox!
As deputy editor, Jen oversees Cosmopolitan's daily digital editorial operations, editing and writing features, essays, news, and other content, in addition to editing the magazine's cover stories, astrology pages, and more. Previously, Jen was a senior editor at Marie Claire. Before that, she worked at GQ.