Lena Dunham Is Trying to Give Fewer Sh*ts
And seven other things we learn from her new Harper's Bazaar cover interview.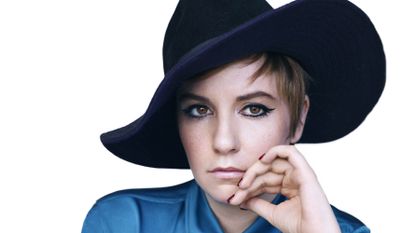 (Image credit: Nathaniel Goldberg)
Lena Dunham graces the November cover of Harper's Bazaar, and in the process, lets us in on a few secrets about her life. Here, highlights from the interview:
1. She feels pretty damn good about the big 3-0.
Your 20s comes with an inherent tension, 29-year-old Dunham says, partly because people don't necessarily value you as much in a professional setting. "Ageism exists in all directions, but it isn't the sweet spot for being taken seriously in the workplace," she says. Of course, Dunham also grants that she's been lucky. "I got to do a lot of things before I was 30 that most people don't."
2. She doesn't claim to be the *actual* voice of her generation.
With her HBO show Girls and memoir Not That Kind of Girl, Dunham is a key ambassador for twentysomething women—"the emeritus of the millennials," as Harper's Bazaar's Laura Brown describes her. But Dunham isn't having it. "I never claimed to be that voice," she says. "Except once in a character as a joke, when my character was stoned."
3. Her average day is…unusual.
Here's how boyfriend Jack Atnonoff describes it:
Dunham mostly agrees. But the exchange between Dunham and Atnonoff, as it appears in the story, actually reveals more about the couple than it does a day in Dunham's life. They have an easy rapport, despite long stretches apart.
4. She wants to return to making movies.
Dunham got her break from the 2010 indie film Tiny Funiture—if you haven't seen it, watch it tonight—before signing with HBO to create Girls. And Dunham, who will direct and produce a new series for HBO about feminism in the 1960s, says she'd like to return to the silver screen, among other things. "I want to go back to making movies," she says. "I want to keep writing books, and I want to keep cultivating the social justice part of my life."
5. Dunham's suffered emotional wounds from internet bullying.
The recent introduction of Lenny Letter, which aims to be a safe place for women on the internet that's both smart and free of snark, was spurred partially because Dunham has faced some serious venom online. "I've been put to bed for weeks from reading things about myself on sites that used to be considered feminist gospel," she says. "I love the internet because every piece of true pain I've experienced as an adult—with the exception of death in the family and breakups—has come from it."
6. She wrote a paper about Hillary Clinton in the third grade.
No surprise here—Dunham is a big Hillary Clinton fan. (In fact, she recently interviewed Clinton for Lenny Letter.) "I can say passionately that I think Hillary Clinton should be our next president," she says, "I believe in her skill, I believe in her expertise, and, yes, I want a female president. But that's not random. I mean, I wrote my third-grade end-of-the-year paper on Hillary Clinton."
7. Dunham is learning to give fewer shits.
She says she's doesn't "feel cool," particularly when she goes to industry events. "If I do feel cool, I see a picture of myself later and I'm like, 'That was a disaster.'" She is, however, experiencing a freedom from certain pressures. "Now I don't give a shit if you know that my jacket is from Ann Taylor."
You can see the entire profile—with more pictures of Dunham—atHarper's Bazaar, where Dunham also composed a short essay about what it means to be a daring woman today. Read the essay here.
Follow Marie Claire on Instagram for the latest celeb news, pretty pics, funny stuff, and an insider POV.
Celebrity news, beauty, fashion advice, and fascinating features, delivered straight to your inbox!