Lily James Wears a Different Scent for Each Character She Plays
"It's almost like stepping into another skin."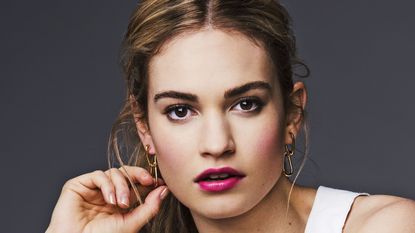 (Image credit: Justin R. Campbell/Contour by Getty Images)
I wear a different fragrance for every character I play. Smells make me feel quite emotional, and they bring back so many memories. I remember that I had trouble sleeping when I was a kid and used to spray my mom's perfume on my pillow.
I also remember lavender really clearly. That reminds me of my granny. She'd put those little lavender fragrance bags in all her knicker drawers—not that I was going through my granny's knicker drawers! I just remember [the scent] of her clothes, because she'd line her drawers with lavender paper. So I actually have got that in my knicker drawers now, too. There's also Bonfire Night [the British holiday Guy Fawkes Night on November 5]. I remember going as a kid and it'd be the smells of sparklers and bonfire and burning and hot dogs.
In terms of using fragrance for characters, it's almost like stepping into another skin. There's something about spraying it on, and I think that's a really sensual thing, like it kind of goes under the skin. I started doing it with Downton Abbey because I'd go away for six months, do tons of other stuff, and then have to come back to this character.
For Lady Rose, I wore a really heavy rose perfume. I would spritz it on and put on my wig, and I would sort of recall the character. I've since found out that a lot of actors do this: I know Helena Bonham Carter does it with every role she plays. For Juliet [James appeared in Kenneth Branagh's production of Romeo and Juliet in London over the summer], I wore My Burberry Eau de Toilette, because it's spring-y and fresh; there's an innocence to that fragrance that's good for Juliet. I tried wearing My Burberry Black, but it felt too sort of strong and—not that Juliet's not strong—but a bit too sultry. Maybe in the second half of the play!
1.
James did her own makeup backstage during the production of Romeo and Juliet: "I like putting makeup on with my hands and being quite messy with it. I have the Burberry foundation and the face contour, which you can rub in with your hands." Burberry Fresh Glow Luminous Fluid Base, $48
2.
"I love how British this fragrance is, because I'm very English. [Burberry chief creative officer] Christopher Bailey describes it as sort of a London garden. There are flowers with a drenched heaviness, which I think the perfume really does smell like." My Burberry Black Eau de Parfum, $125
This article appears in the October issue of Marie Claire, on newsstands now.