Taraji P. Henson on Why She Agonized About Taking the Role of Cookie
The Empire actress chronicles life in and out of the spotlight in her new memoir, Around the Way Girl. Here, she takes our rapid-fire quiz.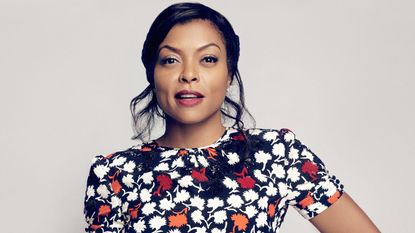 (Image credit: Robby Klein/Contour by Getty Images)
1. Moment I felt I'd made it: I don't really know what "made it" feels like. I'm constantly improving and looking for other great opportunities.
2. Most agonizing career decision I've ever made: Going back to television and taking the part of Cookie. I was so afraid people would hate her.
3. Favorite perk of the job: Knowing that your performance could change someone's life.
4. Worst pitfall of the job: Fame.
5. Change I'd like to see in my industry: I want to see more women in charge not just behind the camera, but actually as studio heads making the real decisions. You go, Dana Walden [chairman/CEO of Fox Television Group]!
6. How I made my first dollar: Doing fabulous manicures for my friends.
7. Song I'd want played at my funeral: Anything by Prince.
8. What every woman should try once in her lifetime: She should ALWAYS dance like nobody's watching.
9. One thing I'm exceptionally good at: I am a really good cook.
10. One thing I'm epically bad at: Calculus.
11. Superhero power I'd want to have: I want to fly! No more TSA, no more security.
12. How I clear my mind after a crappy day: Pray.
13. Something nice I did for myself recently, because, hey, why not? Had champagne and caviar for breakfast.
14. If I could compete in an Olympic sport, I'd like it to be: Gymnastics.
15. The last time I felt beautiful was: When my son said he loved me.
16. The beauty essential you'd have to pry out of my cold, dead hands: Rice blotting papers.
17. The three qualities I thought I wanted in a partner: Tall, dark, and handsome.
18. The three qualities I know now matter: A sense of humor, kindness to everyone, and honesty.
19. Advice to a woman with a broken heart: Please love yourself.
20. Relationship advice to my younger self: You can't change him.
21. The craziest thing I did for love: Put a boyfriend's apartment in my name.
22. Best career advice I've gotten: Never give up!
23. Kind of work I'd do for free: The kind of work I already do! I would act for free but, please, do not tell the studios or networks.
24. What does your career look like in 5 years? I still want to be making art that moves audiences.
25. Last thing you binge-watched? House of Cards.
26. On my bucket list: I would love to visit every foreign country I have not already had the opportunity to visit.
27. My perfect day would begin: Waking up in the morning.
28. My perfect day would end: Sitting by the pool with a glass of red wine.
29. What my high school boyfriend would say about me: That I am super cool and he is really proud of me.
A version of this article appears in the November issue of Marie Claire, on newsstands November 18. Order Around the Way Girl now on Amazon.
Celebrity news, beauty, fashion advice, and fascinating features, delivered straight to your inbox!