Michael Jackson's Daughter Explains Why She Believes Her Father Was Murdered
"It's obvious," says Paris Jackson.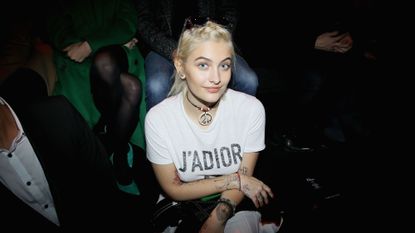 (Image credit: Getty Images)
Michael Jackson's only daughter, Paris, 18, is starting an entertainment career of her own. But first, she wants to clear up quite a bit about her father's rumor-riddled life. In a wide-ranging interview with Rolling Stone, the most in-depth look she has ever given into her life, she spoke about her father's untimely death—and why she's suspicious of its circumstances.
She told the magazine that she "absolutely" thinks her father was murdered. "Because it's obvious. All arrows point to that," she said. "It sounds like a total conspiracy theory and it sounds like bullshit, but all real fans and everybody in the family knows it. It was a setup. It was bullshit." She said that her father would often say that people were "out to get him."
Paris added that "a lot of people" wanted him dead, and she still wants justice. "I definitely do, but it's a chess game. And I am trying to play the chess game the right way," she said. "And that's all I can say about that right now."
She also is furious at the promoters of Michael's big comeback residency in London, because she believes they overworked him. The promoters, AEG Live, also work with Justin Bieber, and Paris said she saw how exhausted he was and got "scared" for him. AEG Live declined to comment to Rolling Stone. But overall, she blames Dr. Conrad Murray for making Michael dependent on propofol, the anesthetic drug that killed him.
In the rest of the interview, Paris defends her father's parenting, says she believes he is innocent of the child molestation allegations he faced, and shut down any rumors that he was not her biological father. You can read the full story here.
Follow Marie Claire on Facebook for the latest celeb news, beauty tips, fascinating reads, livestream video, and more.
Megan Friedman is the former managing editor of the Newsroom at Hearst. She's worked at NBC and Time, and is a graduate of Northwestern's Medill School of Journalism.