Kathryn Hahn Would Love to Read People's Minds, Clears Her Own with Some (Occasional) Weed
And 35 other fun facts about the I Love Dick and Transparent star.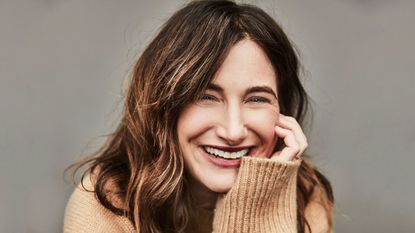 (Image credit: MAARTEN DE BOER/CONTOUR/GETTY IMAGES)
Marie Claire Newsletter
Celebrity news, beauty, fashion advice, and fascinating features, delivered straight to your inbox!
Thank you for signing up to Marie Claire. You will receive a verification email shortly.
There was a problem. Please refresh the page and try again.
1. If I weren't an actress, I'd
She's pretty damn busy, between juggling two shows (Transparent and new Amazon series I Love Dick, premiering this month) and movies like Bad Moms and its upcoming Christmas sequel—so we interviewed Kathryn Hahn in the form of a rapid-fire quiz. Here, her candid, hilarious answers.
be: A nightmare. Got to put this energy somewhere.
2. Best career advice I've gotten: Stay off the Internet. Listen to your gut. And by listen to your gut, I mean probiotics, ladies.
3. Most gracious response to career setback: I sent my pal who had gotten the part I had desperately wanted a congrats letter and some flowers. She deserved it, and was incredible.
4. Least gracious response to career setback: Big ol' pity parties.
5. The three qualities that got me where I am today: Perspective, respect, and a touch of batshit crazy.
6. Moment I felt I made it: When I could turn something down! I never turned anything down!
7. Most agonizing career decision I've ever made: Oh, they all are. I'm not good with decisions.
8. Easiest career decision I've ever made: When I had to walk away from something because I needed to be a mama.
9. Kind of work I'd do for free: Anything that involves free food and bev. And supports a good cause.
10. Favorite perk of the job: Meeting and getting to work with the artists I've worshipped.
11. Worst pitfall of the job: Time away from kids and hubby.
12. Change you'd like to see in your industry? More diversity behind the camera making the content decisions. And that will filter down to the stories we get to see told.
13. How did you make your first dollar? Tooth fairy.
14. Who do you admire and why? Lately Rachel Maddow. What an incredible brain.
15. Last thing I binge-watched: Getting On [HBO]. Laurie Metcalf is a goddess.
16. Book that left a lasting impression on me: I Love Dick, by Chris Kraus. Honestly not a plug for my show. It will blow your mind.
17. Song that always makes me cry: "Sweet Thing," by Van Morrison.
18. Movie with the greatest ending: A Woman Under the Influence with Gena Rowlands and Peter Falk just making that pullout couch a bed with that gorgeous music that sounds like a kazoo. Kills me.
19. Song you would want played at your funeral: Oh, any Rodgers and Hammerstein. I love an old musical. Or some Pharcyde.
20. First album I bought: Madonna's Madonna.
21. On my bucket list: Trip with my family to Africa. I want to do a safari.
22. If you could live in a foreign country, it would be: France.
RELATED STORY
23. What every woman should try once in her lifetime: Not wearing makeup. That and a Korean spa. The best.
24. My perfect day would begin with: A family cuddle in our bed.
25. My perfect day would end with: A family cuddle in our bed!
26. One thing I'm exceptionally good at: Parallel parking.
27. One thing I'm epically bad at: Driving stick. And skiing.
28. Superhero power I'd want to have: Mind reader. 'Cause I'm curious.
29. How I clear my mind after a crappy day: Organizing and cleaning. And occasionally weed.
30. Something nice I did for myself recently, because hey, why not: Bought myself a fab coat I didn't need cause I live in Los Angeles.
31. If I could compete in an Olympic sport, I'd like it to be: Gymnastics. Genetics not in my favor.
32. The last time I felt beautiful was: A lot recently! I have to say I don't mind getting older. Got to enjoy the now.
33. The beauty essential you have to pry out of my cold, dead hands: Moroccanoil, 'cause these ends are split.
34. My first kiss: fourth-grade coat room. He was chewing grape gum. The nuns were inches away. Scandal.
35. The three qualities I thought I wanted in a partner: Looks. Humor. Sense of self.
36. The three qualities I know now matter: Same as above. But add kindness and integrity. And patience.
37. What my high school boyfriend would say about me: "Why did she perm her hair?"
This article appears in the May issue of Marie Claire, on newsstands now.
Celebrity news, beauty, fashion advice, and fascinating features, delivered straight to your inbox!