Meet the Woman Who Built Dwayne "The Rock" Johnson's Media Empire
Dany Garcia is The Rock's ex-wife, current manager, and the woman responsible for his multimillion-dollar paycheck.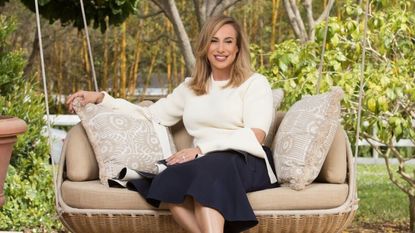 (Image credit: Jaime Chalem)
Marie Claire Newsletter
Celebrity news, beauty, fashion advice, and fascinating features, delivered straight to your inbox!
Thank you for signing up to Marie Claire. You will receive a verification email shortly.
There was a problem. Please refresh the page and try again.
Since she first met Dwayne "The Rock" Johnson as an undergraduate at University of Miami, Dany Garcia has been the quiet force shaping his success. Johnson was Hollywood's highest paid actor in 2016. With the release of next week's Baywatch, the upcoming Jumanji sequel, and the recently announced Jungle Cruise project—all produced by both Johnson and Garcia—the star's rise shows few signs of slowing. Garcia talked to MarieClaire.com about managing her ex-husband, and what it takes to make it big in Hollywood.
Marie Claire: Shortly after Johnson starred in a series of so-so movies, he made some major changes—which included making you his manager in 2008. At that point, you and Johnson were heading toward divorce, so what did that conversation look like?
Dany Garcia: "We knew that we were moving into that period of our lives, the closing of a personal relationship. I was already deeply involved with his agents, I was already commenting on scripts. It was a very natural conversation, where he just said to me, 'I would love for you to do this full-time.'
Some people go through separation and there's no conversation, and it's a dark time, and one person goes off, but that was never us. We went on this journey together. We were going to change the manner of the relationship together. We spoke every day, and multiple times a day—not only on business, but on what was happening personally. We spent over a year looking at the things that didn't work in our marriage, the reasons why, making sure those elements had been cleared and taken care of, and that we had a real understanding of respect. We gave ourselves room to know that there may be emotional freak-outs as new people come into our lives. We were like, 'Okay, we're human, so we're going to work through that.' But if you have this agreement that no one is going to leave the table, suddenly you can tackle everything.
We both wake up every day and say, 'That worked out well yesterday. How am I going to improve on that? How can I reach more people? How can I be better in my perspective?' Using that type of discipline, you can basically get through anything, and do it in a way that actually gets joyful results. But it was work."
MC: So what changed when you started managing Johnson?
DG: "In any partnership, you have to double down on the talent or the asset. It can never be about, 'You need to change more. You need to get smaller. You need to do this. You need to look like this.' It has to be more of a true belief: 'Who are you and what are you passionate about?' So Dwayne and I had a conversation. He had lost a lot of weight to fit certain parts, and he said, 'I can't do this anymore. I need to be me.' I supported him and said, 'Let's do you. That's all we need to do. Let's make Hollywood make room for you.'"
MC: You started your career in finance, working your way up the ladder at Merrill Lynch. What sparked your decision to leave Wall Street and go full-time as Dwayne Johnson's manager?
Dany Garcia: "From the time Dwayne was playing football at University of Miami, to wrestling in the WWE, to emerging in film, I was always in the background guiding him, giving counsel, and adding a business point of view to all the decisions. So I was always very comfortable speaking with his agents or his attorneys, any of the financial individuals, or even the studio executives—because I knew every film is boxed into a business model.
One of the things I wanted to do in assisting DJ was to make sure we approached all our films from a business-oriented point of view. I knew he would crush the creative. But I was always looking at it from the point of view of, 'How will this work within an enterprise model?' That carried over to Dwayne, looking at him as this incredibly talented individual, and saying, 'Now, how do I build a corporation around him? How do I support him? Where is the marketing? Where are our extensions? Who are the partners who can help me duplicate?' It's like at Apple, except the technology is Dwayne Johnson."
MC: What's your go-to strategy when negotiating deals?
DG: "It's actually very simple: A deal can't close unless everyone in the room is in a better place at the end of the meeting. I never go into a conference room thinking, 'Okay, I've got to get this. I've got to get something out of there.' I always go in wanting to understand. 'Where are you today? What is the slate? Where do you guys need this project to fall? What is the project that you guys need right now? Is it action-comedy? Is it a different genre? Boom boom.' Most of the time, no one is asking those type of questions in Hollywood. By thinking of the other party's goals, you're actually having a conversation that benefits everyone in the room.
I did have to overcome judgments like, 'Wait, is his ex-wife managing him?' People are trying to put you in a category—not in a bad way, but just so they know how to relate. I had to become very comfortable, very quickly, with creating a new paradigm: 'Yes, I am his manager. Yes, we were once married. Now, let's go build shit together.'"
MC: What's one mistake you've made in your Hollywood career that you promised yourself you will never ever make again?
DG: "We were represented by CAA in 2011, and the agent we had at that period of time was not the right match. It was the beginning of our entrance into social media, and the person kept saying, 'No, there's only so many spokes in a wheel, and you don't have to do that,' and I was like, 'No, I believe strongly that with social media, there's a way to communicate with the audience and create a new media stream.'
The biggest regret I had was how long I didn't believe in myself and thought that the issues that we were having—the lack of communication, the fact that my thoughts weren't translating into action—were reflected on myself. There was a good six to 12 months where I did the classic, 'There's a problem. I must be doing something wrong.'
We ended up calling Ari Emmanuel and we went over to William Morris Endeavor. I articulated my desire to create a corporation and enterprise around Johnson through multiple social media channels, and they just put everyone in place, and it was done."
MC: You're working on several reboots of old franchises like Baywatch and Jumanji with majorly loyal fan bases. How do you approach each project to make it relevant, but without angering its original fans?
DG: "When you decide to reboot a franchise, and many people won't do it because it truly is much more difficult than putting out a brand new property, the risk is much greater because you're dealing with a psychological base that's already existed. With Baywatch, we just leaned in. It already had this huge international presence and such iconic elements that we knew we could have so much fun. We used our social media footprint, which is about 160 million people, to start storytelling as soon as we were able to get the script. Months ago, Dwayne put out this great post where he's on a jet ski and he wrote something like, 'This is my beach, bitches.' It was just obnoxious and fun, and it set the tone.
Jumanji came from love. The original was so good. With today's technology, how could we tell this story? How do we continue the journey? We are not rebooting this bad boy; there's too much love and respect. But that great drum beat, as the game gets washed away on the shore—how does the story continue?
The Ghostbusters reboot had an incredible cast, but there was no real nod to the original Ghostbusters. That's not at all what we we're doing with Jumanji. We're trying to say, 'Can we tell you more of the story? Would you like to hear more of this story?' That's a different conversation."
MC: You've admitted that you and Dwayne have a huge appetite for success. What drives you?
DG: "My family came to America from Cuba: My mom came when she was 16 and my dad, he had to flee Cuba when he was 14, so he didn't even finish high school. They met really young. They worked through school, but obviously times were very, very tight for us. When I was younger, I always remember thinking, 'I'm going to be a millionaire. I'm going to take care of them.' I think that's a great simplistic approach, and it drove me.
I started working when I was 12. I ran a barn in New Jersey, then I sold business suits when I was in high school. I worked all through my time at the University of Miami, even though I was an athlete. When Dwayne was young, he was very much driven by the experience of being evicted, getting arrested, and his mother breaking down. We've always been driven by this desire to take care of family.
My family's happy and now well taken care of. So all of a sudden, that vision expands. It became, 'How can I take care of the world? How can I do more?'
Dwayne is the exact same way. We'll look at a project, and it has to have scope and size. If it doesn't have scope and size—if it's not going to impact people and make them happy, have global reach, move the needle—we won't do it. We're here for a short time. We try to do projects that are as big, as important, and as impactful as possible."
MC: There are lots and lots of rumors that Dwayne will enter politics one day. He's even admitted he's interested. If he goes that route, will you follow him there—or stay in Hollywood?
DG: "By answering that question, that would be validating that he's going into politics. I cannot confirm nor deny any of those conversations [laughs]. Of course, Dwayne is a dear friend—and also a client—and I will support him always in whatever expression he wants to have. I would say that I am very excited about impacting the world from the private sector, rather than in the civil servant sort of position. I'm giving you that little bit for now."
Follow Marie Claire on Facebook for the latest celeb news, beauty tips, fascinating reads, livestream video, and more.
Celebrity news, beauty, fashion advice, and fascinating features, delivered straight to your inbox!