'The Beguiled' Sanitizes Racism by Masking It with the Pretty Faces of Nicole Kidman and Elle Fanning
The problem goes way deeper than writing out the only black character.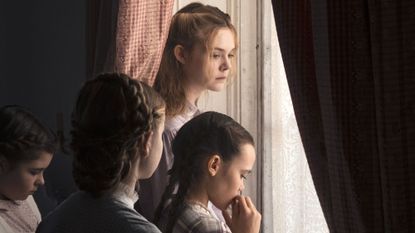 (Image credit: Focus Features)
Marie Claire Newsletter
Celebrity news, beauty, fashion advice, and fascinating features, delivered straight to your inbox!
Thank you for signing up to Marie Claire. You will receive a verification email shortly.
There was a problem. Please refresh the page and try again.
New Orleans finished the removal—removal, not destruction—of four Confederate monuments in May, a process that did not come without cries of outrage and controversy. And while construction crews pulled down that final statue, Hollywood began the process of erecting a new one.
Shot just 80 miles outside of New Orleans at the Madewood Plantation House, The Beguiled is a beautiful film. In fact, you may recognize the location from it's previous starring role in Beyoncé's Peabody Award-winning Lemonade. However the actors in The Beguiled look entirely different than the women in Beyoncé's visual album. Their whiteness is jarring—not only because of Lemonade's recent use of the plantation house, but because of the type of whiteness we're asked to root for. The women in this film are Confederates. They're former slave owners. And to paint them as heroic victims erases race, racism, and the entire Black experience.
In terms of plot, The Beguiled follows a group of girls and their teachers, all living together at a school (as played by Madewood) in Virginia while the Civil War rages on around them. Trouble makes its way to their doorstep in the form of John McBurney (Colin Farrell), a wounded soldier whom one of the youngest girls finds and brings back to the school. McBurney is the first man this house of women has entertained in months, and tensions rise with the advent of romance and jealousy.
As with the 1971 version starring Clint Eastwood, I enjoyed Sofia Coppola's The Beguiled. This updated film is a slim 94 minutes long, which the writer/director achieves by removing some thematic elements of the original. Gone are an incest subplot, a dream sequence threesome bathed in red light, a significant chunk of the relationship between headmistress Miss Martha (Nicole Kidman) and younger teacher Miss Edwina (Kirsten Dunst), and the character of Hallie—the sole slave left at the school, who assists with McBurney's injuries and—in her own way—falls prey to the excitement of having a good-looking man on the premises.
I missed the incest and the threesome (because weird, post-Bonnie and Clyde, 1970s cinema is wonderful), but I missed Hallie more. Perhaps even more then the girls—now stuck doing their own cooking, gardening, and mending—did. The original film utilizes voiceover to vocalize its characters' inner thoughts, and includes Hallie in that exposition. She's a slave, but she at least has some sort of voice. In the updated version, the absence of Hallie (or any Black person in this Civil War plantation thriller) is explained away—both in the film itself when Miss Martha mentions that the slaves have run off, and in the press for it.
"I didn't want to have a slave character in The Beguiled because that subject is a very important one, and I didn't want to brush it over lightly," Coppola offered in the press notes. "This movie is about this one group of women left behind during the war." There, in just two quick sentences, Coppola extricates herself from having to discuss slavery, and takes the onus off the viewer. Turns out, we conveniently don't have to see Miss Martha and her clan as villains of any kind. Slavery, the very cause of the war at their doorsteps, is out-of-sight and out-of-mind for everyone in involved. It's been erased from this stylized version of history.
The Beguiled comes from a long line of Civil War and Reconstruction Era films that would rather ignore the issue of race than face it. This isn't Nicole Kidman's first foray into the genre (Cold Mountain turns a black woman into Renée Zellweger), nor Colin Farrell's (he plays a much sanitized version of Confederate sympathizer Jesse James in American Outlaws). I have a deep affection for both of these movies, and thoroughly enjoyed my time watching The Beguiled as well. The plantation home is beautiful, as is the surrounding scenery of heavily drooping trees and hazy horizons through the woods. It has the aesthetic one expects from a period piece, with gorgeous costumes to match. Coppola excels at framing shots with attention paid to the female gaze—so much so, that this may be the best Farrell's ever looked on screen. And that's kind of a problem.
We should, as a society, perhaps consider not rendering the Confederate South as such a lush landscape, rife with attractive men, dewy white women, and picturesque backdrops. Perhaps the Southern Confederate woman is not a character to be made into a hero—no matter how campy, or pulpy a film might be, and especially while subsequently removing race from the picture. Yes, I left The Beguiled entertained, but at the same time I wondered if we should still be telling these stories. As white nationalism becomes more and more vocal in America, I'm leaning towards no.
Tales of the struggling Southern white woman during the Civil War no longer seem relevant. Especially tales that capitalize on America's natural inclination to sympathize with terrorized white people in order to have them be seen as heroes. Martha, Edwina, Alicia (Elle Fanning), Amy (Oona Laurence) are victims in The Beguiled, and without having to deal with race or slavery, the audience is able to completely root for them without guilt.
A film like this one (or Cold Mountain)—with its period detail, sympathetic characters, and picking and choosing of history—is its own type of monument to the confederacy. It may not be historically accurate, but it will doubtless have more life and reach than the statues we're finally removing across the south. No one will be forced to see this movie (as they're forced to drive by Confederate monuments on a daily basis), but its sympathetic and cleansed portrayal of the Civil War-era South is just as damaging as any statue. The Beguiled allows society to forget that women like Martha and Edwina are not to be sympathized with; they were complicit, and we're still dealing with the consequences of the institutions they supported. Putting Nicole Kidman's face on the Confederacy is like calling White Nationalism the Alt-Right. Dressing it pretty and renaming it doesn't change what it really is.
So while The Beguiled is a movie that I happily watched, I cannot sit here and say that it's a movie that should have been made. In 2017—the age of Milo Yiannopoulos, the Alt-Right, police shootings, Trump, and congressmen who call themselves "David Duke without the baggage"—sympathetic Confederate and White Supremacist narratives are actively dangerous. With over 200 years of white American history to pull from, it might be time to put an end to this particular story.
RELATED STORIES
Follow Marie Claire on Facebook for the latest celeb news, beauty tips, fascinating reads, livestream video, and more.
Celebrity news, beauty, fashion advice, and fascinating features, delivered straight to your inbox!