Sofia Coppola Has the Best Life Advice Ever (Which, Fun Fact, She Got from Anjelica Huston)
Plus 29 other things you never knew about the Beguiled director.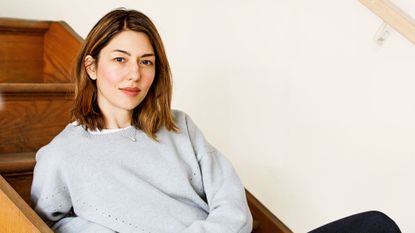 (Image credit: DICK PAGE AND JAMES GIBBS)
The writer and director of this month's big-screen Southern gothic drama The Beguiled talks playing hooky, Anjelica Huston's advice, and taking the long view on a romantic breakup.
1. If I weren't an actor, I'd be: An art director.
2. Best career advice I've gotten: Not everyone's going to like you (Anjelica Huston told me that when I was 20).
3. The three qualities that got me where I am today: Stubbornness, strong work ethic, basic manners.
4. Kind of work I'd do for free: Teacher.
5. Favorite perk of the job: Getting to travel.
6. Worst pitfall of the job: Getting spoiled with so many people tending to you when you're shooting a movie.
7. How I made my first dollar: I had a T-shirt company in college.
8. Who I admire and why: Muhammad Ali for his grace and ability to rope-a-dope.
9. Last thing I binge-watched: Doctor Foster [BBC].
10. Book that left a lasting impression on me: Anna Karenina.
11. Movie with the greatest ending: The Conversation [1974].
12. Song I'd want played at my funeral: "Sometimes," by My Bloody Valentine.
13. First album I bought: Prince's Controversy.
14. On my bucket list: The Taj Mahal.
15. My perfect day would begin: Sleeping late and then breakfast in bed while watching a movie.
16. My perfect day would end: Drinking ice-cold champagne on a terrace in the South of France.
RELATED STORY
17. One thing I'm exceptionally good at: Gift giving (I think).
18. One thing I'm epically bad at: Singing!
19. How I clear my mind after a crappy day: Walking home in New York City.
20. Something nice I did for myself recently, because, hey, why not? Taking an afternoon off from work to go shoe shopping with a girlfriend after a glass of rosé.
21. If I could compete in an Olympic sport, I'd like it to be: Gymnastics, because my daughter would be thrilled.
22. The three qualities I thought I wanted in a partner: Integrity, humor, and depth.
23. The three qualities I know now matter: Same.
24. Advice to a woman with a broken heart: It will make a good story someday that you'll laugh about.
25. Relationship advice to my younger self: Don't get married before 30.
26. Most agonizing career decision I've ever made: Leaving a big movie project that I had spent over a year working on (but wasn't the right fit)
27. Easiest career decision I've ever made: To make The Beguiled—wasn't easy to get made—but I knew for some reason I really had to try to make it.
28. My career in 5 years: No idea.
29. Change I'd like to see in my industry: More female directors.
30. The last time I felt beautiful was: When Dick Page did my makeup.
31. Moment I knew I was in love: When I couldn't eat or think straight.
A version of this article appears in the July issue of Marie Claire, on newsstands June 20.
Celebrity news, beauty, fashion advice, and fascinating features, delivered straight to your inbox!