Amanda Beard: My Secret Life
At 26 and with seven Olympic medals, 6, the swimmer was America's golden girl. But she also suffered from an eating disorder, depression, even cutting. In her new memoir, she reveals the dark truth that lurked behind that perfect image.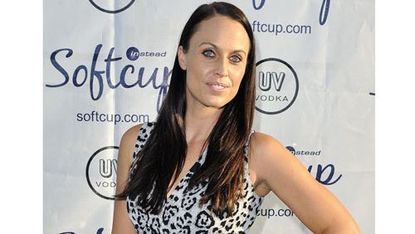 (Image credit: Getty Images)
At 26, swimmer Amanda Beard was America's golden girl, with seven Olympic medals, big-ticket endorsements, and an enviable body that landed her on the cover of Playboy as the "World's Sexiest Athlete." But she also suffered from an eating disorder, depression, even cutting. In a candid new memoir, In the Water They Can't See You Cry, Beard, now training to qualify for her fifth Olympics, reveals the dark truth that lurked behind that perfect image.
30 seems young to be writing a memoir ...

I've talked to a lot of women and younger athletes who think I'm a robot, like I've led this great life and that there were no bumps in the road. And I felt kind of like a fake — I have had a lot of ups and downs. I hope telling my story might help other women.
Can you expand on the meaning behind the title, In the Water They Can't See You Cry?

With my face in the water, I could have filled my goggles with tears and nobody would have had any idea. No one was seeing how sad I was. It was like wearing a mask.
You describe your secret struggle with cutting — it seems amazing that no one noticed.

Even though I was in a swimsuit all the time, no one saw because I found ways to make the cuts so teeny-tiny small, you could hardly see them. I want people to know that you don't always notice warning signs. Cutters are really good at hiding things.
What drove you to it?

The first time, in college, I did it by accident. I dug my nail into myself after a stressful fight with my ex-boyfriend and noticed that it made me feel a sense of calm and release. And it snowballed from there. Eventually, I was using tweezers and then razor blades. I know people are confused by what drives a person to hurt themselves and the idea that cutting yourself can make you feel better. They think it's weird and creepy, but so many people go through it. It's not an embarrassing thing. It's something you need to seek help for.
You also had an eating disorder — including purging and starving yourself when a sponsor told you to lose weight for an ad campaign. Which was more stressful — competition or being photographed?

When I go to the "office," I'm in a swimsuit, so I'm constantly half-naked. And after photo shoots, it's mind-boggling to see the inches they take off, the wrinkles, the little complexion errors. It makes you think, Oh, my gosh, this is what I should look like. So that started to stress me out — that I had to live up to the expectations of this swimsuit-model girl. It's just so unrealistic. I tried every different way that I could to achieve that body. Even if the purging had hurt my swimming, I wouldn't have stopped. I wanted to be a great swimmer, but more than that, I wanted to be pretty, skinny, and perfect.
You had a baby two years ago. How did that affect your body image?

I was nervous that I would be stressed about getting my figure back. Anybody who's had a baby knows the body is not the same. But oddly enough, I am 100 percent fine with it. I think a lot of that is because of the joy of having my son. It makes you slow down and enjoy the little moments. My life doesn't revolve around me now, so it has lifted a lot of pressure.
You were married and über-successful, yet still not happy.

I felt like I was stupid for not being a happier person, because I had all of these positive things but I couldn't enjoy them. It took a good amount of therapy to make me realize that pushing problems under the rug doesn't work. Therapy helped me learn to value myself more, to realize that I have flaws, but if I can just be happy and healthy and enjoy the short time that I have on this earth, that's what we're supposed to do. Obviously you don't wake up every day and the rainbow is out and the birds are singing and everything is fantastic. It's how I deal with things in the moment that I've been working on. I feel like I have finally come to a point where I'm comfortable with who I am.
Marie Claire email subscribers get intel on fashion and beauty trends, hot-off-the-press celebrity news, and more. Sign up here.