HBO's Girls' Best Musical Moments
As season 2 approaches on Jan. 13, we're recapping the first season through its unofficial soundtrack.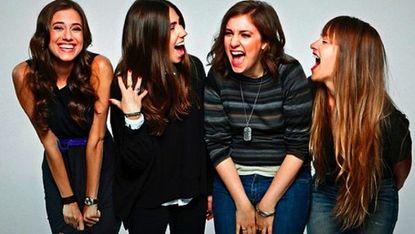 (Image credit: Marie Claire)
"I have work, and then I have a dinner thing, and then I am busy — trying to become who I am."
With that simple line uttered by Lena Dunham's protagonist Hannah, HBO's Girls hit the ground running. During its first season, the girls of Girls discussed baggage, drank opium tea, ditched their own abortions, and rocked out to some pretty awesome tunes. As season 2 approaches on Jan. 13, we're recapping the first season through its unofficial soundtrack. (Minor S1 spoiler alerts are littered throughout, so please read at your own risk.)
Dancing On My Own (opens in new tab), Robyn: "All Adventurous Women Do" (Ep 3)

Robyn's sleek, girl power-infused hit has never sounded better than it did in Hannah's bedroom that evening. In what soon after became a favorite scene of urban roommates everywhere, Marnie returned to their apartment after a rather — erm — disappointing evening to find Hannah solo shimmying to this tune in her Anthropolgie-furnished crib. It's best friend perfection.
Who's Ya Daddy (opens in new tab), Juvenile: "Hannah's Diary" (Ep 4)

This song plays when wanderlusty Jessa realizes she's lost the two littles whom she's been babysitting in the park. She seemed to have learned her lesson for the next time she organizes a coup d'état among nannies.
Pretty Girl Rock (opens in new tab), Keri Hilson: "The Return" (Ep 6)

During Hannah's return trip to Michigan, she attended a benefit for a missing girl named Carrie that featured a fishnet-clad townie performing a dance number to this Keri Hilson pop track. Carrie, meet Keri. It was inappropriate, hilariously uncomfortable, and a totally typical Girls moment.
Fixin' to Thrill (opens in new tab), Dragonette: "Welcome to Bushwick (aka The Crackcident)" (Ep 7)

We can't think of a better tune than this to accompany a trip to a Bushwick loft party complete with crack pipes, shirtless women, and an ex-boyfriend's current girlfriend. Dragonette's gritty song perfectly accompanies the episode's hectic and too-cool-for-school feel.
Steal My Sunshine (opens in new tab), Len: "Weirdos Need Girlfriends Too" (Ep 8)

This episode destroyed any previous desire we had to take DJing classes. In this episode, Chris O'Dowd's Thomas John, the venture capitalist Marnie and Jessa simultaneously picked up at a Brooklyn watering hole, not-so-impressively blended this 1999 single with the sounds of children laughing in a playground.
Halo (opens in new tab), Beyonce: "She Did" (Ep 10)

Hannah's relationship with on-off beau Adam was one of our favorite parts of the season. In the season finale, Hannah pulls away from Adam's slow dance at Jessa's wedding to perform a few seconds of Beyonce's Halo music video.
Anything Could Happen (opens in new tab), Ellie Goulding: Season 2 trailer

You know, the one where Adam bursts into Hannah's doorway making a bird-like noise while the rest of the clip's 52 seconds proceed with utter grooviness. Jorma Taccone makes an extremely sexy comeback, which we can only hope will prove to be the climax of the upcoming season (pun absolutely intended.) The sweet smiles, hearty laughs, and Hannah's dance moves are only improved by Ellie Goulding's upbeat, anthem-worthy hit.
Check out the official soundtrack, Girls — Volume 1, due out Jan. 8.