Project Runway Behind the Scenes: Gretchen Jones' Winning Challenge
Find out how the season eight contestant's sexy jumpsuit made it all the way to a Times Square billboard.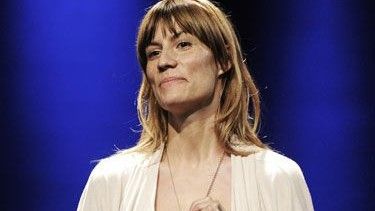 (Image credit: Barbara Nitke/Lifetime Television)
The orders came directly from MC Editor-in-Chief and Project Runway guest judge Joanna Coles: "Design a look that tells the audience in a single, brief glance who the Marie Claire woman is: intelligent, practical, and fashion-forward." In a first for the series, the winning design would be splashed across a 40-foot billboard in Times Square. Gretchen Jones, a 28-year-old designer from Portland, Oregon, made the risky move of creating her first pair of pants—a jumpsuit, actually—that impressed the judges with its versatility and modern aesthetic. "I wanted something that was sweet enough that it wouldn't be out of reach to a mainstream audience," she says. "It's for a girl whom people can relate to without being too edgy."
The Shoot
Little-known fact: On Runway, designers aren't allowed any tools of assistance for their final looks. That means no double-sided tape and absolutely no Spanx. It's a testament to Jones' craftsmanship that her jumpsuit could withstand model Coco Rocha's every jump during our photo shoot with famed fashion photographer James Macari. Then again, Rocha has some experience with onesies. "I love jumpsuits," she gushes. "I have a huge collection of them," adding, "It can be tricky to get the right fit, especially for models." That's a subtle reference to the risk of unsightly downstairs décolletage (camel toe, if you will) that tall girls often face. But all went smoothly. The stylings of MC's senior fashion editor, Zanna Roberts Rassi, helped bring the big picture together.
The Model
Among the many things you need to know about Coco Rocha: She was discovered at an Irish dancing competition when she was 15; she's as addicted to Facebook, blogging, and Twitter as the average cubicle monkey; and she is obsessed with Glee. (Asked if a cameo is possible, she exclaims, "Wouldn't it be great? I'll teach the Cheerios Irish dancing!") This fall marks the launch of Rocha's first clothing collection—appropriately dubbed Rococo by the 22-year-old and her husband, interior designer James Conran. Soon, not only will her face be on billboards, but her designs, too.