Project Runway Season 12 Recap: Episode 9
The designers created looks for the modern Southern woman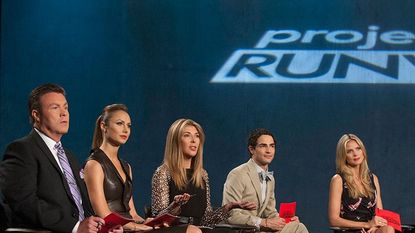 (Image credit: Lifetime)
The remaining designers were tasked with creating a daytime or evening look for the modern Southern woman during "Project Runway's" ninth episode, and many of the contestants interpreted the challenge by selecting similar color palettes and textiles. Both Alexander and Bradon selected plaid prints, recalling an earlier episode this season when two contestants (Alexander and Miranda) sent strikingly similar plaid pants down the runway.
While the designers seemed to interpret the overall feel of the challenge similarly, they all constructed wildly different looks. Dom tried to challenge herself by creating a non-print maxi dress that Tim Gunn feared might have been under-designed, while Alexandra's gown had a bohemian, rather than Southern, feel.
"It's hideous," Gunn said to Alexandria in the workroom. "I'm sorry. It's hideous."
By the time the models hit the runway, the judges, including guest judge Stacy Keibler, were far more impressed. Heidi, Zac and Nina were unanimous in their praise for Bradon's plaid look and their dissatisfaction in Ken's flowing, more basic design. Kate garnered praise for producing a very sellable look, though Heidi insisted the dress made the model look pregnant. The judges mulled over the best and worst designs of the week, but could not reach a decision. "I wonder what the bottom three designers could do if they really understood the challenge," Heidi said.
With that in mind, the judges did something unprecedented. "For the first time in 'Project Runway' history, we're sending you back to the workroom," Heidi said as the remaining contestants' jaws dropped to the floor. "Go!"
The stakes were so much higher when the bottom three contestants returned, resulting in a second winner! Belk would also produce Dom's design, catapulting her from the bottom three to the top two. But ultimately, one designer had to go home. And when it was over, Jeremy was sent packing.
Tune in next week for the tenth episode of "Project Runway" Season 12 at 9 p.m. EST on Lifetime.
Celebrity news, beauty, fashion advice, and fascinating features, delivered straight to your inbox!