Gunn Laws
Tim Gunn, Project Runway mentor and fashion guru, solves your style conundrums.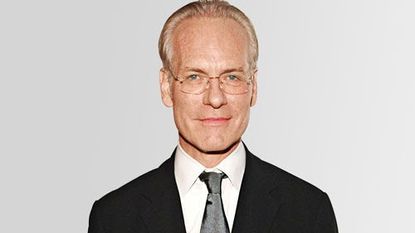 (Image credit: Stephen Lovekin)
PRINTED MATTERS
Q. I really loved seeing all the mixed prints on the runways, but I'm not sure how to make them work. Any suggestions?
A. I have become a huge fan of pattern mixing. I write "have become" because I used to avoid it altogether. Rita Ryack, the costume designer on The Smurfs movies, taught me that there are two key factors to mixing patterns harmoniously: color story and scale. You want the colors to be similar, and there should be cohesion among the textiles. When it comes to scale (the size of the pattern or print), it must be different. Play with it and have fun! The possibilities are endless.
Q. Do you have any advice on how to dress if you're bottom-heavy and want to wear white jeans?
A. Rules are meant to be broken, provided we're thoughtful about how we break them. I believe that white jeans should be in every woman's wardrobe, and a good fit is always essential. Choose a low-rise style because it will fit you correctly in the hips. Also, choose a pair that falls straight down—no flare and no taper. On top, I suggest a print that has a semblance, not dominance, of white in it. A draped style will be most flattering.
Q. I have a navy blue and white-polka-dot jumpsuit that I love but don't know how to wear without people asking me why I'm wearing pajamas. What can I do to make it look more stylish?
A. Let me begin by saying that I admire your courage. Not many women have the self-confidence or even desire to pull off this look, so let's make it work. It's important to style the jumpsuit in a way that gives it an anti-pajama vibe: Dress it up, not down. Open the placket to show some cleavage or add a strappy metallic stiletto and a chain belt. These will give the look a little sex appeal. The belt will also add proportion and give shape. Finally, consider a fitted leather jacket or blazer to cut through the potential sweetness of this outfit and give it some edge. Best wishes!
1. Belt $34.99, Mango; mango.com (opens in new tab).
2. Street style, Paris.
3. Jacket $175, Banana Republic; bananarepublic.com (opens in new tab).
4. Sweater $298, Joie; (646) 284-9081.
5. Shoes $730, Gianvito Rossi; barneys.com.
6. Jeans $465, Jen Kao; (212) 239-6515.
7. Jeans $88, Kensie Jeans; kensie.com for stores.
8. Jumpsuit $295, Rory Beca; rorybeca.com.
Got a style dilemma? Send Tim your questions at marieclaire.com/asktim.