Live Blog: The Project Runway Premiere
Get up-to-the-minute recaps of what's happening on the first episode of Season 8!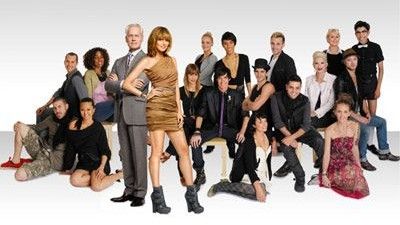 (Image credit: Courtesy of Lifetime Television)
Let the stitching and bitching begin! The hit, Heidi-Klum-helmed Project Runway is back for its eighth season, and we can't wait to dish on all the designer drama this season. Follow along with our live blog right here as we meet the newest crop of fresh-faced designers.
PLUS: Follow us on Twitter (opens in new tab) at @marieclaire as we live-tweet each episode!
(Tune in to Project Runway on Lifetime at 9 p.m. EST every Thursday, starting July 29.)
9:01 p.m. We begin! All the designers arrive in the Big Apple. Casanova wears tight red pants, Jason boxes, 50-year-old Peach Carr uses the phrase, "Hell to the yes." It's definitely going to be an interesting time in the work room!
9:10 p.m. Heidi and Tim in Lincoln Center, the new home of NYC's Fall Fashion Week. (Buh-bye, Bryant Park tents.) They have bad news for the 17 contestants: They aren't yet technically on the eighth season just yet. They normally have 16 designers to start, so they need to start trimming the fat pronto.
9:16 p.m. The first design challenge? To pull one item from their suitcase and incorporate it in the design ... of the person to their right? Sucks for Casanova, who had to part with his $1,070 pants. He said it best: "Shit happens." (Oh, and did we mention they only have five hours?)
9:22 p.m. The designers head to Mood! Fabric never looked so good.
9:28 p.m. Tim makes the rounds in the workroom. McKell gets his tentative seal of approval. The well-suited mentor, however, questions Casanova's "vulgar" taste and shows his concern for April's slow start. First Tim Gunn-ism: "Carry on!"
9:38 p.m. The models arrive, and, damn, they're a good-lookin' group of ladies. But, uh-oh, is Jason going to get the first-ever Project Runway sexual harassment lawsuit?
9:43 p.m. McKell is having a good old time with her model while everyone else is running around like crazy people. (Or, in the case of Jason, using a stapler to make the finishing touches.)
9:51 p.m. Heidi remains mum about how many people will be saying "Aufedersein" this week. One things she's not so mum about? Her fellow judges. Alongside Michael Kors and Nina Garcia is guest judge Selma Blair. Do you think she has what it takes to critique the fashions on the runway?
9:57 p.m. Holy crap, Casanova. "It's sexy, but it's not vulgar." Um, that's not what Nina's face said.
9:59 p.m. The two Michaels (Costello and Drummond) and a handful of the other designers are safe! They get to officially relax while the rest wait it out on the runway.
10:00 p.m. And the winner is ... Gretchen Jones! As Heidi said, she "had one of the worst materials to work with." (We feel bad for April, who gave her said material.) Selma called it a "special, simple dress."
10:07 p.m. The bottom six plead their cases. Is "the Ivy Show" going to be getting canceled? And we wonder how Peach feels about her pants getting mocked without her there to defend them! Heidi calls April's deconstructed look a "hot mess." Nina does one better, saying the model looks like an "'80s street walker."
10:12 p.m. Nicholas looks like he's getting choked up as he asks the judges to give him a second chance. This is going to be a tough elimination.
10:14 p.m. Nina could moonlight as a translator! She helps Puerto Rican-born Casanova understand Heidi's tough questioning.
10:20 p.m. Michael asks, "Do you reward someone who's safe or do you reward someone who's look maybe didn't work but they at least tried?" Hmmmm, fashion for thought.
10:27 p.m. McKell is out. So sad, but not as sad as when she went into the room with all the safe designers and they started clapping for her. At least she gets to go home to her baby, right? As for the other bottom two, Casanova and Ivy? They're in!
10:30 p.m. Now, we're down to 16 designers, who get to officially move in to their Atlas hotel suites in Manhattan. Who do you think will have to pack up and go home next week? Who do you think will win it all?
Tell Marie Claire: What do you think of the ep so far? Share your thoughts in the Comments section below!
For More: