King Charles III and Queen Consort Camilla's Relationship: A Timeline
With the passing of Queen Elizabeth II, Charles has ascended to the throne as king.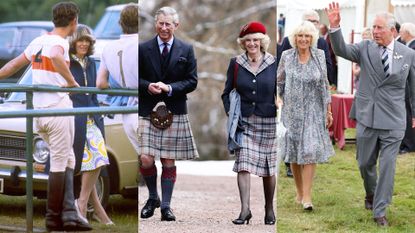 (Image credit: Getty Images)
Marie Claire Newsletter
Celebrity news, beauty, fashion advice, and fascinating features, delivered straight to your inbox!
Thank you for signing up to Marie Claire. You will receive a verification email shortly.
There was a problem. Please refresh the page and try again.
Following the death of his beloved mother, Queen Elizabeth, the former Prince Charles is now King of England, and will go by King Charles III. His wife, Camilla Parker-Bowles, is now queen consort. The couple has been through thick and thin since they became an item in the '70s. Here we take a deep dive into Camilla and Charles' relationship and reminisce about their undeniable love throughout the years.
1/35
1970
Prince Charles met a 23-year-old Camilla Shand at a polo match at Windsor Great Park in 1970. "He loved the fact that she smiled with her eyes as well as her mouth, and laughed at the same silly things as he did," royal biographer Penny Junor recalled in The Duchess: The Untold Story. "In short, he was very taken with her, and after that first meeting he began ringing her up."
2/35
1979
Towards the end of the decade, the duo were spotted again at a polo match two years before Prince Charles married Lady Diana Spencer.
3/35
1999
Two years after the tragic death of Princess Diana (and three years after the Prince's divorce), Charles and Camilla made their public debut as a couple. Here, the duo are pictured outside of the Ritz Hotel in London, where Charles threw Camilla's sister a 50th birthday party.
4/35
2000
One year into their rekindled relationship, the Queen agreed to attend a lunch alongside Charles and Camilla (a subtle signifier that Her Majesty approved of the couple).
5/35
2001
Here, the couple greet each other with a kiss at the 2001 National Osteoporosis Society anniversary in London.
6/35
2001
Later that year, Charles and Camilla are photographed walking to the Ritz Hotel in London to attend a Christmas party together.
7/35
8/35
2003
The couple arrive at Canisbay Church where they were attending a Sunday church worship at the end of a week-long visit to the north of Scotland.
9/35
2004
The duo laughed as they watched a game of tug of war at the 2004 Mey Games in Scotland.
10/35
2005
Charles and Camilla arrive for a party at Windsor Castle after announcing their engagement.
11/35
2005
On April 9, 2005, Charles and Camilla were married during a civil ceremony in St. George's Chapel at Windsor Castle. Post ceremony, Camilla officially became Her Royal Highness The Duchess of Cornwall.
12/35
2006
Okay, cute. The couple—who are known as the Duke and Duchess of Rothesay in Scotland—coordinated their outfits for an event at Crathie Kirk, the royal family's regular church in Scotland.
13/35
2007
In 2007, the Prince of Wales and Duchess of Cornwall smiled during the second day of the Royal Ascot Races in England.
14/35
2008
Check out those grins! The couple burst into laughter at the 2008 Mey Highland Games in Scotland.
15/35
2009
During Camilla and Charles' official visit to Canada (which was the prince's 15th time visiting the country, and the Duchess' first), the couple stopped for a photo op in the historic town of Brigus.
16/35
2010
Charles pushes his wife Camilla in her wheelchair, after she broke her leg whilst walking in Scotland, as they attend the production premiere of Aida at The Royal Opera House in London.
17/35
18/35
2012
Camilla and Charles smiling tour the Sandringham Flower Show at Sandringham in King's Lynn, England.
19/35
2013
The coupled proved to be rather goofy as they posed with masks at a reception for the Elephant Family in London on July 9, 2013.
20/35
2014
The duo attend Day 2 of Royal Ascot at Ascot Racecourse in style.
21/35
2015
Camilla giggled as Prince Charles held a tuatara at the Orokonui Ecosanctuary during the couple's 12-day tour of New Zealand and Australia in 2015.
22/35
2016
Prince Charles and The Duchess of Cornwall made a cheery entrance at the Sandringham Flower Show on July 27, 2016.
23/35
2017
During their 2017 tour of Singapore, Malaysia, Brunei, and India, the couple waved to fans at the Sri Mahamariamman Temple in Kuala Lumpur.
24/35
2018
The couple shared a loving glance during the reopening of the The Strand Hall in Wales.
25/35
2019
Prince Charles and Camilla truly lived their best lives while visiting Grenada. The couple even had some down time and we got to take a good look at Charles' cracking bod. Seriously, you need to see this.
26/35
2019
The couple makes having a beer look like the best time while visiting Germany.
27/35
2019
The Prince and Camilla proved they have a fun side at the Elephant Family Animal Ball at Clarence House.
28/35
2019
These two cuties! Prince Charles was beaming alongside Camilla as they sang her Happy Birthday at the National Parks 'Big Picnic' celebration in honor of all 15 of the UK's National Parks.
29/35
2020
Spreading a bit of Holiday cheer, Queen Elizabeth II, Prince Charles, and Camilla thank local volunteers and front line workers in Berkshire, England.
30/35
2021
The Prince and Camilla visit Sphinx and Pyramids of Giza during their visit in Egypt.
31/35
2021
Let them eat cake. Camilla and Prince Charles prepare to cut a cake to mark the "ten plus one" anniversary of the Prince's Countryside Fund, recreating a celebration that was unable to be carried due to the pandemic.
32/35
2021
The couple visit local shops and businesses during a short walk through the village in Ballater, Scotland.
33/35
2021
Rain, rain go away. The couple attend the Christmas Day morning church service at St. George's Chapel.
34/35
2022
Prince Charles, Camilla, and Kate are all smiles during their visit to The Prince's Foundation training site for arts and culture.
35/35
The couple attend the Big Jubilee Lunch At The Oval on June 5 in London, England to mark the 70th anniversary of the ascension of the Queen.
Celebrity news, beauty, fashion advice, and fascinating features, delivered straight to your inbox!