Live Blog: Project Runway, Episode 4
Get up-to-the-minute recaps of what's happening on the third episode of Season 8!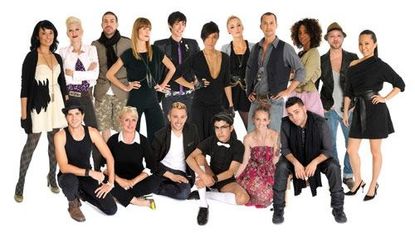 (Image credit: Courtesy of Lifetime Television)
What will this ep bring? Follow along with our live blog right here as we find out what's in store for the designers. See you tonight ...
PLUS: Follow us on Twitter at @marieclaire as we live-tweet each episode!
8:59 p.m. Ok boys and girls, a minute to go!
9:03 p.m. Last week's episode left us with the Ivy-in-the hospital cliffhanger. Amazingly she's already recovered and back in the game. And the show starts with the models of the runway sporting incredibly dramatic hats designed by Philip Treacy. The designers must create an outfit to match the models hat.
9:15 p.m. Philip Treacy is revealed as the guest judge and the designers are scrambling to nail down their look ideas. Mondo's hat is talking to him; Michael D. is feeling a warrior vibe and Kristin can't find any inspiration in the world's most beautiful flower, the orchid.
9:21 p.m. Only twenty minutes in and the phrase "hot mess" is already being thrown around.
9:32 p.m. The cattiness has started. The designers are trash talking each other looks and are either overly confident or doubtful about their own. Also, Casanova says he's not "a cat with seven lives." Hmmm.
9:40 p.m. Back from the commercial break and the contestants are getting ready in their rooms while, surprise!, trashing their fellow designers.
9:44 p.m. April's booty shorts still resemble a giant diaper and Casanova has declared that every girl in Puerto Rico "has the same dress in her closet."
9:51 p.m. It's runway time and Heidi appears on the stage with Seal playing in the background.
10:01 p.m. There are a few beautiful dresses strutting the runway and a giant pink sombrero paired with the repaired booty shorts. And Gretchen is not in the top three for the first time. It's about time, too much confidence can be crippling.
10:15 p.m. For someone who creates such incredible and abstract headwear, we're surprised at what a reserved and almost gentle judge Philip Treacy is. Also very surprised by what the judges had to say; Michael D. and Valerie were praised for their looks and Christopher was criticized. We did not see that coming.
10:18 p.m. Michael Kors refers to April's short shorts has having "a triple panty problem." Amen.
10:25 p.m. Michael C. won and Gretchen is ripping him a new one behind his back. Wow, not being it the top is hard for her. Now, it's auf wiedersehen time.
10:29 p.m. Despite her ridiculous shorts outfit, April stays and Kristin is told to go home. Things are heating up. Can't wait for the next episode!
(Tune in to Project Runway on Lifetime at 9 p.m. EST every Thursday.)
Tell Marie Claire: What do you think of the season so far? Share your thoughts in the Comments section below!
Previous Recaps:
For More: