Live Blog: Project Runway, Episode 8
Get up-to-the-minute recaps of what's happening on the latest episode of Season 8!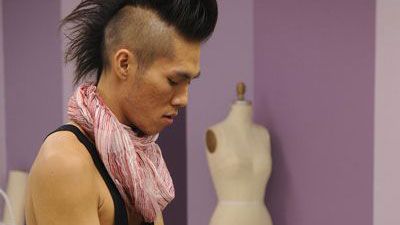 (Image credit: Barbara Nitke/Lifetime Television)
With only nine designers left, the competitions are more intense than ever. And if you thought things weren't stressful enough, the designers are working up a sweat this week creating an American sportswear look. Who will win? Who will have to clean up their workspace ... and how can Andy's mohawk get any higher? Follow along right here as we live blog it all!
PLUS: Follow us on Twitter at @marieclaire as we live-tweet each episode!
(Tune in to Project Runway on Lifetime at 9 p.m. EST every Thursday.)
9:01 p.m. "Opaque isn't a color, but if it was, it'd be called Ivy." Michael Costello knows how to kick off an episode!
9:03 p.m. Tim gives the gang their next challenge — create a look that is their own take on classic American sportswear, inspired by the one and only Mrs. Jacqueline Kennedy. Get ready to see big sunglasses and tailored separates!
9:08 p.m. Michael Drummond does some pretty decent (though not Santino caliber) impersonations of Heidi and the gang. Meanwhile, Valerie calls herself the Susan Lucci of Project Runway. Will she ever win a challenge?
9:11 p.m. The love affair between Michael C. and Mondo continues. Ah-dorable!
9:16 p.m. Tim makes the rounds. When he stops by Valerie's workspace, he calls himself "an old fart" and her look "vulgar."
9:20 p.m. The models come in for a fitting. Lots of concerned designer faces ... and one crazy pair of cropped pants by Andy!
9:25 p.m. Tim has an announcement to make. Everyone looks pissed. The twist? Everyone must create an additional item — a piece of outerwear. The reaction is mixed. April, knitwear-pro Michael D. and Ivy are obsessed, while Valerie is anything but.
9:32 p.m. Best line of the night from Tim to Andy: "Jackie Kennedy would not have camel toe." No. No, she wouldn't.
9:41 p.m. Mondo tap dances. It's a thing of beauty, quite frankly.
9:46 p.m. Gretchen gives her unsolicited critique of her competition, musing that there should probably be more than three in the bottom.
9:57 p.m. After the runway show, Gretchen, April, and Michael C. qualified to move on to the next round. As Gretchen moaned about not being in the top, Michael C. told her that her looks were fashion-forward ... and told the cameras in a testimonial the exact opposite. How duplicitous of you, sir.
10:03 p.m. Guest judge — and Mad Men star — January Jones gives her take, along with the other judges. Valerie gets reamed for making a jacket on top of a jacket. Michael D. gets reamed by Michael K. (as in Kors). Mondo, however, gets rave reviews. January even says that he and the designer look good together. New couple alert?
10:11 p.m. Heidi and Michael Kors ripped Andy a new one for that crazy pair of pants. Oh, and Nina does him no favors. "It's a trainwreck," she says after asking him to remove that "terrible" vest.
10:20 p.m. Mondo the tap dancer wins! His look was contemporary and bold, yet classic. Job well done, dude!
10:27 p.m. It's down to Michael D. (and his ill-fitting proportations) and Valerie (and her mall wear). Eeeeeek.
10:29 p.m. The sweet, St. Louis-born-and-bred Michael D. is out. Ever the trooper, though, he stood by his garment (even though Tim rather obviously told him it wasn't workin'). He also had no idea what "waterloo" meant. Ah, Tim and your incredible vocabulary. 'Til next time!
Tell Marie Claire: What do you think of the ep so far? Share your thoughts in the Comments section below!
Previous Recaps:
For More: