Project Runway Candy Couture: Our Favorite Moments
The always-fun unconventional challenge episode put us in a candy-induced coma!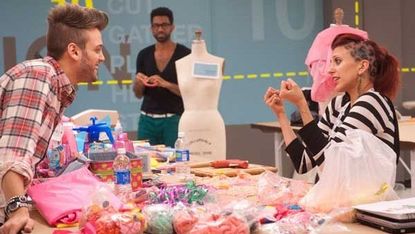 (Image credit: Marie Claire)
If last night's episode didn't give you a contact sugar high, you weren't watching close enough. In the season's always-anticipated "unconventional challenge," the 15 remaining contestants were tasked with creating a look made out of candy! How sweet is that?! And to get their supplies, they went to my favorite place in all of New York City, Dylan's Candy Bar, owned by Ralph Lauren's candy-obsessed daughter, Dylan Lauren. Style and Skittles never looked so good together.
So, grab some sweets and nosh on our favorite moments from the season's second episode.
1. Eating the clothes. The designers each picked up $500 worth of edible goodness from the 7,000 candies at Dylan's state-of-the-art sweets emporium. If I were one of the designers, my model would walk down the runway stark naked — I would have eaten all my materials. So, I was impressed that (most) designers managed to ration their jelly beans, sour belts, Twizzlers, gumballs, gummi sharks, rock candy, Sweet Tarts and whirly pops. Still, it was fun to see them nibbling on their wares throughout the entire show.
2. Tim Gunn throwing down. After looking at Andrea's basically unaltered candy button apron, Tim was flummoxed. "I'm going to tell you very bluntly and very directly. I don't have the adequate words to tell you how completely underwhelmed I am by this," he said. "You're just throwing the challenge." He called it sloppy, craft projecty and a throw-away, and she still sent it down the runway. How she didn't end up in the Bottom 3 is beyond me.
3. Attack of the glue gun. As Tim also said, this challenge is a "glue-the-shit-out-of-it moment." No designer was without their glue gun for this challenge, and some handled the heat better than others. Elena Slivnyak seriously burned herself in the process, and her Twizzlers still fell off her form. What a waste!
4. The biggest unconventional mistake you can make… is using fabric. It's basically one of the Project Runway 10 commandments. And that's exactly what the self-assured Lantie did. And it's exactly why she was sent packing.
5. Ven's good-enough-to-eat garment. Made of black licorice and crushed rock candy, it was hands down, the best look of the night. As Nina said, it's "sublime … and on-trend with all the pastel colors." I don't know whether to buy it or bite it.
Want to win a trip to New York and a $20,000 shopping spree? Start a free trial subscription to Marie Claire and you'll be automatically entered to win our Project Runway — a $25,000 prize value! For a chance to win, click here!
Project Runway airs Thursday nights on Lifetime at 9 p.m. EST.
Celebrity news, beauty, fashion advice, and fascinating features, delivered straight to your inbox!