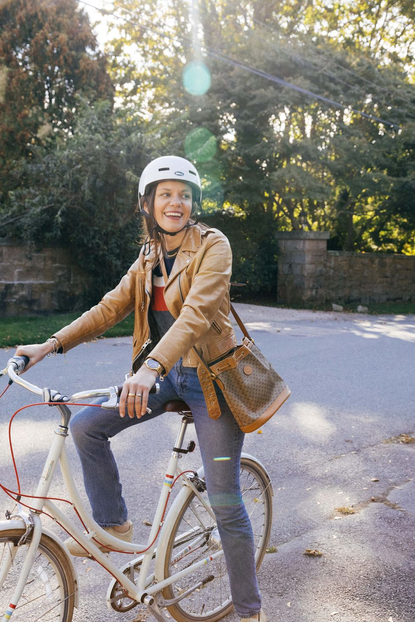 (Image credit: Loren Barham)
My personal low-waste living journey started in 2019, when I challenged myself to keep track and document my plastic use for the entire month of April. It was an eye-opening experience and one that rewired my consumption habits forever. Aside from plastic use, I wanted to have a greater understanding of my environmental impact overall and have been actively working towards reducing my personal waste in all aspects of my life. This transition has not been without its challenges, especially as a fashion editor. My life can be very on-the-go, which isn't great for single-use consumption and carbon emissions, but I had to make some real adjustments to my pace and practices in order to improve my impact. And it works! From streamlining your beauty routine, to taking better care of your wardrobe staples, it is entirely possible to look fabulous while being kinder to the planet. And it's been easier than ever with brands I can get behind like Citizen who is working to make their offerings more sustainable and just as stylish. While I'm far from perfect, I've figured out some simple efforts that have been easy for me to adopt and make me feel better on the day to day.
Make Plastic Free Swaps in Your Beauty Routine
This was my first challenge when it came to my low-waste transformation. The first step was using up everything I had first and being very careful about how to recycle the packaging. Then I started to search for products packaged in glass, aluminum and paper when possible and would try one or two things as I went, making sure to use them up entirely, even if they weren't my favorite. I've gone from plastic toothpaste tubes (which actually never get recycled!) to chewable toothpaste tabs, from body wash and shampoo in plastic bottles to bar soaps and shampoos, from makeup in plastic palettes to wooden pencils and glass jars with aluminum lids. In this practice, I've also simplified what I actually feel like I'm using on the day-to-day and not having a surplus of steps in getting ready. Low waste beauty can also be time-saving!
Compost to Keep Food Waste Out of Landfills
Letting food decompose in a trash bag when it goes to a landfill makes for harmful methane gas over time. If you have the outdoor space, think about making room for a compost pile in your backyard or invest in a compost rotating bin that keeps it contained. Most cities have compost drop-off or pickup services, which is what I use for the food scraps I can't consume. Check out for local ones near you and chances are you can also benefit from the soil they produce! I repotted my indoor plants with the same soil I contributed my compost to.
Be a Mindful Shopper
Opt for building out a wardrobe that is more classic and timeless, rather than rushing to hop into the latest trends. I share this wool striped sweater with my fiancé and I've had this tweed jacket for years now. Investing in quality pieces rather than disposable fashion will save you money over time and are more likely to get a second life when you're ready to part ways with them. Research brands that are using gentler materials and innovative technology to create more sustainable products like Citizen's Eco-Drive line of watches. The styles are forever classic like this 80's-inspired Gold Stiletto and the light-powered technology keeps you charged both indoors and outdoors, preventing non-rechargeable batteries from ending up in landfills. A full charge can last over six months and many of the Eco-Drive models can keep the same charge for up to seven years. I fully support a wardrobe staple that I know can hold up to everyday wear for several years.
Avoid Dry Cleaning and Hand Wash Instead
Dry cleaning releases harmful chemicals into the environment and usually comes in a lot of single-use plastic wrap. I've cut this expense down tremendously by opting to hand wash most of my delicate items and knits and only when they absolutely need it. Many things that are labeled "dry clean only" can actually just be washed by hand! This gentler process also helps maintain your clothing for much longer. I use a gentle castile bar soap to create a sudsy bath for my sweaters, then I rinse, squeeze the excess water out and lay flat to dry.
Bike When You Can
With my jam-packed schedule, there is a strong chance that I'm struggling to stay on time (luckily my Citizen Eco-Drive stays fully charged by light!). While I love a leisurely stroll, sometimes I have to pick up the pace and get to where I need to be quickly. I've opted out of taking cars short distances or for errands when I don't have a lot to carry. I also love that it doubles as a workout! So many cities have adopted bike rental programs if you're not ready to commit to your own, but I do recommend bringing a helmet along if you plan on pedaling at some point in the day.
Shop Julia's favorite Citizen Eco-Drive styles from Kay.com here:
Citizen Stiletto Unisex Watch
Citizen Arezzo Women's Watch
Citizen Ceci Women's Watch
Citizen Corso Ladies Watch
Marie Claire email subscribers get intel on fashion and beauty trends, hot-off-the-press celebrity news, and more. Sign up here.