Welcome to 'The Now Age' Where 'New Age' Ideas Get a Modern Makeover
The 1960s were iconic and all, but it's time for change.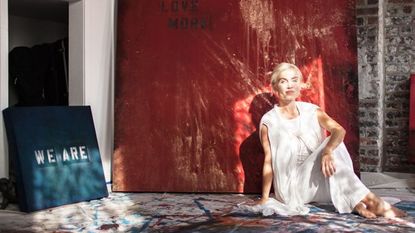 (Image credit: Tommy Kha / Trending NY)
Artist Betty Kay
Sitting in a circle of women to welcome the new month isn't exactly what I'd call a big night out. But there I was, on the evening of the last new moon, one of 15 women participating in a two-hour ceremony to set my intentions for the month to come. Guided by ritual designer Barbara Biziou (she's created custom rituals for Donna Karan), we lit candles, burned little pieces of paper inscribed with our fears, and drew Goddess cards for support in the coming weeks. It's all in the name of helping us "connect with the infinite source of divine creativity," as Biziou puts it. And while we didn't quite howl at the moon, there definitely was some chanting.
Welcome to The Now Age, in which New Age ideas from the 1960s receive aspirational upgrades for 2014. It's a phenomenon that has filtered into New York from all angles, from the affirmations called out in every SoulCycle class, to the neon dream catcher hanging above the register of Lower East Side cool-girl boutique Reformation. When Topshop and Kenzo embrace the zodiac (Topshop with star-sign T-shirts, Kenzo with its "Kenzodiac" horoscope site), and even Shoshanna, Girls' resident square, smudges her apartment with sage, you know the mystical has entered the fashionable mainstream.
And now I'm buying into it, past-life regression therapy and all... But it wasn't always this way. During my decade as an editor at London fashion magazines, I was more Material Girl than Hippie Chick. A growing interest in astrology proved my gateway into all things Now Age. I found myself drawn to other "mystical" practices and holistic wellness techniques, to the point that colleagues started calling me Mystic Ruby. A move to New York in 2012 plunged me into the center of the Now Age scene and inspired me to launch The Numinous, a website celebrating all things stylishly esoteric (tagline: "Material Girl, Mystical World"). Judging by the response from my plugged-in readers, I'm far from alone.


Psychic medium Betsy Cohen
Once you start looking for them, the signs are everywhere—literally. You may have noticed "In Pursuit of Magic" stencils all over the city, part of artist Betty Kay's project to "elevate consciousness and amplify meaning in the world," as she puts it. She even managed to stencil Diddy's chest at this year's Burning Man festival.
Any given night in New York promises events and workshops like shaman school, energy healing sessions, and séances. Even upscale members' club Soho House is getting in on the act, hosting sound-healing sessions in their Cowshed Spa with spiritual artist Oliver Halsman Rosenberg. And hedonism is showing its tuned-in side at DJ Natasha Blank's deep house yoga sessions and alcohol-free early morning rave Daybreaker, where the only highs are spiritual.
Why now? "Over the last several years, the world has sped up and the changes we're experiencing can be difficult to navigate," self-help author Gabrielle Bernstein writes in the intro to Miracles Now, her latest book. A glossy Now Age figurehead, Bernstein attracts hip 20-something followers, who, like her, believe that "the world is having a spiritual awakening."
If embracing the New Age in the '60s meant changing your name to Echo and moving to an ashram in India, then the best thing about the Now Age is that that you don't have to cast all earthly delights aside. All around, some of the most switched-on and stylish women are trying everything from crystals to chakra healing, and tarot to tantra, as ways to lead more meaningful, happy, healthy lives. Jennifer Kass, a former editor at Allure magazine turned professional "happiness coach," says she experienced a "radical shift" after she started practicing yoga and meditation daily, as well as delving into more esoteric practices such as sound healing and past-life regression. Even better: "It's been the biggest anti-aging tool I've ever personally experienced. When I'm happy, I'm prettier."
Photos: Tommy Kha for Trending NY
Here's a preview of exclusive content from TrendingNY, the new free weekly fashion and beauty magazine for New York women. Find this and other stories in our latest issue, out in New York now, and follow us on Twitter and Instagram @TrendingNY to learn more.