The U.S. Women's Hockey Team Has No Regrets About Fighting for Equal Treatment
The team spoke out about their "gut-wrenching" move for gender equality.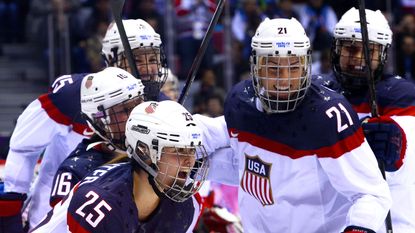 (Image credit: Getty Images)
The U.S. women's national hockey team is just months away from competing for the gold medal at the 2018 Winter Olympics in Pyeongchang, South Korea. But it has not been an easy road to get there, especially while fighting for the same rights as male athletes. At the Team USA Media Summit in Park City, Utah, this week, the formidable athletes spoke out about their long battle against USA Hockey, the governing body of ice hockey in the U.S., for equal benefits, and why they feel they made the right choice to push for what's right.
After a months-long battle, the team reached a four-year agreement with USA Hockey in March that would provide the team with some of the resources they had been previously denied. The terms included an annual compensation of about $70,000 per player (though players don't have official salaries, this includes things like training stipends), performance bonuses of $20,000 for a gold medal and $15,000 for silver at the Olympics, and marketing and public relations improvements, ESPN reported.
RELATED STORIES
Prior to the agreement, the women did not earn less than the men, according to USA Today, but there were significant differences in some of the terms of their contracts. For instance, the women did not receive the same travel arrangements and insurance coverage as the U.S. men's national hockey team. CNN Money reported that the USA Hockey players handbook states that the men's hockey team traveled in business class, while the women flew coach. The men were allowed to bring a guest while competing in world championship games, but the women could not and, in fact, had to share hotel rooms with a teammate. USA Hockey also paid for the men's disability insurance coverage, but not for the women's team.
USA Hockey also did not support the girls' developmental teams. ESPN reported that the boys' developmental program, a youth training camp run by USA Hockey that provides on and off ice coaching, receives $3.5 million. In addition, USA Hockey gives $1.4 million to the United States Hockey League, a top-tier competition league for 16 to 20-year-old boys. There was no such program for girls, USA Today reported.
On March 17, USA Hockey issued a statement explaining the differences in financial support. "Simply, USA Hockey does not pay players a salary—women or men—and instead provides training stipends and support to help put athletes that participate on our national teams in the best possible position to compete for a gold medal," the group said. They elaborated further:
"From the outset, USA Hockey has been clear it will not employ players; however, that does not mean USA Hockey is opposed to a yearly agreement which outlines allocation of direct athlete support and other training resources that USA Hockey is willing to provide to players. USA Hockey has moved its offer significantly during the course of the current negotiations and believes its offer is comparable or better than any federation that sponsors women's ice hockey."
The national hockey organization is now on the right path toward more equality between the men and women's teams. But the U.S. women's hockey team said it took months of campaigning on social media and boycotting games for the female players to finally break ground on a fair deal. The women banded together for a social media campaign called #BeBoldforChange to bring awareness to their struggles. Knight said the team decided to publicize their fight after not much progress was made at the negotiation table with USA Hockey.
"We had been in negotiations for over 14 months at the time," forward Hilary Knight told MarieClaire.com at the Team USA Media Summit. "Most people don't know that." Knight said that after many failed attempts at getting the terms they needed, the team decided to make a more public move and let fans know about their equality fight online.
"[People] might think it was this overnight thing, because we appeared on social media and all of the news outlets saying that we weren't going to participate [in the world championships], but we weren't making any progress at the table, so it was a strong step to take," she said. "The catalyst for the Be Bold for Change campaign was an accumulation of years where we felt that the sport was really stagnant and we needed to fight for a better future."
Hockey fans and high-profile female athletes, responded on Twitter by sharing the Be Bold for Change hashtag in support of the movement earlier this year.
She said she wanted to be just like me, I told her, "be better". Standing w/women of USA Hockey #BeBoldforChange pic.twitter.com/IBO6UdgMBzMarch 27, 2017
See more
"This was a perfect opportunity to create a legacy for our team and set a foundation for the next generation coming up," Knight said.
But the deal did not finally come together until the women took a drastic stand. In March, the players decided that they would boycott the IIHF World Championships in 2017 if an agreement was not reached, forcing USA Hockey to make some changes.
"We obviously wouldn't have made the gut-wrenching decision to put a world championship on the line if it wasn't something that was of importance to us, so I definitely think it raised the visibility of our sport," team captain Meghan Duggan said at the Team USA press conference. "I think it was a historic moment that really changed the future of hockey and women's sports in this country."
Knight said even though the players recognized that they were making a risky move by boycotting a major championship, the bold step ultimately helped bring the team together even more. "Whether it was your first World Championship or your ninth, it didn't matter," she said.
"Everyone was in the same boat and it an was extremely strong, unified group. At the same time, it was great to collectively take that step. It was a hard decision to make, but definitely the right one."
Now, for the first time in U.S. hockey history, the women's team will receive the same level of travel arrangements and insurance coverage as the men's team, according to ESPN. USA Hockey will also create a committee to provide recommendations on how it can improve marketing, scheduling, public relations efforts, and promotion of the women's games, and a foundation to help its developmental teams for girls.
Looking back on such a landmark decision, Knight said she hopes the hockey team has set a precedent for other women fighting similar struggles, no matter what their line of work. "My advice to young girls who need to take a stand is dare," Knight said. "Dare to be great, dare to be bold, dare to be you. I think it's one of the most powerful things right now in the world that we're living in."
U.S. women's hockey team general manager Reagan Carey said at the Team USA press conference that banning together has made the team stronger and only more motivated to go for the gold at the 2018 Winter Olympics."We've gone through a lot of challenging times together," Carey said. "It's just made us stronger. With the support of USA hockey and everything that elevated since that time frame, we're focused on getting the gold medal."
The 2018 Winter Olympics are scheduled to take place February 10 to 25, and will be broadcast on NBC.
Celebrity news, beauty, fashion advice, and fascinating features, delivered straight to your inbox!
I'm Eileen, the digital news reporter at Hearst Digital Media. As a member of the newsroom, I report on a wide range of news, including entertainment, politics and lifestyle. I also cover red carpet events for over 20 of Hearst's magazine brands. I previously held positions at CNN, Facebook and MTV, where I worked as a digital producer, writer and on-camera host. Fun facts: I'm fluent in Spanish, a BU alum, and love fashion and travel.