7 Instantly Iconic Stories About the Making of 'Lady Bird'—Straight from Breakout Star Beanie Feldstein
Like the fact that she and Saoirse Ronan wore men's boxer shorts under their school skirts.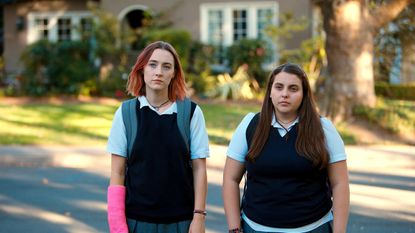 (Image credit: A24)
By now, you've probably seen Greta Gerwig's Lady Bird and decided that it's the best movie of the year/your life/of all time, etc. Cool, we're right there with you. Lady Bird was a particularly bright light in 2017—a story about female friendship that was instantly relatable to anyone who grew up in the early aughts, to anyone who's ever tried to be "cool" and forgotten to be themselves in the process, and to anyone who's relationship with their mom vacillates between "I love you" and "I hate you."
And as with most good movies, the beating heart of Lady Bird is its cast—with Oscar-worthy performances from Saoirse Ronan and Beanie Feldstein, whose friendship comes across so well on screen thanks to the fact that they were so close off-screen. MarieClaire.com spoke to Feldstein in search of fun stories about the making of what's indubitably one of our favorite movies (so we can live vicariously through them), and came away with some instantly iconic tales from the set.
Greta made each cast member their own playlist to help them get into character
"Greta made each one of us a playlist for our characters, and I'm a very superstitious person, so I'd listen to the playlist every single day on the way to work, and it definitely got me in the 'Julie mode.' It starts with 'Little Plastic Castle,' and then Indigo Girls, and obviously 'Crash into Me' is on here." [Edit note: Lady Bird and Julie crying to DMB = me IRL:]
No phones on set = more bonding
"Greta asked that no one brought their phones to set, which was so special because it just gave us all the focus to hang out with each other. We didn't have anything else to think about, we weren't talking to other people, we were just getting to know each other. It was so wonderful."
'Bridesmaids' references were abundant on set
"Saoirse and I would always quote Bridesmaids to each other—we're obsessed. We'd go up and whisper quotes in each other's ear to make each other laugh."
They wore boxers under their skirts and Beanie's almost fell down
"When we were shooting, we always wore men's boxers under our uniform skirts, because Greta was like, 'That's what we did at my catholic school.' When we were doing all this walking around Sacramento, my boxers were falling down—so Saoirse and I were trying not to laugh. Because I was like, they're at my knees! I couldn't mess up the shot by pulling at the shorts. There's actually a quick look at the boxers in a scene where our legs are up and we're eating wafers."
All that cheese they ate was vegan
"I'm very allergic to dairy, and Julie and Lady Bird eat so much in the film, so poor Saoirse had to suffer through vegan cheese. There's a scene where we're finishing up cupcakes but they were all vegan."
They had the sweetest film-meets-real-life moment after wrapping (shout-out to Paul McCartney)
"We're sitting in our rooms and I get a call from Saoirse and she's like, 'Meet me in the lobby we're going to go see Paul McCartney.' And one of our producers somehow managed to get 12 tickets so a huge crew managed to go see him. It's great because something Greta, Saoirse, and I talked about was that Julie and Lady Bird loved the same things—but there were certain key differences between them. We always said Lady Bird loved John and Julie loved Paul. And in the scene where Lady Bird comes to find Julie crying, the shirt that I was wearing had Paul McCartney's face—so I sort of felt like I was living Julie's dream of going to see him in Sacramento. It was this full circle experience."
That prom scene was a full blown dance party in real life
"Greta created a playlist for the day we were shooting prom, and it was epic. Saoirse and I kept looking at each other because we felt like we had been dancing for such a long time, our heels were starting to hurt. Finally they called cut as we're panting and falling on top of each other, and we were like HOW LONG HAVE WE BEEN DANCING. And they were like: 40 minutes. We fully had a dance party—Greta was in a prom dress, it was so magical and wonderful."
Lady Bird is currently in theaters—go watch it, and then get ready for it to be nominated for allllll the Oscars.
RELATED STORY
Celebrity news, beauty, fashion advice, and fascinating features, delivered straight to your inbox!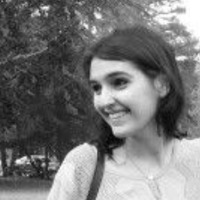 Mehera Bonner is a celebrity and entertainment news writer who enjoys Bravo and Antiques Roadshow with equal enthusiasm. She was previously entertainment editor at Marie Claire and has covered pop culture for over a decade.