4 Inside Secrets from a Celebrity Divorce Attorney
A voyeuristic look at the messy, complicated, chaotic ins and outs.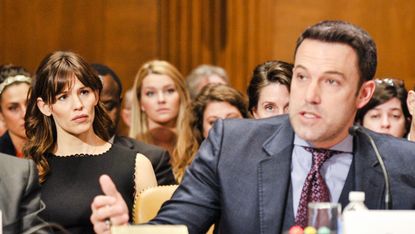 (Image credit: Getty Images)
'Tis the sad, sad summer of celebrity breakups and divorces, meaning it's high season for celebrity divorce attorneys. And while we know that regular-people divorces suck, do celebrity divorces suck more? What *happens* behind closed doors?
Even though they couldn't reveal the names of specific celebrity cases they've worked on—c'est la vie of sought-after attorneys—we were able to speak with Ira E. Garr, Raoul Lionel Felder, Esq., and Neal Raymond Hersh of Hersh, Mannis, & Bogen, L.L.P. about the ins and outs of handling high-profile divorces.
Dear future partner-in-law, let's please add "thou shall not get married without a prenuptial agreement" to our vows.
High-profile people typically come to them BEFORE making a public announcement.
Almost never will one celebrity spouse serve another with a surprise divorce. Usually, both parties will meet with respective attorneys or one might seek advice before making a final decision. They want to hash out questions like "How will this reflect upon my career" and "What am I entitled to if we do go our separate ways?"
But how does one find a responsible, respectable, and experienced divorce attorney? Felder and Garr admit that it's usually all through reference, whether it's their photograph and name printed next to a client in a news article or word of mouth.
Lawyers even manage a celeb's publicity during the divorce.
All lawyers understand the law—um, hello, it's in their job description—but it takes someone with excellent people skills to successfully manage a divorce in the public eye. One lawyer compared handling these cases to owning a pet: You have to see to it that the person is happy but you also need to be strict with them so that they're not screwed over.
"[Lawyers] have to make sure their client is represented in the most favorable light so that at the end of the day, they have a career to go back to," says Hersh. "You don't want anyone to be cast in a disparaging light in the public arena, which is a delicate, important aspect."
Not to knock publicists whose jobs focus primarily on boosting a client's career, but they're not always equipped to deal with backlash, says Hersh. Lawyers, publicists, and celebrities collaborate on the types of statements that are issued and *exactly* how they should be phrased. Of course, lawyers aren't trained to be crisis counselors, but experienced ones have been dragged through enough publicized situations and can lend vital insight.
Most celebrities usually establish prenups before they marry.
"If a celebrity doesn't have a prenup, they should consult a psychiatrist, not a lawyer," Garr jokes. But it makes sense: Celebs have certain assets—royalties, homes worth millions of dollars, private investments—that they need to protect should the marital unthinkable happen.
Children are the trickiest part.
Felder says that no matter who you are or how famous, custody issues have to be handled within a family court in front of a judge, who will treat you as if you're two average people with 9-to-5 jobs.
Celebrity news, beauty, fashion advice, and fascinating features, delivered straight to your inbox!
When I'm not stalking future-but-never-going-to-happen husbands on Facebook, you can catch me eating at one of NYC's B-rated or below dining establishments—A-rated restaurants are for basics. Fun fact: Bloody Marys got me into eating celery on the regular. And for your safety, please do not disturb before 10 a.m. or coffee, whichever comes first.